Supernus Pharmaceuticals, Inc. (NASDAQ:SUPN)
SUPN posted solid financial results, raised its guidance for annual revenue and expects to be profitable for the full year.
For the second quarter 2014, SUPN reported (unaudited) total revenue of $29.68 million, compared to $281,000 in the same period the prior year, and net income of $3.2 million, or $0.08 per diluted share, compared to a net loss of ($27.4) million, or ($0.89) per diluted share in the second quarter 2013.
SUPN is raising its 2014 revenue guidance to approximately $105 million. SUPN is also reducing its cash burn guidance for the year to $5 million to $10 million, and raising its guidance for year-end cash and marketable securities to $75 million to $85 million.
SUPN anticipates achieving profitability for the full year and being cash flow positive in 2015.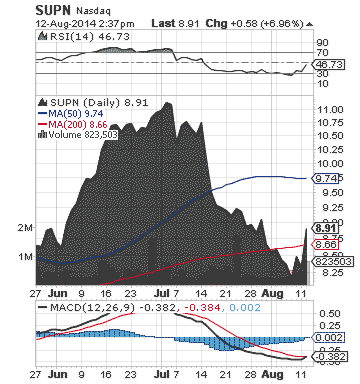 SUPN is a specialty pharmaceutical company focused on developing and commercializing products for the treatment of central nervous system. has two marketed products for epilepsy, Oxtellar XR(NYSE:R) (extended-release oxcarbazepine) and Trokendi XR(R) (extended-release topiramate).
More about Supernus Pharmaceuticals, Inc. (SUPN) at www.supernus.com
**

Intercept Pharmaceuticals, Inc. (NASDAQ:ICPT)
Non-alcoholic steatohepatitis (NYSEARCA:NASH) is liver inflammation caused by a buildup of fat in the liver. Many people have a buildup of fat in the liver, and for most people it causes no symptoms and no problems. But in some people, the fat causes inflammation of the liver. Because of the inflammation, the liver doesn't work as well as it should.
ICPT released new data on its experimental obeticholic acid, a bile acid analog and first-in-class agonist of the farnesoid X receptor, showing the treatment is effective and has less-severe side effects than previous feared in patients with non-alcoholic steatohepatitis (NASH), for which there is no approved treatment.
According to ICPT, its obeticholic acid stopped liver scarring in 46% of patients versus 21% taking a placebo.
Obeticholic acid (OCA) is being developed for a variety of chronic liver diseases including primary biliary cirrhosis (PBC), nonalcoholic steatohepatitis (NASH), alcoholic hepatitis and primary sclerosing cholangitis (NASDAQ:PSC). OCA has received orphan drug designation in both the United States and Europe for the treatment of PBC and PSC.
ICPT owns worldwide rights to OCA outside of Japan, China and Korea, where it has out-licensed the product candidate to Sumitomo Dainippon Pharma.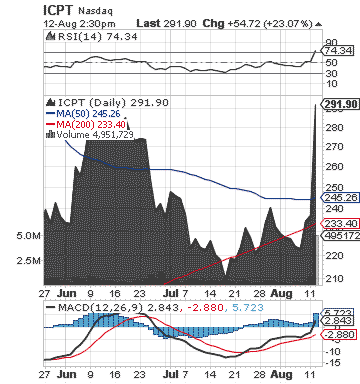 ICPT is focused on the development and commercialization of novel therapeutics to treat orphan and more prevalent liver and intestinal diseases utilizing its expertise in bile acid chemistry.
More about Intercept Pharmaceuticals, Inc. (ICPT) at www.interceptpharma.com.
**
Read Full Disclaimer at www.finance.crwe-pr.com/disclaimer
Disclosure: The author has no positions in any stocks mentioned, and no plans to initiate any positions within the next 72 hours.