AerCap Holdings N.V. (NYSE:AER)
Brokerage firm FBR Capital has reiterated an 'Outperform/Top Pick' rating on AER, and has raised its price target on the company from $52.00 to $58.00 per share.
On May 14, 2014, AER completed the acquisition of International Lease Finance Corporation ("ILFC") from American International Group, Inc.
AER reported strong performance on its financial results, driven primarily by the ILFC transaction.
For the second quarter 2014, AER posted net income of $138.3 million, versus $75.7 million in the same period the prior year, and basic earnings per share of $0.84, compared to $0.67 in the second quarter 2013.
For the period, AER's adjusted net income grew to $212.4 million, or $1.29 per basic share, from $67.1 million, or $0.59 per share for the 2013 second quarter.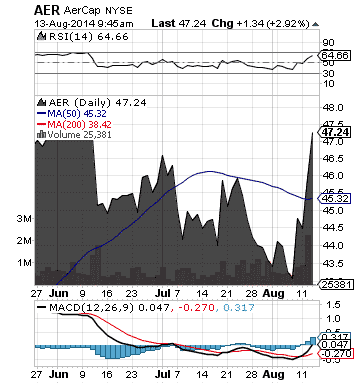 AER is the global leader in aircraft leasing with approximately 1,700 owned, managed or on order aircraft in its portfolio
More about AerCap Holdings N.V. (AER) at www.aercap.com
**

LiveDeal Inc. (NASDAQ:LIVE)
For the third fiscal quarter 2014, LIVE reported an increase in net revenues of 340% compared to the same period the prior year and current cash position of $10.3 million, compared to cash of approximately $1 million as of June 30, 2013.
According to LIVE, total assets increased by more than $12 million since the fiscal year ended September 2013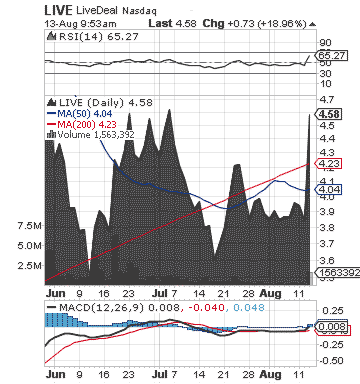 LIVE provides marketing solutions that boost customer awareness and merchant visibility on the Internet. LiveDeal operates a deal engine, which is a service that connects merchants and consumers via an innovative platform that uses geo-location, enabling businesses to communicate real-time and instant offers to nearby consumers.
More about LiveDeal Inc. (LIVE) at www.livedeal.com
**
Read Full Disclaimer at www.finance.crwe-pr.com/disclaimer
Disclosure: The author has no positions in any stocks mentioned, and no plans to initiate any positions within the next 72 hours.