Monster Beverage Corp. (NASDAQ:MNST)
Keep a close eye on MNST. The company has entered into definitive agreements with The Coca-Cola Company, that will accelerate MNST's opportunity to grow internationally.
The partnership strategically aligns both companies for the long-term by combining the strength of The Coca-Cola Company's worldwide bottling system with MNST's dedicated focus and expertise as a leading energy player globally.
The Coca-Cola Company will make a net cash payment of $2.15 billion in exchange for an approximately 16.7% ownership interest in MNST, and transfer its worldwide energy business - which includes drinks like NOS, Full Throttle, Burn, Mother and Play - to MNST. Meanwhile, MNST will issue to The Coca-Cola Company the shares of MNST common stock, transfer its non-energy business - which includes drinks like Hansen's Natural Sodas, Peace Tea, Hubert's Lemonade and Hansen's Juice Products - to The Coca-Cola Company, and enter into expanded distribution arrangements.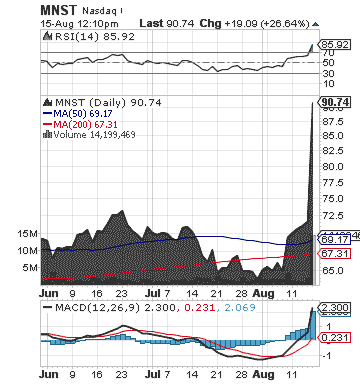 MNST is a leading marketer and distributor of energy drinks and alternative beverages
More about Monster Beverage Corp. (MNST) at www.monsterbevcorp.com.
**

Achillion Pharmaceuticals, Inc. (NASDAQ:ACHN)
The hepatitis C virus (HCV) is the most common cause of viral hepatitis, which is an inflammation of the liver. It is currently estimated that more than 150 million people are infected with HCV worldwide including more than 5 million people in the United States. Chronic hepatitis, if left untreated, can lead to permanent liver damage that can result in the development of liver cancer, liver failure or death.
ACHN reported a 100% sustained virologic response rate (SVR4) from an ongoing Phase 2 proxy study evaluating its ACH-3102, a second-generation NS5A inhibitor, in combination with sofosbuvir, without ribavirin, for eight weeks of treatment in patients with treatment-naive genotype 1 chronic hepatitis C virus (HCV) infection.
According to ACHN, ACH-3102 continues to demonstrate good safety and tolerability through three Phase 2 studies and the company believes these studies also confirm a differentiated efficacy profile for an NS5A inhibitor.
Achieving 100% SVR4 with eight weeks of treatment with sofosbuvir serving as a nucleotide proxy indicate that dosing 50 mg once daily of ACH-3102 plus a nucleotide inhibitor has the potential to achieve commercially competitive results for curing HCV in a short duration, ribavirin-free doublet.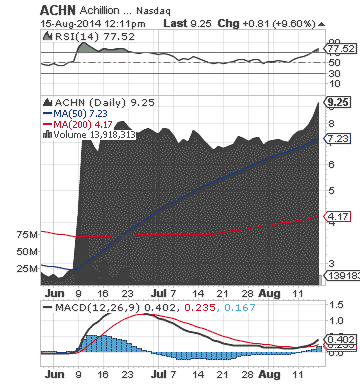 ACHN is an innovative pharmaceutical company dedicated to bringing important new treatments to patients with infectious disease, including HCV and resistant bacterial infections.
More about Achillion Pharmaceuticals, Inc. (ACHN) at www.achillion.com
**
Read Full Disclaimer at www.finance.crwe-pr.com/disclaimer
Disclosure: The author has no positions in any stocks mentioned, and no plans to initiate any positions within the next 72 hours.