Achillion Pharmaceuticals, Inc. (NASDAQ:ACHN)
In 2011, ACHN discovered and nominated the investigational compound, ACH-3102. ACH-3102 is a structurally distinct second-generation NS5A inhibitor which has been granted Fast Track designation from the U.S. Food and Drug Administration (FDA) for the treatment of chronic hepatitis C (HCV).
The hepatitis C virus is the most common cause of viral hepatitis, which is an inflammation of the liver. It is currently estimated that more than 150 million people are infected with HCV worldwide including more than 5 million people in the United States.
The U.S. Patent & Trademark Office has granted ACHN U.S. Patent No. 8,809,313, covering composition-of-matter and method of use claims for ACH-3102 and structurally related NS5A inhibitor compounds. This patent is entitled "Substituted aliphanes, cyclophanes, heteraphanes, heterophanes, hetero-heteraphanes and metallocenes useful for treating HCV infections," and provides a patent term which lasts until 2032.
ACHN recently reported a 100% sustained virologic response rate (SVR4) from an ongoing Phase 2 proxy study evaluating its ACH-3102, in combination with sofosbuvir, without ribavirin, for eight weeks of treatment in patients with treatment-naive genotype 1 chronic hepatitis C virus (HCV) infection.
Achieving 100% SVR4 with eight weeks of treatment with sofosbuvir serving as a nucleotide proxy indicate that dosing 50 mg once daily of ACH-3102 plus a nucleotide inhibitor has the potential to achieve commercially competitive results for curing HCV in a short duration, ribavirin-free doublet.
On Monday, brokerage firm Deutsche Bank upgraded ACHN from Hold to Buy and raised its price target on the company from $6.00 to $17.00 per share.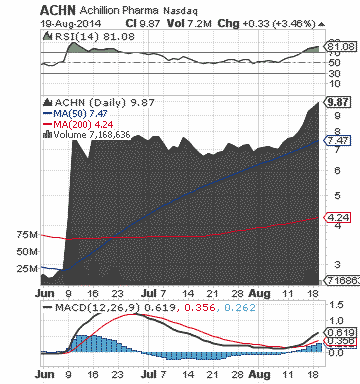 ACHN is an innovative pharmaceutical company dedicated to bringing important new treatments to patients with infectious disease, including HCV and resistant bacterial infections.
More about Achillion Pharmaceuticals, Inc. (ACHN) at www.achillion.com
**

VisionChina Media Inc. (NASDAQ:VISN)
Keep a close eye on VISN. The company reported strong performance on its financial results.
For the second quarter 2014, VISN posted total revenues of $30.5 million, an increase of 14.2% year over year and 38.3% sequentially, operating profit of $2.0 million versus operating loss of $5.2 million in the same period the prior year and operating loss of $7.1 million in the previous quarter, and non-GAAP net income attributable to VISN shareholders of $2.5 million, compared to non-GAAP net loss of $5.1 million in the second quarter 2013.
According to its business outlook, VISN estimates its advertising service revenue for the third quarter of 2014 will be between $30.0 million and $31.5 million, representing year-over-year growth of 6.5% to 11.8%.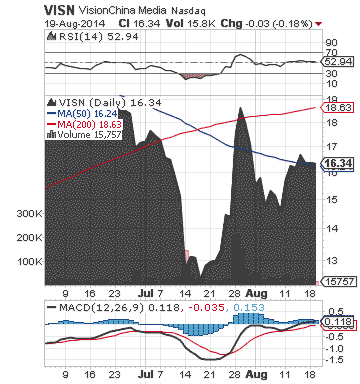 VISN operates an out-of-home advertising network on mass transportation systems, including buses and subways.
More about VisionChina Media Inc. (VISN) at www.visionchina.cn.
**
Read Full Disclaimer at www.finance.crwe-pr.com/disclaimer
Disclosure: The author has no positions in any stocks mentioned, and no plans to initiate any positions within the next 72 hours.