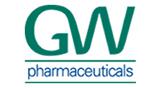 GW Pharmaceuticals plc (NASDAQ:GWPH)
A seizure is a temporary disturbance in brain function in which groups of nerve cells in the brain signal abnormally and excessively. Changes in the brain's electrical activity can cause dramatic, noticeable symptoms or even no symptoms at all. The symptoms of a severe seizure are often widely recognized, including violent shaking and loss of control. Usually, a seizure lasts from a few seconds to a few minutes.
Epilepsy is a neurological condition which affects the nervous system. Epilepsy, also known as a seizure disorder, is characterized by a tendency to have recurrent seizures. The seizures in epilepsy may be related to a brain injury or a family tendency, but most of the time the cause is unknown
Epilepsy affects not only the individual with epilepsy but also can have a great impact on all members of the family unit. People with epilepsy do not live in isolation. Many of the negative events experienced by children with epilepsy are likely to extend to all family members. As stress in the family increases, it may exasperate any pre-existing marital quarrels .
Epilepsy is not a disease, mental illness or a sign of low intelligence. It is not contagious.
Epilepsy is usually diagnosed in childhood and in people over the age of 65, but it can affect any one. According to the Centers for Disease Control and Prevention, epilepsy affects 65 million people worldwide.
Dravet syndrome, also called severe myoclonic epilepsy of infancy, is a rare and catastrophic treatment-resistant form of childhood epilepsy for which there is currently no cure. It begins in the first year of life in an otherwise healthy infant. Children with Dravet syndrome typically experience poor development of language and motor skills, hyperactivity, and difficulty relating to others.
Lennox-Gastaut syndrome is a rare and often debilitating form of childhood-onset epilepsy. The syndrome is characterized by a triad of signs including multiple seizure types, moderate to severe cognitive impairment, and an abnormal EEG with slow spike- wave complexes. Lennox-Gastaut syndrome constitutes between 1-4% of pediatric epilepsies and typically appears between the second and sixth year of life.
Recently, the FDA has granted Fast Track designation to GWPH's investigational cannabidiol product, Epidiolex(NYSE:R), in the treatment of Dravet syndrome.
FDA's Fast Track program facilitates the development and review of drugs intended to treat serious conditions and fill an unmet medical need. A drug development program with Fast Track designation is afforded greater access to the FDA for the purpose of expediting the drug's development, review and potential approval to get important new drugs to the patient earlier.
According to GWPH, initial data on Epidiolex provides promising signals of efficacy and safety in children with treatment-resistant epilepsy, including patients with Dravet syndrome.
GWPH recently raised total net proceeds after expenses of approximately $118 million from a U.S. public offering of American Depositary Shares (ADSs) on the NASDAQ Global Market
GWPH's preparations for Phase 3 clinical trials in both Dravet and Lennox-Gastaut syndromes are advancing rapidly and the company looks forward to the start of the first pivotal placebo-controlled trial in the second half of this year.
GWPH said that the funds raised in the follow-on offering will not only allow the company to complete these development programs but also to commence pre-launch activities in the United States and build-up of inventory in readiness for future launch
In parallel with its Epidiolex program, GWPH also said that it is progressing towards the conclusion of its U.S. Phase 3 cancer pain trials for Sativex, the world's first plant-derived cannabinoid prescription drug, and looks forward to reporting initial top-line data from the first trial around the end of 2014. Sativex(R) is approved for the treatment of spasticity due to multiple sclerosis in 25 countries outside the United States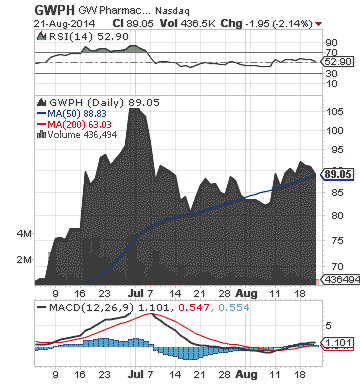 GWPH is a biopharmaceutical company focused on discovering, developing and commercializing novel therapeutics from its proprietary cannabinoid product platform in a broad range of disease areas.
More about GW Pharmaceuticals plc (GWPH) at www.gwpharm.com
**

GameStop Corp. (NYSE:GME)
Keep a close eye on GME. The company reported financial results stronger than anticipated.
For the second quarter 2014, GME posted total global sales of $1.73 billion, a 25.1% increase year over year, net earnings of $24.6 million, a 134.3% increase compared to the same period the prior year, and diluted earnings per share of $0.22, representing a 144.4% increase compared to diluted earnings per share of $0.09 in the second quarter 2013
According to its business outlook, for the third quarter fiscal 2014, GME expects diluted earnings per share to range from $0.58 to $0.64, while for the full fiscal year 2014, GME expects diluted earnings per share to range from $3.40 to $3.70.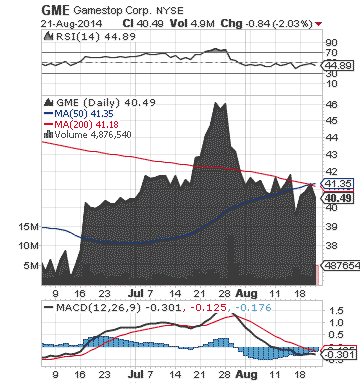 GME is a global, multichannel video game, consumer electronics and wireless services retailer.
**
Read Full Disclaimer at www.finance.crwe-pr.com/disclaimer
Disclosure: The author has no positions in any stocks mentioned, and no plans to initiate any positions within the next 72 hours.