Kite Pharma, Inc. (NASDAQ:KITE)
Lymphocytes are a type of white blood cell (leukocyte) that is of fundamental importance in the immune system because lymphocytes are the cells that determine the specificity of the immune response to infectious microorganisms and other foreign substances.
There are two main types of lymphocytes: B cells and T cells. The B cells make antibodies that attack bacteria and toxins while the T cells attack body cells themselves when they have been taken over by viruses or have become cancerous.
Non-Hodgkin lymphoma (also known as non-Hodgkin's lymphoma, NHL, or sometimes just lymphoma) is a cancer that starts in cells called lymphocytes, which are part of the body's immune system. Lymphocytes are in the lymph nodes and other lymphoid tissues (such as the spleen and bone marrow).
Non-Hodgkin lymphomas can occur at any age and are often marked by lymph nodes that are larger than normal, fever, and weight loss. There are many different types of non-Hodgkin lymphoma. These types can be divided into aggressive (fast-growing) and indolent (slow-growing) types, and they can be formed from either B-cells or T-cells.
KITE reported the publication of clinical results in a cohort of patients demonstrating the potential to treat aggressive non-Hodgkin's lymphoma with an anti-CD19 chimeric antigen receptor (NASDAQ:CAR) T cell therapy.
The findings from an ongoing Phase 1-2a clinical trial funded by KITE and conducted by the Surgery Branch of the National Cancer Institute (NYSE:NCI) demonstrated that:
- In 12 out of 13 evaluable patients with advanced B-cell malignancies, administration of anti-CD19 CAR T cells resulted in complete remission in eight patients and partial remission in four patients, representing an overall objective response rate of 92%.
- Of seven evaluable patients with chemotherapy-refractory diffuse large B-cell lymphoma (DLBCL), four achieved complete remission, three of which are ongoing with durations ranging from 9 to 22 months.
These findings have being published in the August 25, 2014 issue of the American Society of Clinical Oncology's Journal of Clinical Oncology.
KITE's KTE-C19 is an anti-CD19 CAR T cell therapy that involves genetically modifying a patient's T cells to express a CAR that is designed to target CD19, a protein expressed on the cell surface of B cell lymphomas and leukemias.
To date, KITE and the NCI have conducted an extensive program to investigate personalized T cell immunotherapies for blood cancers and solid tumors, including in patients with refractory DLBCL. According to KITE, both the high overall response rate and the durability of the complete remissions are noteworthy, and the company believes its anti-CD19-CAR T cell approach holds great potential for the treatment of B cell malignancies, including those with aggressive, resistant disease for which there are no viable treatment options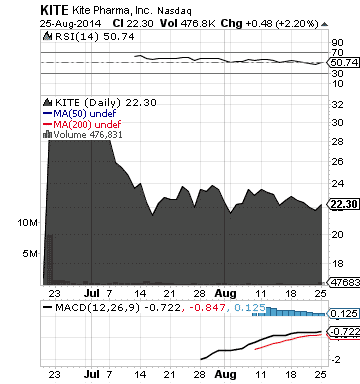 KITE is a clinical-stage biopharmaceutical company engaged in the development of novel cancer immunotherapy products, with a primary focus on eACT(NYSE:TM) designed to restore the immune system's ability to recognize and eradicate tumors.
More about Kite Pharma, Inc. (KITE) at www.kitepharma.com.
**

The BHP Billiton Group, comprised of BHP Billiton Limited (NYSE:BHP) and BHP Billiton Plc (NYSE:BBL), recently reported a plan for a demerger. This would separate its assets into two distinct companies: a simplified BHP Billiton and a new, independent global metals and mining company.
According to BHP Billiton, a demerger has the potential to unlock shareholder value by allowing the company to improve the productivity of its largest businesses more quickly and by creating a new company specifically designed to enhance the performance of its assets.
Once simplified, BHP Billiton will be almost exclusively focused on its exceptionally large, long-life iron ore, copper, coal, petroleum and potash basins. With fewer assets and a greater upstream focus, the company will be able to reduce costs and improve the productivity of its largest businesses more quickly. As a result, its portfolio is expected to generate stronger growth in free cash flow and a superior return on investment.
With a simpler portfolio, BHP Billiton is targeting at least another US$3.5 billion of productivity-related gains by the end of the 2017 financial year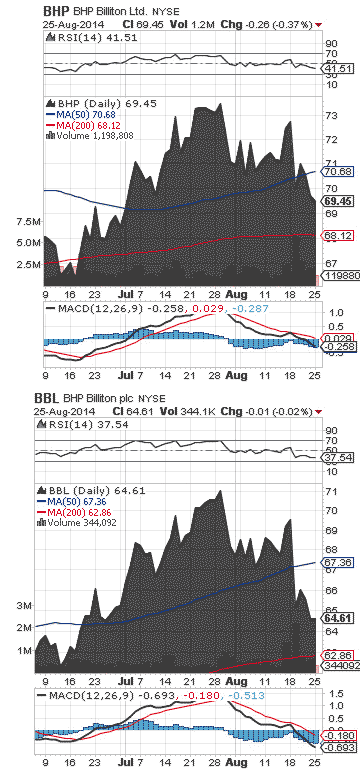 BHP Billiton is a leading global resources company. The company is among the world's largest producers of major commodities, including aluminium, coal, copper, iron ore, manganese, nickel, silver and uranium, and have substantial interests in oil and gas.
More about BHP Billiton Limited (BHP) and BHP Billiton Plc (BBL) at www.bhpbilliton.com
**
Read Full Disclaimer at www.finance.crwe-pr.com/disclaimer
Disclosure: The author has no positions in any stocks mentioned, and no plans to initiate any positions within the next 72 hours.