China Recycling Energy Corp. (NASDAQ:CREG)
After the closing bell on Wednesday, CREG reported that its Chairman and CEO, Mr. Guohua Ku, has entered into a Share Purchase Agreement with the Company on August 27, 2014 to purchase 13,829,074 shares of CREG common stock at the market price.
Under the Share Purchase Agreement, CREG shall issue and sell the shares to Mr. Ku at US$1.37 per share. The total purchase price for the shares shall be paid by Mr. Ku within 20 days of the effective date of the agreement.
According to CREG's Chairman and CEO, the company is well positioned to capture the significant growth opportunities in the energy saving and recycling market in China and deliver long-term shareholder value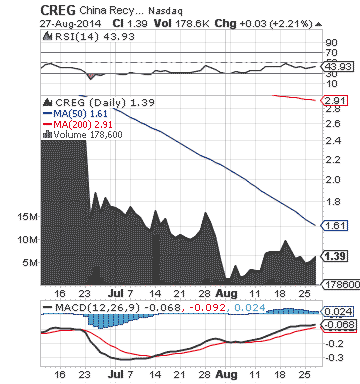 CREG provides environmentally friendly waste-to-energy technologies to recycle industrial byproducts for steel mills, cement factories and coke plants in China. Byproducts include heat, steam, pressure, and exhaust to generate large amounts of lower-cost electricity and reduce the need for outside electrical sources.
More about China Recycling Energy Corp. (CREG) at www.creg-cn.com.
**

Lannett Company, Inc. (NYSEMKT:LCI)
Keep a close eye on LCI. The company reported the seventh consecutive quarter of record net sales on its financial results.
For the fiscal 2014 fourth quarter, LCI posted record net sales of $80.6 million, versus $40.2 million in the same period the prior year, operating income of $37.4 million, compared to $5.7 million in the fourth quarter of fiscal 2013, and net income attributable to LCI grew year-over-year more than six-fold to $23.5 million, or $0.64 per diluted share, from $3.6 million, or $0.12 per diluted share.
For the full year of fiscal 2014, LCI's net sales rose 81% to $273.8 million from $151.1 million for fiscal 2013.
LCI provided financial guidance for the fiscal 2015 full year, which significantly exceeds fiscal 2014. LCI expects net sales in the range of $350 million to $370 million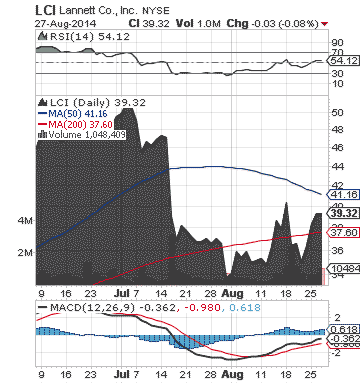 LCI develops, manufactures, packages, markets and distributes generic pharmaceutical products for a wide range of medical indications.
More about Lannett Company, Inc. (LCI) at www.lannett.com.
**
Read Full Disclaimer at www.finance.crwe-pr.com/disclaimer
Disclosure: The author has no positions in any stocks mentioned, and no plans to initiate any positions within the next 72 hours.