Once in awhile a well thought out plan just goes horribly wrong. Thankfully this doesn't happen very often but in the case of Apple the pain is now and it's severe.
In an article written in December titled Listen to The Quiet we laid out a five-step review thesis with the fifth point being "Yes, key metrics have changed. Gross margin is one metric that is critical to assessing fair pricing and profitability. It is declining but not at a level that causes us to question our position. It does add risk to ownership from a share price perspective. If traders key in on gross margin and overweight its importance we could see significant share price decline in the short term." In retrospect we accurately assessed the risk but unfortunately the investments we selected prior to our tactical revision have suffered.
We remain long AAPL and committed to our long-term positions. We view selling at the current levels in an attempt to protect further asset erosion working against our longer-term goals. There have been many articles written reviewing last quarter's results and market analysis so restating the data here will not be helpful. Dividends are a component of our decision-making. There is an excellent article addressing dividends and earnings by Todd Johnson, which we found helpful.
Our current challenge, now that we have decided to retain our long positions, is to recover from the previous tactical trades that are now problematic. We routinely use options to increase profitability on Apple. Some of these positions are going backward so fast its demands immediate attention. The problems with the options is the cost of shares if assigned is greater than the recent value so when the shares transfer to a long position we would be underwater.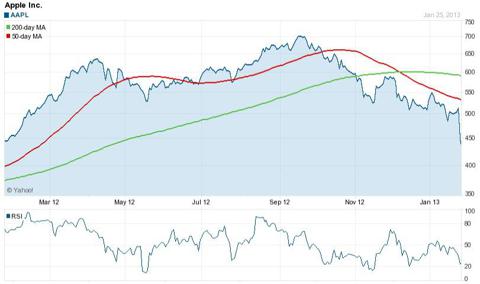 To facilitate at least a partial recovery we will be implementing a new long positin and a roll over plan for cash secured puts. The objective of this tactic is to move the risk out farther into the future and hopefully capture additional upside. The current trading situation and pricing volatility seems irrational and too unpredictable to warrant closer term investments. Rolling over a put consists of placing an order comprising a buying to close order for a current position, and at the same time selling to open a new position. Back when Apple was trading in the mid $600 range we opened a position in a cash secured put with a strike of $525 dated February 2013. At the time the order was placed a strike price of $525 seemed far enough off to not cause assignment of shares. Obviously we missed the mark on this trade. The put was sold to open and we collected a premium of $12.21. The same put currently trades at $86.05. If we do nothing there is a very good chance that we will get assigned shares in February at $525 if AAPL is trading at $525 or under. If we simply close the position it will cost us $73.84. Neither of these outcomes are acceptable.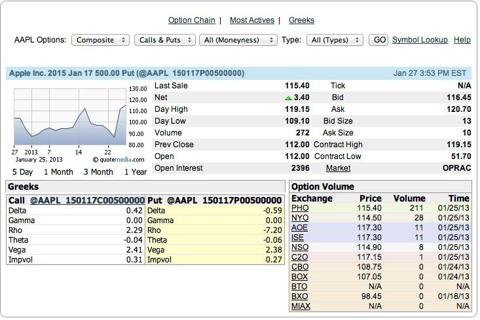 In order to recover from this situation we will buy back the current put position and open a new position as far into the future as possible. January 2015 Strike 500 puts are currently priced at $115.40. This recovery tactic moves the risk out farther into the future and yields a roll over yield of $29.35 on this trade and $41.56 inclusive of the original premium that we kept. Part of being an investor is admitting when you have been wrong and finding ways to recover. An additional key consideration is the challenge of how to take advantage of the current AAPL pricing situation. Looking at sell to open put option orders can be a helpful way to capture profits without buying shares. If you feel that AAPL shares will rebound and their business will be worth something more than its current share value in 2015, then put options could be a less expensive way to profit from the current price decline. The only true recovery will be for AAPL shares to rebound. With the current yield there is time to wait and get paid for it. This new tactic allows time for that to occur.
Disclosure: I am long AAPL. I wrote this article myself, and it expresses my own opinions. I am not receiving compensation for it (other than from Seeking Alpha). I have no business relationship with any company whose stock is mentioned in this article.