Wednesday's release of the FOMC minutes revived the debate over when the Fed might raise rates and has added further focus on Friday's Jackson Hole meetings. The Nasdaq 100, which has been leading the market, was flat for the day while the small-cap Russell 2000 was down 0.43%.
The market internals were neutral, which has caused the McClellan oscillator to turn lower, which may be signaling the start of an overdue pullback. The economic slate is heavy today with more data on manufacturing as well as the Existing Home Sales and the Leading Indicators.
Overseas, the economic data was not encouraging as the Euro zone's purchasing managers index from Markit declined, consistent with the economic slowdown. In addition, China's factory activity dropped to the lowest level in the past three months.
Many are wondering whether the utility sector will continue to lead the market for the rest of 2014. The Sector Select SPDR Utilities (XLU) is up 13.7% YTD but is still 4.4% below its 52-week high. With significantly higher yields than the 10 Year T-Note, is now the time to buy the utilities?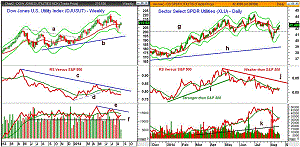 Click to Enlarge
Chart Analysis: The Dow Jones US Utility Index (DJUSUT), which is made up of 62 utility companies, peaked at 220.59 in July.
The Sector Select SPDR Utilities (XLU) is more narrowly based with just 30 holdings and a current yield of 3.57%. It is more liquid than the iShares US Utilities (IDU) which tracks the DJUSUT.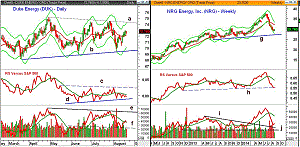 Click to Enlarge Duke Energy (DUK) is the largest holding of XLU as it makes up just over 9% of the ETF. It has a current yield of 4.31% and is just 3.15% below its 52-week high.
NRG Energy, Inc. (NRG) is a diversified utility that owns and operates power generation facilities. It has a current yield of 1.75%.
What it Means: There are no clear signs that the utility sector has completed its corrections as the sector, as well as many of the strongest stocks like Duke Energy (DUK), have just rallied back to resistance. The monthly analysis is positive but would wait to buy the strong utilities like DUK if we get a drop back to stronger support.
The more speculative utilities like NRG Energy, Inc. (NRG) have been hit hard by their earnings reports and it is a good example of why one needs to do thorough research before buying.
How to Profit: No new recommendation.
Disclosure: The author has no positions in any stocks mentioned, and no plans to initiate any positions within the next 72 hours.