Just as I was ready to submit this article, I looked at my charts and saw red on the screen. True, the NFP data missed, but the real headline was one that rocked the political landscape: "Russia will aid Syria if attacked". Immediately, the S&P retreated 19 handles, and is offered at the current moment. Who knows where it goes from here? While not trying to trivialize the seriousness of the headline it seems an opportune time to introduce this "pairs trade" - one that seeks to capitalize on the relative performances or QQQ and IWM. As this article was written last night, it is still very relevant, and perhaps even more so as today's sudden pullback in the general market underscores the point that it is important to have hedges and to not always have directional bias. So without further introduction, here's the article as it was written:
The word "taper" has become quite fashionable among economist within the last few months, and the smart money have been selling bonds at a precipitous rate. The 10 year yield is currently hovering around 2.85%, up from 1.63% in early May. Tapering is in the cards, it's just a matter of when, and higher rates should affect the stock market, but to what degree? Stocks remain within a stone's throw of recent (and all time) highs, and whether or not we'll see a pullback is anyone's guess. But one thing's for sure: higher borrowing costs mean more expenses, and smaller firms will start to face headwinds.
IWM has outperformed QQQ for the better part of the year. But mention the word "taper" and the tables appear to be turning. IWM (the purple line), which had been outperforming for the majority of 2013, appears to have lost some steam. QQQ (the green and red line)has narrowed the gap, and a crossover appears likely as higher rates will continue to take a toll on the more highly levered and smaller companies. Furthermore, higher rates don't affect all companies equally. AAPL currently has an S&P rating of AA+, while MSFT carries the pristine AAA rating. Together, the two behemoths account for 20% of the QQQ. The smaller companies comprising IWM don't get those credit breaks, and higher rates will hit them harder. So if you subscribe to the notion that IWM has lost steam relative to QQQ, you should buy QQQ, sell IWM in equal dollar amounts, and don't worry about the overall direction of the market. This trade should work well under the following conditions: "taper" continues to be a topic of discussion, rates continue to move higher, and AAPL continues to market perform or better. (Remember, AAPL currently comprises 13% of QQQ.) If you believe in these three premises, expect QQQ to outperform IWM, and expect a tidy profit regardless of market direction.
--------------------------------------------------------------------(click to enlarge)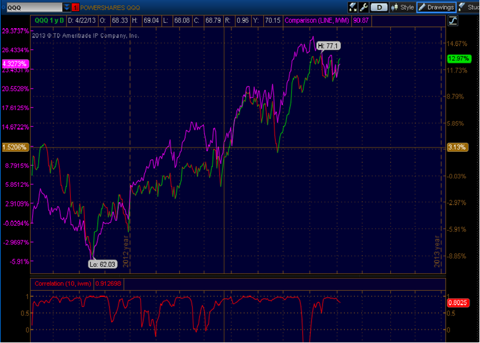 Click to enlarge
Disclosure: I am short IWM.
Additional disclosure: I am long QQQ and Short IWM. I have no plans to exit this position in the next 72 hours