Convenience store operator The Pantry recently announced that it expects to implement KSS fuel pricing technology in all of its stores by mid-year.
Pantry management hopes to increase fuel sales and produce healthier margins through continued support of the KSS system. The Pantry initially invested in the KSS Fuel system in 2010.
Let's take a look at the chart: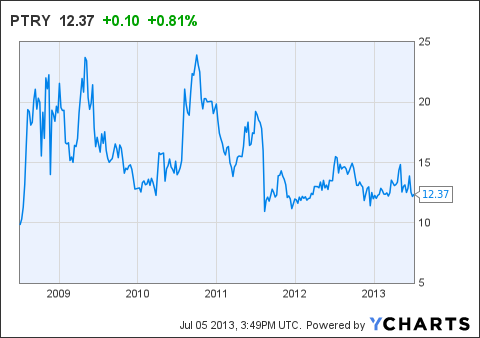 KSS fuel pricing software allows gas retailers to update prices based on retailer location, competitors pricing per gallon, and market demand. The data supplied by the KSS system is supposed to give fuel retailers new strategies other than the traditional strategy of pricing down competitors.
These new strategies include analyzing geographic trends in order to set and change the price of fuel, in order to account for fluctuating demand.
"We're getting a lot of information that's allowing us to be more flexible in the market to manage to really optimize gasoline gross profit…the information that we're getting and the ability to react is what's giving us the power here," said Vice President and Corporate Controller Barry Epley in the Q1 2013 conference call with investors on February 5.
As of April 2013, The Pantry had implemented the technology in 200 (13 percent) of its stores and it expects to fully implement the technology by the end of Q2 2013. The 200 stores with the new pricing system have been recording higher profit, leading management to believe that there will be broader company success once the system has been installed in all of The Pantry's gas retail locations. On April 30, 2013 The Pantry's stock closed at $14.61.
In 2012, The Pantry saw fuel revenues go up to $6.4 billion, a 1.3 percent increase from 2011, but as the price per gallon of fuel continues to climb, The Pantry saw overall fewer gallons sold alongside decreasing margins. Fuel made up 78 percent of revenue in 2012 but only 26 percent of profit.
"The implementation of pricing optimization software chain-wide by April 2013 will help mitigate fuel volume declines…" said Raymond James analyst Benjamin Barlow in an April 2013 research report.
Headquartered in Cary, N.C., The Pantry is an operator of convenience stores in the Southeastern U.S. The company operates 1,571 stores in 13 states, primarily in Florida, North Carolina and South Carolina. Founded in 1967 by North Carolina businessmen Sam Wornom and Truby Proctor Jr., the company now has 13,709 employees.
The Pantry greatly expanded its store count in the 1990s when, through a series of buyouts, it established what would eventually become the current store base.
From 1997 to 2001, The Pantry acquired more than 600 convenience stores through a wave of buyouts. In 1997, The Pantry acquired 489 Lil' Champ stores from Jacksonville, Fla. based Docks U.S.A Inc. In November 1999, The Pantry acquired all common stock of Kangaroo Inc. for $46 million. At the time, Kangaroo operated 49 convenient stores in the Southeast. Since then, The Pantry has operated primarily under the Kangaroo and Kangaroo Express name and has created strong brand recognition under the Kangaroo Express banner.
The Pantry has recruited senior executives and management who have substantial experience in the grocery/convenience store industry.
Current Chief Executive Officer, Dennis Hatchell, joined the company on February 12, 2012 after taking over for Terrance Marks, who resigned after three years as CEO. Hatchell is a veteran of the grocery/wholesale business and started with Western Grocers out of college, eventually rising to become president and chief operating officer of Alex Lee Inc. and president of Lowes Food Stores Inc. Hatchell is joined by Senior Vice President of Fuels, Keith Bell. Bell joined The Pantry in 2006 after leaving a job with BP p.l.c he held 18 years. While at BP, Bell was vice president of pricing and supply for BP's U.S fuels northeast region and he spent three years as the Southeast performance unit leader. Chief Financial Officer Clyde Preslar joined The Pantry in February 2013. Preslar previously served as Chief Financial Officer at Cott Corporation, a manufacturer of non-alcoholic beverage products. In addition, Preslar served as chief financial officer at the snack food manufacturer Lance Inc. Senior Vice President of marketing, John J. Fisher, joined the company in 2010. Prior to joining The Pantry, Fisher ran Fisher Consulting and specialized in foodservice marketing and operational execution.
In addition to the implementation of the KSS fuel-pricing system, the company has announced plans to continue with a large initiative to remodel reorganize and add more quick service restaurants to existing stores.
The Pantry's store merchandise sales have been trending upwards in recent years and company management hopes that remodels and store expansions will capitalize on this trend.
Supermarkets, big box stores and club stores have recently begun to offer fuel at discounted rates. Pantry management has noted the importance of finding additional sources of revenue for the company.
The Pantry's traditional source of revenue has been from fuel sales; however, the company derives most of its profit from sales of ancillary products such as cigarettes, groceries or beer and wine. In 2012, cigarettes, grocery and other tobacco product sales made up 55.1 percent of total merchandise sales and these sales were important in offsetting the normally low margins of fuel sales.
Management said that the results of these remodeling's are not yet known and will be judged on a case-by-case basis.
"The remodels that are currently underway are pretty extensive, these are stores that have hadn't a lot of deferred maintenance done to them in a long time…each store is obviously different and we're evaluating…but we have stores that we have to address this with. We have other stores where we can do slight remodels or equipment change outs and that will be enough but the first ones we took on are pretty significant in extensive remodels," said Hatchell
Store renovations are going to be coupled with what management has called "lifestyle merchandize initiatives." These initiatives will target specific demographics and supply relevant stores with specific goods that a certain demographic demands. In the 2013 Q1 conference call, Dennis Hatchell said that the company has identified nine different lifestyles local merchandizing needs and the company is installing three of the nine. "Hispanic" is in 130 locations; "colleges" in 120 locations and the "beach" is installed in 47 locations.
"The early results of this initiative are positive and we are pleased with the progress we are making. We have plans to add another 56 Hispanic locations in the month of February and we will continue to rapidly add more locations to all the lifestyles as we remodel or reset our stores," Hatchell said. An example of these initiatives would be beach stores stocking sunglasses and surfboards in time for the upcoming season, while stores near large Hispanic populations would carry ethnic drinks and snacks. These merchandising initiatives are a simple and effective way to bring in revenue to existing stores. Management is hopeful that if Pantry convenience stores carry brands that a certain demographic consumes on a regular basis, then this demographic will begin to rely on Pantry stores for other goods such as fuel
Bonnie Herzog, a beverage and tobacco analyst with Wells Fargo, has identified these specific merchandising initiatives as a significant way to increase store growth. She noted that The Pantry's stores are operating below potential, with merchandise sales standing at $1.1 million per store versus the industry average of about $1.6 million per
"As Pantry remodels 10% of its store base annually over the next several years and continues to implement new lifestyle merchandise initiatives, we estimate this could generate incremental merchandise SSS growth of 1.3% over the next few years, based on our analysis," she said.
In 2012 there were only 218 quick service restaurants (QSRs) in Pantry convenience stores, 147 of which were Subway. Pantry management has noted that they need to offer more QSR options in their stores in order to keep up with a rapidly evolving convenience store market.
In 2013, The Pantry plans to add 20-25 new QSRs to its stores. These QSRs refer to proprietary (Aunt M's) or nationally branded (Subway, Dairy Queen, Baskin Robbins etc.) restaurants. In 2012, foodservice sales (about half of which are sales from branded restaurants) made up only 10.6 percent of The Pantry's merchandise sales, a number well below the industry average of 20 percent. Pantry management is looking to maximize on the underdeveloped and potentially profitable QSR market.
In addition to building new QSRs, Pantry management's remodeling initiative will include remodeling some of its 200 existing QSRs. These efforts to increase The Pantry's market penetration into the Supermarket and Dollar Store market will potentially help make up for lost fuel revenue. Pantry management has said that store closings will accompany this remodeling initiative. From the beginning of 2008 to the end of 2012, the number of stores operated by The Pantry has decreased to 1,578 from 1,644. As a result of recent closings, store-operating expenses decreased $11.6 million, or 2.2 percent, and general and administrative expenses decreased $6.9 million, or 6.7 percent, in 2012 from 2011. With fewer obligations to loans, leases and asset sales, The Pantry will be able to focus on implementing its long-term goals for growth. In March 2013, The Pantry completed the private sale of $250 million in 10-year notes. This sale will allow The Pantry to secure reduced interest and payment rates, allowing the company to focus on long-term initiatives such as remodeling.
Pantry management is headed into uncharted water for convenience store owners, as they are seeing their traditional sources of revenue fall to the wayside. Fuel is not a profitable as it once was and the traditional convenience store is becoming more dynamic. With this in mind, Pantry management is looking to shift their business model to one that will stay ahead of the curve. The Pantry will focus more on making foodservice sales a larger part of sales while maximizing existing fuel profits. The KSS initiative, coupled with store remodeling and QSR additions, may prove to be an effective way to realize these goals.
Disclosure: I am long PTRY.