Every day the Dogs of the Dow website updates a list of the "50 largest companies by market cap (available on major US stock exchanges)". The website defines market cap as "the total market value of the company's outstanding shares. To calculate a company's market cap, you simply take the current stock price and multiply it by the total number of shares outstanding."
Dogs of the Index Metrics Cull Out Current Bargains
For this article the July 13 list of 50 top market cap companies was re-ranked using the two key dog performance metrics: (1) stock price; (2) annual dividend. Dividing the annual dividend by the price declared the percentage yield by which each dog stock was ranked.
Historically dividend dog investors utilized this ranking system to select portfolios of five or ten stocks in any one index, sector, survey, or list to trade. They awaited the results from their investments in the lowest priced, highest yielding stocks and prayed that the price of every stock they now owned climbed higher (having locked in a high yield percentage at purchase).
Dogs of the index strategy, popularized by Michael B. O'Higgins in the book "Beating The Dow" (HarperCollins, 1991), revealed how high yielding stocks whose prices increase (and whose dividend yields therefore decrease) can be sold off once each year to sweep gains to reinvest the seed money into higher yielding stocks in the same index.
The top thirty stocks of the 50 top market cap equities listed below were ranked by yields calculated as of July 13 to determine the Top Market Cap Dividend Dogs. Bracketed numbers after the stock name indicate the 1-50 market cap rank earned.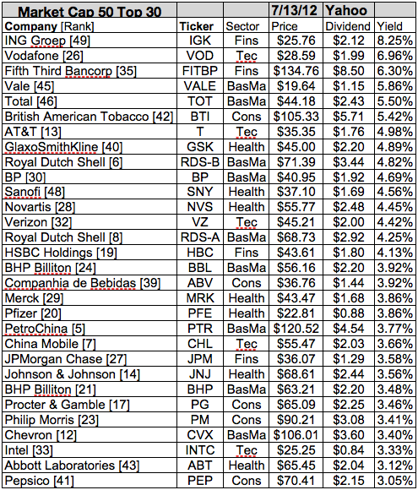 Market cap top ten stocks showing the biggest yields as of July 13 included equities representing five of nine market sectors. The top yielding stock as revealed by Yahoo Finance data, was one of two in the financial sector, ING Groep (IGK). The other financial was Fifth Third Bancorp (FITBP). The balance of the top ten included: two technology, Vodafone (NASDAQ:VOD), and AT&T (NYSE:T); four basic materials firms, Vale S.A. (NYSE:VALE), Total (NYSE:TOT), Royal Dutch Shell (RDS-B), and BP plc (NYSE:BP); one consumer goods firm, British American Tobacco (NYSEMKT:BTI); one health care equity, GlaxoSmithKline (NYSE:GSK) representing the sectors.
Dividend vs. Price Results
Below relative strengths for the top ten Market Cap Dividend Dogs by yield was graphed as of July 13, 2012 and compared to those of the Dow. Five months of historic projected annual dividend history from $1000 invested in the ten highest yielding stocks and the total single share prices of those ten stocks created the data points for each month shown in green for price and blue for dividends.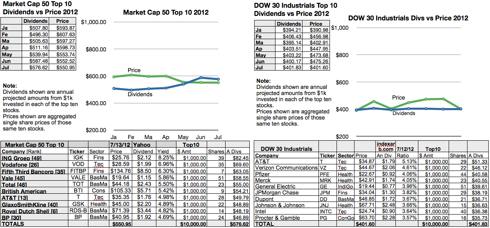 Conclusion: Top Market Cap Dogs Stay Neutral
A mostly bearish trend pushed the top ten Market Cap Dogs dividend vs. price performance from overbought to neutral between April and June. Since April aggregate single share price for the top ten declined 7.98% while projected dividends from $1k invested in each of those ten increased 12.81% for the period. This is a healthy sign as the gap between aggregate single share prices exceeding projected dividends from $1k invested in those ten equities has disappeared and dividends now exceed aggregate price.
Meanwhile, the Dow index moved back to near convergence as dividends from $1k invested in the top ten came to within $1 of their aggregate total single share prices in July.
As of July 13 Market Cap Dogs showed $175 or 43.64% more dividends (with equally bigger risk) at $150 or 37.4% higher aggregate single share price than the Dow top ten.
Conclusion Too: Analysts Forecast July 2013 Gains at 17.61%
Top ten dogs for the Top Market Cap list were graphed below to show relative strengths by dividend and price as of July 13, 2012 and those projected to July 13, 2013.
Historic prices and actual dividends paid from $1000 invested in the ten highest yielding stocks and the aggregate single share prices of those ten stocks created the data points for 2012. Projections based on estimated increases in dividend amounts from $1000 invested in the ten highest yielding stocks and aggregate one year analyst mean target prices as reported by Yahoo Finance created the 2013 data points green for price and blue for dividends.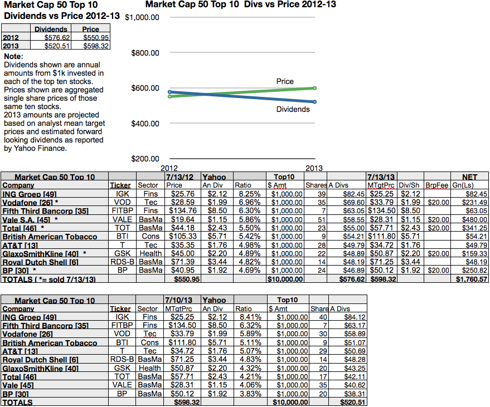 For the coming year Yahoo Finance projected a 9.72% lower dividend from $1k invested in each stock within this group while aggregate single share price for the ten was projected by analysts to increase by 8.73%. Probable profit generating trades revealed by Yahoo for 2013 were Vodafone netting $231.49, Vale S.A. netting $480.00, Total netting $341.25, GlaxoSmithKline netting $159.33, and BP netting $250.82 in the coming year. The resulting net gain from dividends and swept price gains was 17.61% from $10k invested according to analyst estimates.
Stay tuned also for Top Market Cap comparisons to other large cap lists including dividend champions. Look for semi-annual updates on how well or whether projected gains for 2013 hold.
Disclaimer: This article is for informational and educational purposes only and should not be construed to constitute investment advice. Nothing contained herein shall constitute a solicitation, recommendation or endorsement to buy or sell any security. Prices and returns on equities in this article except as noted are listed without consideration of fees, commissions, taxes, penalties, or interest payable due to purchasing, holding, or selling same.