This end of month installment refines and concludes results from a series of articles that compared relative strengths of nine stock indices by (1) yield and (2) dividend vs price gaps using projected annual dividends from $1000 invested in the ten highest yielding stocks in each index for. The articles in this series reported June & July results for: (1) Chuck Carnevale's Power 25 Index; (2) Super 29 Index; David Fish's vaunted (3) Champions, (4) Contenders, and (5) Challengers, plus a (6) Composite CCC Index; (7) Dividend AchieversTM 50; (8) Russell 50. All of it based on (9) Dogs of the Dow.
As chapters in the ongoing effort to respond to the question, "what dividend stocks are good, better, best, bad or ugly?" those articles also heeded Yale professor Robert Shiller's observation: "People still place too much confidence in the markets and have too strong a belief that paying attention to the gyrations in their investments will someday make them rich, and so they do not make conservative preparations for possible bad outcomes." Hence the articles graphically depicted gyrations.
Dog Metrics Selected Ten in Each Index
Two key numbers determined the yields that ranked stocks in each index: (1) stock price; (2) annual dividend. Dividing the annual dividend by the price of the stock declared the percentage yield by which each dog stock was ranked.
All Together Now
Each graph below shows monthly points of comparison between annual projected dividends resulting from $10,000 invested as $1,000 each in the top ten high yield stocks (blue points) versus the total prices of one share of each of the ten stocks (green points) by index. Grouped together the graphs display six months of comparative gyrations of the nine indices described.



Dogs Ranked by Dividend Dominance
The following graph shows annual dividends projected from $1000 invested in each of ten stocks with the top yields in nine indices. The chart plotted projected yields as of a specific purchase date each month since January. Generally, projected yields increased in the indices when average stock prices fell. However yield projections were subject to corporate fiscal considerations so yields also plunged when times got tough.
Annual Dividends Forecast from $1k Invested in Each of 10 Top Yielding Stocks in 9 Indices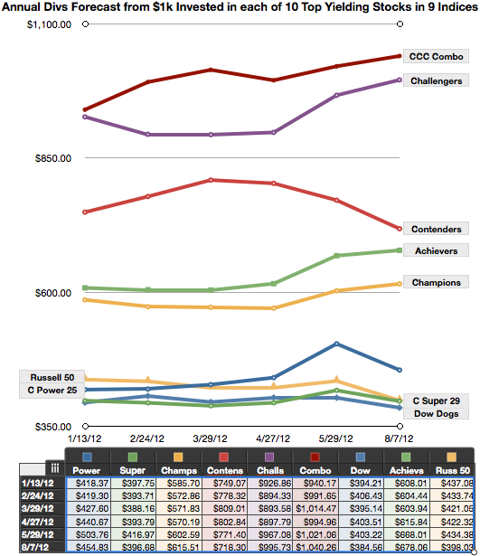 Relative yield strengths differentiated the indices graphed:
Dow Dogs showed the lowest dividends from $1000 invested in each of those ten top stocks with a erratic swing down 2.45% over six data points since January.
Dow and Carnevale Super 29 Index dividends behaved like a braided cord until April but thereafter separated with the Super 29 top ten showing a higher aggregate dividend from $1000 invested in each of their ten stocks.
Despite turbulence, the Super 29 dividend projected from $1000 invested in each of those top ten stocks fell within $1.10 of the January projection as of the most recent data point.
Large cap Russell 50 dividends dropped 8.93% since January to finish just $1.50 above the Super 29 dividend projection.
Dividends projected from $1k invested in Carnevale's Power 25 list of top ten dogs popped up 8.75% since January. This action moved the power 25 data points since April well above the Dow, Super 29, and Russell 50 chart lines.
Three indices grouped themselves toward the middle of the chart:
Divided Champion dividends from $1000 invested in the top ten stocks showed a 5.09% pop between January and July after sagging 2.65% into April.
Dividend Achiever dogs projected dividends jumped 11.52% in projected dividend between January and July.
Projected dividends from top ten Contender dogs however dropped 4.17% since January after rising 8% through March.
Two indices rose to the top of the chart as their dividends from $1000 invested in the top ten stocks created separation from the seven lower yielding indices: Dividend Challenger dogs swung up 7.43% since January. The CCCCombo collection arched up 10.65% for the period.
Relative Risk For Dogs by Index
A reader request to "add relative financial data on the companies selected" for an early article comparing indices only by annual yield projections has inspired a simple tool to gauge investment risk. The tool is best applied prior to the purchase of any 5 or 10 Dogs of the Index stocks at any point during the year. This information will continue to be reviewed monthly as one step toward Robert Schiller's admonishment to "make conservative preparations for possible bad outcomes."
Divergence from Share Price Ranked Investor Risk by Index
The charts and accompanying graphs below show the June/July Divergence ranks of the nine indices for investment risk from high to low.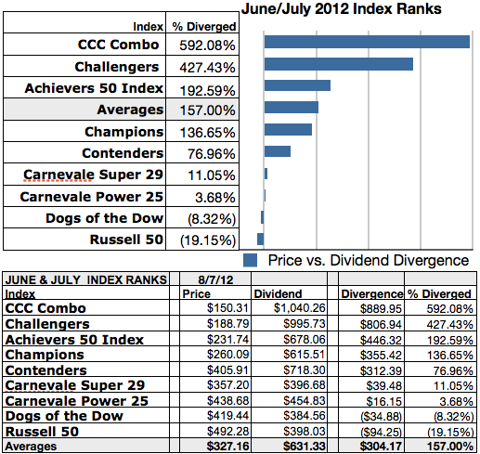 Conclusion: Analyst Forecasts Reveal Eight Dogs Fit to Net 11.08% to 110.92% by August 2013
Top ten dogs for this index component list were graphed below to show relative strengths by price as of the first week in August, 2012 and those projected to August, 2013. Historic aggregate single share price of the ten highest yielding stocks created the numbers for 2012. Projections based on aggregate one year analyst mean target prices as reported by Yahoo Finance created the 2013 numbers for each index.
This became a graph of upside potential since all the analyst estimates showed positive price gains for each sector ranging from 4.23% for the Dividend Champion dogs to 27.52% for the ten CCCCombo dogs.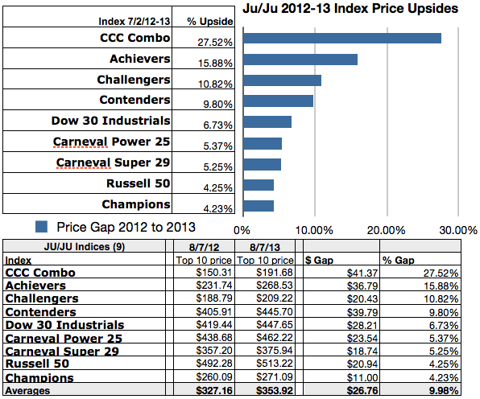 Top Trades Per Analysts
The top net gaining dog trades one year from now were revealed by analysts in each of eight sectors. (The CCC Combo index was not included because it duplicated top picks from the three C indices.) The chart below is derived from analyst data reported by Yahoo Finance.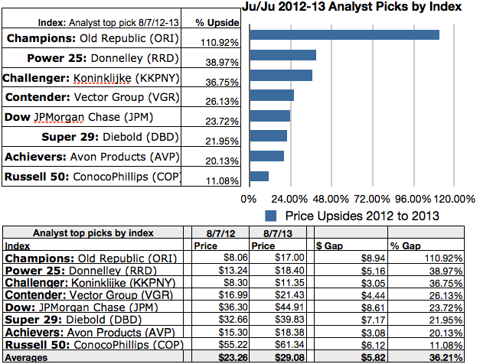 Old Republic International (NYSE:ORI) in the Champions index is projected to net a 110.92% price gain based on mean target price set by 1 analyst.
RR Donnelley & Sons (NASDAQ:RRD) netting a 38.97% price gain in the Carnevale Power 25 index is determined by a mean target price set by 4 analysts.
Koninklijke KPN N.V. (OTCPK:KKPNY) netting a 36.75% price gain in the Challenger index was based on a mean target price set by 1 analyst.
Vector Group (NYSE:VGR) netting a 28.13% annual gain in the Contender index was based on mean target pricing set by 1 analyst.
JPMorgan Chase (NYSE:JPM) netting a 23.72% net gain in the Dow 30 Industrials index as of next August was based on a mean target price set by 29 analysts.
Diebold Inc. (NYSE:DBD) netting a 21.95% net gain in the Carnevale Super 29 index next year was based on a mean target price set by 6 analysts.
Avon Products (NYSE:AVP) netting a 20.13% net gain in the Dividend Achievers index annually was based on a mean target price set by 13 analysts;
ConocoPhillips (NYSE:COP) netting a 11.08% net gain in the Russell 50 index next year was based on a mean target price set by 16 analysts.
Available Next Steps
As stated above, charts and graphs for this index revealed high yielding stocks whose prices increased (or whose dividends decreased) as candidates to be sold off once each year in order to sweep gains and reinvest the seed money into higher yielding stocks in the same index.
At least three investor choices are clear:
(1) Do nothing. Keep checking these high yield opportunities for possible trades in the fourth quarter of the year or after the November elections.
(2) Use the dogs of the index strategy to select a portfolio of five or ten stocks from this index to buy now. Await the results from your investments in these lowest priced, highest yielding stocks and pray that the price of every stock you purchased climbs higher (having locked in a high yield percentage at purchase). One year from now review these selections and sweep gains, reinvesting the seed money into new higher yielding stocks in the same index.
(3) Pick one or two of the above listed stocks as candidates to buy now then hold long term, all the while collecting interest or reinvesting the gains in additional shares through a dividend reinvestment plan.
Stay Tuned
Nine indices and their component stocks will have ongoing stories to tell. These graphs, charts, and lists of companies will be updated again for publication each month.
Disclaimer: This article is for informational and educational purposes only and should not be construed to constitute investment advice. Nothing contained herein shall constitute a solicitation, recommendation or endorsement to buy or sell any security. Prices and returns on equities in this article are listed without consideration of fees, commissions, taxes, penalties, or interest payable due to purchasing, holding, or selling same.