The short answer is no. Jaguar Mining (JAG) is only good for short risky speculations with the exception that if the management gets better there could be an upside. Otherwise production and margins look slim.
Lets look at JAG's 2009 FY guidelines: 165,000 to 175,000 ounces of gold.
JAG maintained these goals and kept their average cost per oz at around $466 in 2009. Although $466 was nowhere near cheap, other larger companies pulled gold out at similar levels. Lets fast forward to now. This year they mined 102,823 ounces of gold, down 40% from 2009 levels. Also costs per ounce are up to $1000. Cost per ounce is up 28% since just last year. Higher cash cost has mostly been attributed to lower production. This places JAG's cash operating margin around 600 dollars per ounce.
Higher gold prices also don't seem to help. Gold was about on average $1000 an ounce in 2009. It is now currently 1,665 dollars an ounce. Even with an increase in gold price, JAG's margins have stayed the same.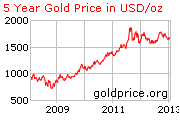 In conclusion, although cash operating margin has stayed the same, production has slowed. This leads to a spiral of higher and higher cost per ounce. The only thing that has saved JAG is higher gold prices parallel to its decrease in production. Any slump in gold will spell disaster for JAG.
Disclosure: I have no positions in any stocks mentioned, and no plans to initiate any positions within the next 72 hours. I wrote this article myself, and it expresses my own opinions. I am not receiving compensation for it. I have no business relationship with any company whose stock is mentioned in this article.