Stocks Hit New High: What's Next ?
The S&P500 reached an all-time high.
I checked to see if 1-month returns of US stocks against several other assets would offer any information. I used a simple statistical tool: the 26-day rolling z-score.
It assesses to what extent the current return differential (1-month return of a given asset vs. 1-month return of the SP500) remains within the +/-2 sigma area.
Barring any black swans, a breach of the upper or lower bound is generally followed by a mean reversion, as can be seen in the chart below: whenever S&P 500 (NYSEARCA:SPY) returns overshoot Brent returns, the spread adjusts back to its medium run average.
the question now is: Has the S&P 500 outperform too much? Is it poised to fall or not?
The answer to the first question is: yes.
the answer to the second question is: not necessarily.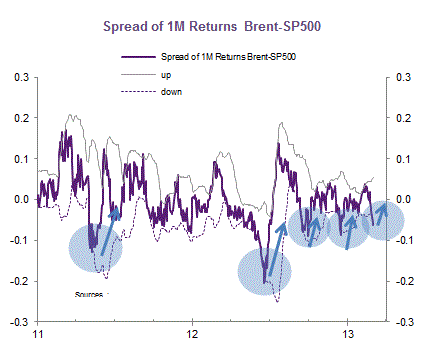 I did the same calculation on the FX spectrum (EUR/USD and EUR/JPY) as well as with copper and the High yield total return index (NYSEARCA:HYG). (below an example with EUR/USD vs. S&P 500).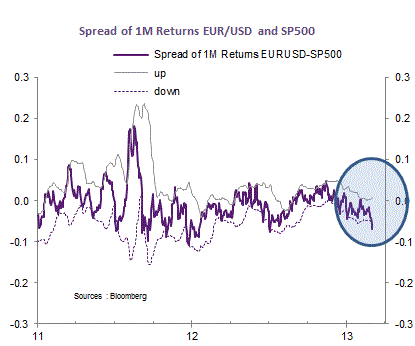 All my charts (except one with junk bonds) come to the same conclusion: there is a clear cut overshooting of stocks.
But with such an analysis, the glass is neither half full nor half empty. Mean reversion does not necessarily mean that stock prices have to fall. They just have to underperform other risky assets.
In many instances when the spread fell below the 2-sigma lower bound, the stocks registered a positive ex-post 1-month return. The chart below shows the one-month forward return of the S&P 500 (dotted line). In at least 3 episodes, the mean reversion process came along with higher stock prices (positive return) not falling stock indexes.
(click to enlarge)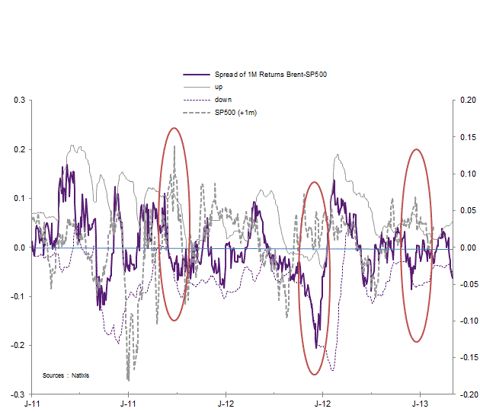 Click to enlarge
Though it is true that breaching new highs does not necessarily imply a short term drop in stock prices, the recent outperformance of stocks is not synonymous with negative returns, just under-performance.
Stock may underperform, but not necessary fall.
For stocks to continue to grow, two tailwinds are required:
i. a positive news flow (recent ISM and ADP data suggest that it is still improving)
ii. attractive valuations. For now, forward Price Earning Ratios are still in their medium run range. In addition, the chart below shows that Earning Per Share growth forecast for the US has been revised more sharply than in the euro-zone and are consistent with a 2% GDP growth rate in 2013.
For that reason I believe that stocks may underperform other asset classes in the near future, but it might not be on the way down.
Disclosure: I have no positions in any stocks mentioned, and no plans to initiate any positions within the next 72 hours. I wrote this article myself, and it expresses my own opinions. I am not receiving compensation for it (other than from Seeking Alpha). I have no business relationship with any company whose stock is mentioned in this article.