Recent price action in the base and precious metals spectrum suggests a forthcoming outperformance of EM stock indexes.
The reversal in global PMIs should lift the price of base metals. This is clearly what the chart below suggests, using the LMEX (copper, aluminum, lead, tin, zinc and nickel). As can be seen, the recent moves in PMIs should have driven (and will drive) base metal prices much higher.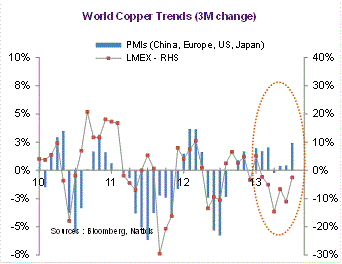 In the meantime, and in spite of a timid recent rebound, gold prices are under pressure due to the forthcoming Fed Tapering (September is a done deal). As can be seen below, the uptick in gold prices has followed the slight rebound in breakeven inflation over the last few weeks. From a longer run perspective (chart, right), real yields are still expected to reflect real GDP growth figures, which is clearly bearish for gold.
(click to enlarge)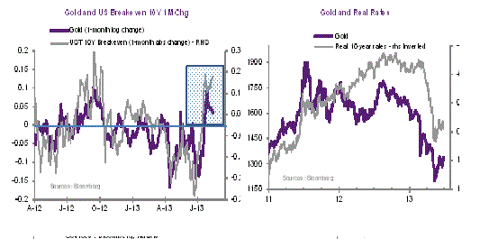 Click to enlarge
Higher base metal prices combined with stable or lower gold prices should bring the gold/base metal ratio much lower. On a cross asset basis this should mean a forthcoming outperformance of emerging market stocks indexes against the SP500.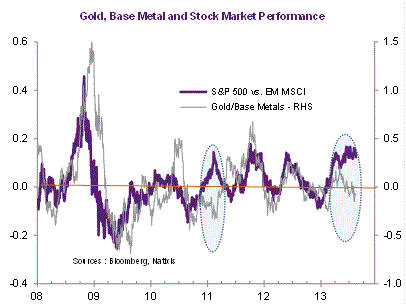 This call has been invalidated several times since the beginning of the year. Yet, as can be seen below, the disconnect between both ratios (gold/base metals and S&P 500/EM MSCI) has reached a level unseen since early 2011.
For that reason I am considering entering a long GMM short SPY position.
Disclosure: I have no positions in any stocks mentioned, but may initiate a long position in GMM over the next 72 hours. I wrote this article myself, and it expresses my own opinions. I am not receiving compensation for it (other than from Seeking Alpha). I have no business relationship with any company whose stock is mentioned in this article.