Swing Trading is Key
Oh, and by the way, you should become one of them. (a swing trader) After all, you're the most important person in your investing career, right? You have to look after yourself and your portfolio.
In the UNXL articles that I've read, I've seen a lot of back and forth stabs and jabs, insults and flames. Some people are absolutely sure UNXL is a fraud, outright calling the bulls fools who'll have all their money taken from them as the stock price dips to worthlessness. Others are absolutely sure UNXL is the best investment story in years - the next AAPL explosive growth story - and they litter on personal attacks against the bears in about four out of five comments that I've read.
I can't say which is correct, but I can tell you neither the longs nor shorts are your enemy. The shorts already shorted the stock - they are not responsible for the plunge from $40+ to $15. Most shorts were deep underwater, and were unlikely to short even more, lest it grow to some insane percentage of their portfolio on more sensational news. Likewise most longs buying shares on the Kodak news are now deep underwater unless they had firm stop losses in place. They are unlikely to average down unless their initial purchase was rather small. At times it's hard to be contrarian, and this rapid plunge will have rattled nerves enough to keep many longs from buying more shares.
What's all this prove? Nothing... except that if I just described you in the above paragraph, you are not a swing trader, and you should be. (At least for this stock!)
UNXL is News Driven
UNXL is a news driven stock, similar to BBRY. UNXL has no products on the market, and whether it can mass produce UniBoss with high enough yields is still unknown. As such there is no floor to the stock - its price can be wildly manipulated by well timed releases of positive and negative news. Despite what some bulls would have you believe, a secondary offering at $32/share does not validate their technology. They could still fail and drop down to just a couple dollars. The reason the offering succeeded was that the risk/reward ratio was acceptable for the buyers. Likewise, past histories of scammy behaviour and product failures are not a good indicator of how things will play out this time. UniBoss is a different technology - an engineer (or team of them) could fail at designing one product and succeed at another. They might use knowledge of past failures to avoid pitfalls in their newest endeavour. Kodak does also have quite a bit of printing experience, so there should be concerns for the bears that any kinks in the manufacturing process will be successfully overcome.
So what then do you do? Swing trade it! It's hard to be contrarian, and it's harder yet to go long on a stock that you think will fail, or go short on a stock that you think is the next AAPL - and yet that is what you must do to attain the highest returns. That is what many traders are doing with UNXL right now - buying shares and calls on the lows, only to unload them on the highs - then shorting and loading up on puts on the highs, only to unload them on the lows. I must admit I am guilty of this - but to be fair to both the longs and shorts, I decided to deal only with far out options, rather than actually buying/selling shares and contributing to affecting the price.
Swing trading like this is easier if you focus on what's important to a news driven stock - news! Lets say I thought UNXL was going to collapse and become a $1/share stock? Do I believe there is more good news around the corner? Perhaps the first shipments to some large OEM like Dell, in a couple months time? In that case, I should be bullish right now, because the news is likely to drive its price upward once again.
Likewise if everything is looking up - yields are reported to be high, shipments are going out - I should probably go bearish to hedge my bets, since timed articles about the challenges OEMs are facing, or competitive pressures (pricing pressures, or contracts lost to Fuji, ATML, etc.), could lead to the share price temporarily dipping. There will probably also be some very negative reviews about some of the first products released that contain UniBoss, and if Uni-Pixel fails to ship the volume that OEMs demand (even if that's higher than current bull estimates), you can expect their yields to be called into question.
I am basing that last one on a well timed bearish BBRY downgrade which lowered BB10 sales estimates to just ~150% of what the bulls like Peter Misek were hoping for. (Still ridiculously high and unattainable, yet the downgrade resulted in a ~7-10% dip that very day.)
Charting agrees - swing trading is key
Swing trading seems to provide higher returns than going purely long or short for news driven stocks - as long as you don't hit the very last swing before the stock booms upward or drops to nothing. I can't answer that, but I wish everyone well (bears and bulls alike), and end this article with my first attempt at some charting and technical analysis. (Follow it at your own peril!)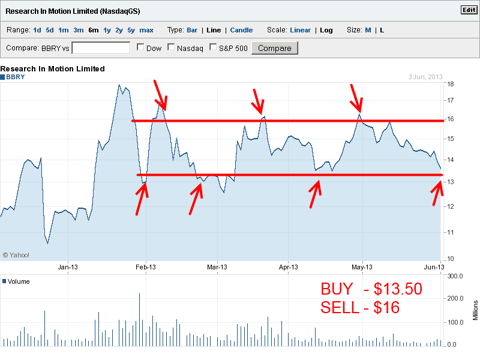 http://ca.finance.yahoo.com/q/bc?s=BBRY&t=6m&l=on&z=l&q=l&c=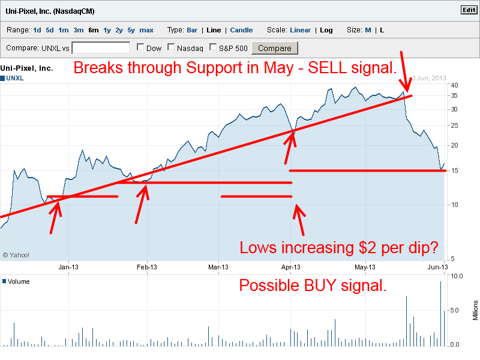 http://ca.finance.yahoo.com/q/bc?s=UNXL&t=1d&l=on&z=l&q=l&c=
One final note on BBRY
I realize the above BBRY chart looks very predictable, and might spur readers to purchase shares, so I'd like to issue a word of caution - I am concerned about comments made by BBRY CFO Brian Bidulka during the last conference call.
"In terms of our outlook, the company will be increasing its marketing investment in the global launch of Blackberry 10 during the first quarter by approximately 50%. Including this increased spending, the company believes it will still approach breakeven financial results in the first quarter, based on its lower cost base, more efficient supply chain, and improved hardware margins."
BBRY currently has a floor, put there by a few positive quarters with no cash burn. It has touched $13.50 over and over and bounced off it to $16. Although ramping up production and higher marketing spend are good things in the long term, I am worried about how the bears will spin it on that day. (June 28th) I fear that without awesome sell-through numbers, BBRY's stock may finally crash through the lower range of its floor.
The FOMC policy meeting (talks about the future of QE3) also take place roughly a week before (June 18th/19th), which may put share prices under some pressure even before the earnings release. Because of this macro event and the forward guidance given, I am less than certain the pattern will hold.
Disclaimer: I am a novice investor with between 6 and 9 months of investing experience. I just started learning about technical analysis this month. My intent with this article was to get UNXL longs and shorts to think about a different way to play this stock, which they need to be aware of even if they choose not to join in. It is clear to me that neither the pure bulls nor pure bears can control UNXL's price at all times, as large numbers of people and funds are already swing trading it. In my opinion you may as well join in.
I wrote this article myself, and it expresses my own opinions. I am not receiving compensation for it. I have no business relationship with any company whose stock is mentioned in this article.
Additional disclosure: I buy and sell UNXL and BBRY calls and puts. I trade the stocks that I write about and related stocks.