The S&P 500 (SPX) and the associated SPDR ETF the SPY (NYSEARCA:SPY) as well as other market indexes are showing the signs of concern for many that have already sold the upcoming Sequester. That right?
Whatever your personal context in the market may be currently, cautiously long seems to have been the dominant attitude since the recent election lows. Many believe the market has steamed ahead of itself and although excitement is rightfully building the market is due for a correction and therefore money should be reallocated or sidelined. Wednesday's minutes and yesterday's rising jobless claims are potentially just the beginning of up to a 10% correction. The low VIX is increasing and provides an indication we could see more volatility as we've topped in the S&P / SPY and sights should be set on around a 10% correction to 1360 / 136 ... Really? (click to enlarge)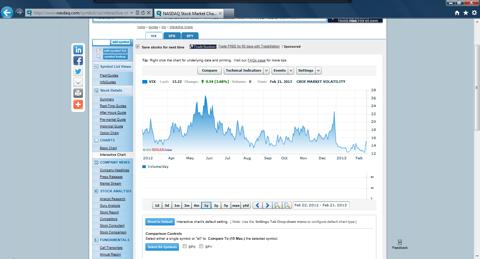 Click to enlarge
Did that weak bear case get you? Me neither, this is a tired move the market has used over and over in this channel. This is just part of a larger trend going back to April 6th, 2010 with tops channeling right up to all-time highs near 1565. Once the market gets to that those all-time highs, I have very different views on the US markets. Until those levels are reached I consider this a buying opportunity, possibly the final before reaching those levels. The VIX levels rising support the coming reversal but we've got a good run left after this dip. See the strength of the long term channel come to a nice final run in this 6-month view of the S&P:
(click to enlarge)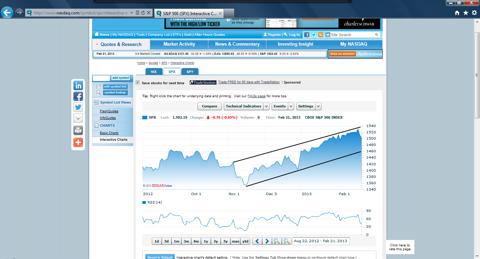 Click to enlarge
Many are underestimating the effect or disregarding entirely the influx of new money into equities as well as the transition from treasuries to equities, precious metals to equities and the major bullish signals that could mean a trip to 1565. I don't think there is trip to the 50-day, last time we approached it; there was a great bounce from RSI near 30 levels. The S&P / SPY are not making it to oversold levels because there is too much potential for the index. I am not going to fight the market, while there are some bearish signals, they seem very similar to the last several that have proven to be buying opportunities. That said put protection will be essential after the bounce back into this channel as the last two trips to S&P highs have resulted in disaster for the market afterward.
Disclosure: I have no positions in any stocks mentioned, and no plans to initiate any positions within the next 72 hours. I wrote this article myself, and it expresses my own opinions. I am not receiving compensation for it (other than from Seeking Alpha). I have no business relationship with any company whose stock is mentioned in this article.