A lot of us may be following with some interest the recent story of the battle around the Herbalife stock. Bill Ackman shorted the stock under the theory that Herbalife is a pyramid scheme, and then went public with an analysis to prove his theory.
What intrigues me is not so much what Herbalife does, as what a lot of investors including several fund managers have started doing lately - getting on TV channels as well as other public fora to discuss their investment thesis on positions that they may have taken. In this case, Pershing Square took a short position on Herbalife and then Bill Ackman went public with his views on the company's business model. Below is a snapshot of Hebalife stock prices over the last few weeks (Bill Ackman went public with his thesis right around December 20th, 2012).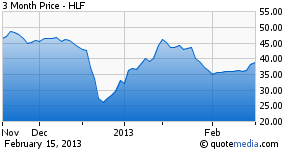 Doesn't that sound very similar to what some of the larger Banks were accused of doing in the 1990s / early 2000s? The prop desk was said to have taken a stock position and the Equity Research team would put out a buy (or sell) on the stock with a target price that could benefit the position that the prop desk had taken. This potential conflict of interest was what eventually led regulators to put a stop to the practice, pretty much putting an end to the heydays of equity research.
Irrespective of what happens to Herbalife and its business model, Pershing Square could have made a good return simply on the back of the fact that the stock took a beating once Mr Ackman went public with his allegations about the Company's business model.
The Herbalife story is just a recent example that comes to mind. There have been innumerable instances over the past few months of fund managers having taken positions in various securities or even commodities, and then gone public with their views on the investment.
Looks like the regulators don't seem to mind, so maybe that is the mantra - invest and then go on TV.
Disclosure: I have no positions in any stocks mentioned, and no plans to initiate any positions within the next 72 hours.