OSS Nightly Comments
Stock Watch for 8/15/2012
Symbol
Trade
AAPL
SHORT
BAC
SHORT
BEBE
SHORT
BIDU
SHORT
CAT
SHORT
DELL
SHORT
F
SHORT
HAL
SHORT
JBL
SHORT
MSI
LONG
S
SHORT
TDS
SHORT
TXN
SHORT
WGO
SHORT
These are not recommendations.
Buy and Sell signals are sent to Option Signal Service subscribers.
Not signed-up for the Free weekly newsletter?
Sign-up here
Follow Up for: 8/14/2012
Symbol
Trade
Open
Chg
Chg%
High
High%
Low
Low%
RIMM
SHORT
8.08
-0.51
-6.32%
0.02
0.25%
-0.56
-6.94%
NEM
SHORT
46.69
-0.58
-1.24%
0.21
0.44%
-0.70
-1.49%
TSN
SHORT
15.71
0.09
0.58%
0.13
0.83%
-0.10
-0.64%
---
---
Tonight's Thoughts
The markets are stalled.
A top is close at hand. If you are reading the OSS INDICATORS, you know why.
Still waiting for that "big event" I've been talking about. It needs to happen in the next few days.
The above 3 items were posted last night. Nothing has changed.
Lot's of SHORTs in the list tonight. In fact, the most ever.
Looking for drop to start soon. May be a big pop to the upside, but it won't last.
Another earthquake during our earthquake window of Aug. 11th to Aug. 16th. Notice they are all on a line from Alaska to Iran. There were two in Iran. Today's quake was the largest yet: 7.7.
For real-time earthquake data: Click Here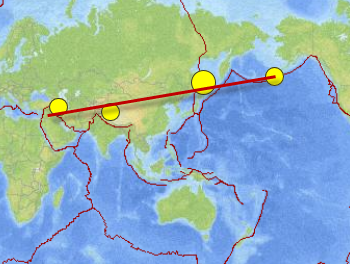 ** SUBSCRIBER'S ONLY SECTION **


--Rob
The Option Signal Service