The signs of a recovery are everywhere… from lower unemployment to retail sales to manufacturing. Yet, the spoiler at the party, or perhaps the realists, continue to be Ben Bernanke and the Federal Reserve. Even in the face of improvement, they continue to stand ready to pour more stimulus upon the economy, or more fuel on the fire.
What do they see that most people don't? After all, at this point in a recovery with reasonably strong economic statistics, rates would normally be rising which would at least give yield hungry investors some return on their low risk money. However there is this tug-of-war going on where some feel the recovery is for real and others believe it is a temporary blip with more pain to come.
Bernanke's boys are in the latter. They obviously see difficult times returning. Why else are they not only prepared but as excited as little school girls to continue with QE Mini-Me and have QE3 ready to rock? This may seem odd because most of us see inflation, if you eat and drive that is, while the Fed keeps talking about battling deflation. To me the evidence is clear. The current spate of decent economic news is nothing more than the effects of QE2, which began in November of 2010, doing what it's supposed to do. Stimulus takes 6-9 months to feel the effects in the economy and lasts about the same, although it becomes less effective each time due the law of diminishing returns.
With the positive effects of QE2 likely to wear off in a couple of months, expect a return to slow growth and more stimulus via QE3, which is all the market wants anyway. This is evident every time the market screams higher when Bernanke comments that he's ready with the jet fuel, and sinks when he says it may not be needed.
Economic conditions are driven by need. The baby boomers have enough stuff. They're not buying their kids school clothes and supplies like they used to, they don't need a bigger house now that the kids are gone and they make their cars last longer because they are not driving junior to soccer practice. They are past their need years and into their savings years. The demographics of an aging population which naturally spends less as it gets older (peak spending occurs at 48 years old) coupled with an already massively over-leveraged consumer is a tsunami not far off the coast and those left unprepared will be stuffed into a dingy without a paddle and an Italian captain.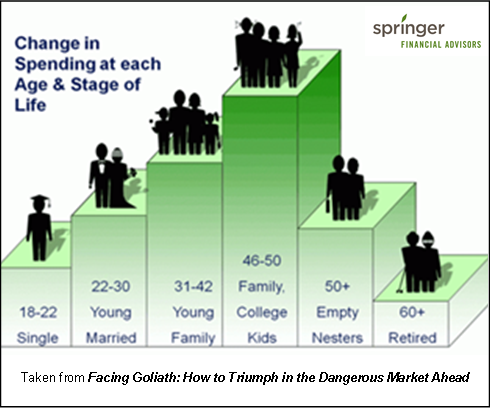 Naturally there isn't enough space here to go into detail here, but to learn more about the demographic overhang, how consumer spending will slow and why we are headed for deflation not inflation - essentially where we are, where we're headed and how to prepare, you may want to turn to Facing Goliath: How to Triumph in the Dangerous Market Ahead. It's an easy read and is often referred to being the cliff notes of what's going on in the economy.
Investors caught between a rock and hard place
With rates so low and the Fed's continued promise to keep them there, investors in the retirement red zone are caught between a rock and a hard place. They need safe returns with decent yields, and little risk of losing it. Now, I happen to think the enormous liquidity in world markets which I detailed in It's Raining Money! Smart Money Newsletter, will keep the markets strong for a few more months and hopefully through the election, but I wouldn't bet the farm on it. Although, further stimulus will benefit Gold silver and commodity stocks like SPDR Gold Shares (NYSEARCA:GLD), Market Vectors Gold Miners ETF (NYSEARCA:GDX), Newmont Mining Corp. (NYSE:NEM), Goldcorp. (NYSE:GG), Freeport-McMoRan Copper & Gold Inc. (NYSE:FCX), PowerShares DB Gold Double Long ETN (NYSEARCA:DGP) for the not so faint of heart, plus Silver Wheaton Corp. (NYSE:SLW) and ProShares Ultra Silver (NYSEARCA:AGQ) and Fortuna Silver Mines (NYSE:FSM).
Although it may feel nice when the stock market goes up, the fact is that if you can't afford to lose it, you can't go there. The "red zone" is the period just before you retire and through retirement. It used to be 5 years before but has been moved back to 10-15, due to the lost decade in stocks (the S&P is where it was in 1998!) and the possibility of losing money you can't make back. Younger growth oriented investors can venture into growth stocks such as SPDR S & P 500 (NYSEARCA:SPY), SPDR Select Sector Fund - Financial (NYSEARCA:XLF), iShares MSCI Emerging Index Fund (NYSEARCA:EEM), Emerging Markets Consumer ETF (NYSEARCA:ECON), PowerShares QQQ Trust, Series 1 (NASDAQ:QQQ), iShares Russell 2000 (NYSEARCA:IWM) and iShares FTSE China 25 Index Fund (NYSEARCA:FXI).
Invest for need, not for greed is our basic philosophy, and which is necessary to triumph in the dangerous market ahead. It will help you not only survive but prosper in your golden years. For some it may simply mean "getting the very best returns with the least risk possible" while for others it may simply be "don't gamble with what you can't afford to lose". Whatever it means to you, take it to heart and make sure you're getting the returns that you need but without all the risk.
There are plenty of good opportunities out there that get great returns without a lot of risk, if you have a plan and know where to look. Moderate risk investors can venture into Apple (NASDAQ:AAPL), Google (NASDAQ:GOOG), Intel Corporation (NASDAQ:INTC), Microsoft (NASDAQ:MSFT), Cisco Systems (NASDAQ:CSCO), Dell (NASDAQ:DELL), Caterpillar (NYSE:CAT), General Electric (NYSE:GE) and Yahoo (NASDAQ:YHOO).
Disclosure: I have no positions in any stocks mentioned, and no plans to initiate any positions within the next 72 hours.