I'm happy to have been fully committed to US equities for the past quarter. Although I can't see what's right around the corner, all my intermediate-term indicators remain positive. Especially encouraging is this chart from ValuePlays.net: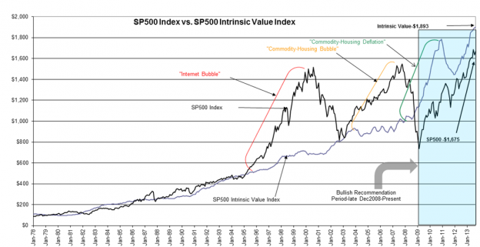 It makes sense to me that stock market prices should be correlated with earnings projections. Clearly prices got ahead of value a couple of times in the past two decades, and investors who were wary of speculative excess have avoided some of the damage when prices came back to reality. Now it appears that prices have fallen behind value, so we can hope for a catch-up (at least!).
I've been particularly pleased with PRHSX, SKSEX, OAKGX, PRWCX, and SSHFX this past quarter. I recently added a substantial position in OAKEX (despite its 2% 90-day redemption fee). I'm also holding ARGFX, MRVEX, and SMCDX. Neither of my speculative small stocks (AABVF and AXPW) has done particularly well of late; I continue to think there is a chance of dramatic appreciation.
Just for the thrill of going out on a limb, I'll predict that the US will NOT default on its obligations. After the posturing has run its course, we'll see modest deficit reduction and a bit more sense in Congress.
Like the old pro said to the novice at the Masters: "You're only here for a short visit. Don't hurry, don't worry. And be sure to smell the flowers along the way."