Week ended Friday 4/5/13
Technical damage was inflicted upon gold this week.
Gold was hit as commodities sold off Tuesday and Wednesday. On Thursday gold dropped to critical support levels. Oddly, the deflationary job number reported Friday by the BLS (only 88,000 jobs in March) did not hurt gold week as it rebounded Friday gaining $23.60 and was able to close above critical support levels at a "safe" price level of $1575.4 April Comex spot price.
For the week gold lost $21.4. After touching $1600 Monday, it was down sharply the next two days. Precious metals dodged a bullet Thursday when (NYSEARCA:GLD) traded below $150 to $149.44 and spot gold was down about $23. GLD did close above $150 on Thursday, a positive, and rebounded with gold today (Fri 4/5) to $152.82. GLD has to stay above 150. Closing below 148 would drop it out of the 20 month correction range. The GLD chart shown below will show how important this is.
Last week - Quick review:
GLD backed off. Still above 30 day SMA. Below 36 & 40 day MA and . . .

. . . if gold closes above $1600 and particularly above $1606 or $1607, that will send the mining stocks up into buy signal confirmations -
This Week - What gold did:
Negative: The short-term rally that had begun three weeks ago evaporated as gold lost about $25 and $22 on Tuesday and Wednesday respectively.
The 5 week moving average was "Green" for gold and the mining stocks I follow last week. As of Friday's close 4/5, the prices of gold and GLD are below all moving averages - short-term daily as well as the short-term 5 week ave. This is not good. If I was looking at this information, and I was not told what company or asset it was and was only shown the charts and moving averages, I would not buy into it from what I see now.
Positive: (GLD) fell below 150 on Thursday. It could have been very negative for it to close below 150. Gold (had been down about $13 during the day) recovered and closed above $150. Dodged it. Then Friday was a big day and GLD closed in safe territory at $152.81.
Hope: (GLD) needs to hold above the $150 price line. See the long term chart below. If it starts closing below $149 then this long term support will be considered broken and you would hear calls for $140 for GLD. This would likely be caused by a deflationary scenario.
| | |
| --- | --- |
| WEEK BEFORE LAST ended 3/29 | WEEK JUST ENDED 4/5 |
| Spot gold 3/29, $1596 | Spot gold: 4/5, $1575.40 |
| GLD high: 155.98; GLD close: 154.48 | GLD close: 152.81 |
| GLD backed off. Still above 30 day SMA. Below 36 & 40 day MA | GLD fell below all moving averages. Bearish chart pattern |
Monday, April 1, Spot gold was up $5 for the day closing at $1600. Looked promising.
Tuesday, 2, down -$24.9
Wednesday, 3, down -$22.3
Thursday, 4, down $1.00 (was down $13. Recovered)
Friday, 5th up $23.6. Lost $21.40 for the week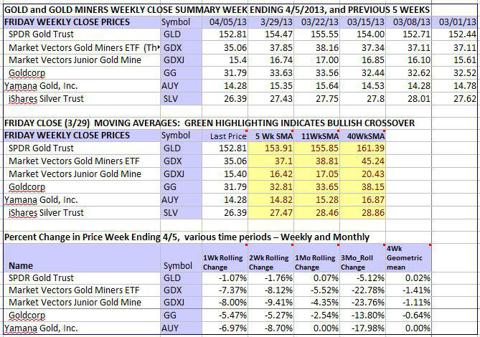 Notice in the table above that none of the moving averages are in the green as of the end of the week (4/5). It is apparent by the Percentage change table that the mining stocks suffered much worse than the physical metal did.
I had two short-term charts in the blog last week featuring Goldcorp and GLD with a intraday H&S pattern that may have pointed to positive action in the next trading days. It was positive one day only. These two chart pictures were washed out like sandcastles by two waves of selling on Tuesday & Wednesday.
CONCERN
Okay, here is the Line in the Sand for gold investors. This is a long term weekly chart that shows where gold has to hold (per GLD)
This is a four year weekly chart of GLD. Notice the triangular formation that has been formed the last two years since Sept. 2011. It has a horizontal base line around $149- $150 and has a downsloping upper resistance line. To the right there is a more recent triangle formed by the Sept. 2012 top. Its upper boundary line is rapidly nearing the horizontal base line. This horizontal base line is the "Line in the sand" for gold. If it cannot hold above this line, then the "projections" made for lower gold prices could come to pass.
When I wrote my last article "Gold Mining Sector - A Window of Value Ready to Close," gold had bottomed on Feb. 20, had increased four weeks, had risen above its 20 and 30 day MAs and technically was in a short term bull trend. I must add a disclaimer to the article. My view in that article is predicated on GLD holding above $150. That is the requirement for it to stage a continuation of the bull market.
The "Window of Value" is valid if gold is initiating a reversal and starting upward. Measures of relative value such as the (HUI) to gold ratio, or GDX to GLD ratio or comparative chart, or the Gold to Silver ratio are not "turning point" indicators. They show relative value. They may reach high spread levels that would seem to indicate value even as the assets are continuing to decline. Therefore please be observant of how gold and GLD performs in the short-term here, approaching the trend and support lines.
What to expect next?
We are looking for a continuation of Friday's positive action. If GLD has trouble at the downtrend line on the chart above I would be taking some sort of defensive actions. Possibilities are writing near to the money covered call options at resistance level; buying puts (before price goes down). Hedging with DZZ or ZSL if you are agile. Selling is always an option. Most people who invest in gold or mining stocks do so to be invested in gold against the perceived threat of inflation and depreciation of the dollar caused by the QE activities of the Fed. We have been warned of this going all the way back to the 1970's by the "Crisis" originals, Howard Ruff and Harry Browne, Doug Casey and now Peter Schiff and others. There are however deflationary undercurrents that we have to be aware of. That's what the really pathetic job numbers point to.
Sorry for what seems to be some negativity, but remember, you can win an argument with a Keynesian about money and gold, but still lose money in the market because it is not rational.
Also, If I write about these concerns, I am hoping the market will do the opposite.
Hope for the best but consider defensive strategies.
~JW