Point Roberts WA- March 18th, 2013 - (www.investorideas.com newswire,) Investorideas.com staff: Investorideas.com, an investor research portal specializing in sector research for independent investors reports on the top percentage gainers on the OTCBB for March 18th, 2013.
Cassidy Ventures Inc., (OTCBB:CSVN) trading at $7.00 rose by $4.50 or 180.00% on a light volume of 400 shares.
Cassidy Ventures, Inc., an exploration stage company, engages in the acquisition, exploration, and development of natural resource properties in Canada. It primarily explores for zinc and gold deposits. The company holds interests in the Mobert property comprising 1 mining claim totaling 12 units and covering 190 hectares located in the south central part of the Black River Area Township in the Thunder Bay Mining Division of northwestern Ontario, Canada.
Goff Corp., (OTCBB:GOFF) trading at $0.28 gained $0.15 or 115.38% on a high volume of 224,010,000 shares.
Goff Corporation through its wholly owned subsidiary Golden Glory Resources S.A., has acquired 100% interest in mineral leases in the Aguadas, Department of Caldas, Colombia area -- a region well known for multiple gold discoveries within the past several years as Colombia has opened its doors to global mining interest.
The leases on LGC15011 or known the "La Frontera Prospect" are comprised of 1227 hectares of mineral leases in the Aguadas area, Department of Caldas, located about 60 kilometers south of Medellin in Colombia's northern region. The leases were acquired 100% from a Colombian mining company.
Geokinetics Inc., (OTCBB:GEOKQ) trading at $0.024 went up $0.0085 or 54.84% on a volume of 34,930 shares.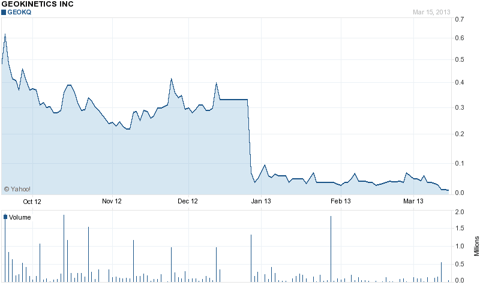 Cactus Ventures Inc., (OTCBB:CTVN) trading at $2.20 gained $0.70 or 46.67% on a volume of 200 shares.
About OTCBB:
About InvestorIdeas.com:
InvestorIdeas.com is a meeting place for investors and public companies in leading sectors . Find investing ideas in biotech stocks, tech and mobile stocks, mining stocks , oil and gas , water stocks , renewable energy, beverage stocks, defense stocks, nanotech and more . The Investor Ideas newswire is a news source on Google news and Linkedin.com/Today news .
Follow Investorideas.com on Twitter http://twitter.com/#!/Investorideas
Follow Investorideas.com on Facebook http://www.facebook.com/Investorideas
Follow Investorideas.com News on Linkedin.com/today at http://www.linkedin.com/today/investorideas.com
Sign up for free stock alerts at Investorideas.com
http://www.investorideas.com/Resources/Newsletter.asp
Or …
Become an Investorideas.com Member and access our online stock directories listing thousands of publicly traded stocks in over 14 leading sectors
http://www.investorideas.com/membership/
Disclaimer/ Disclosure : The Investorideas.com is a third party publisher of news and research Our sites do not make recommendations, but offer information portals to research news, articles, stock lists and recent research. Nothing on our sites should be construed as an offer or solicitation to buy or sell products
http://www.investorideas.com/About/Disclaimer.asp
or securities. This site is currently compensated by featured companies, news submissions and online advertising.
BC Residents and Investor Disclaimer : Effective September 15 2008 - all BC investors should review all OTC and Pink sheet listed companies for adherence in new disclosure filings and filing appropriate documents with Sedar. Read for more info: http://www.bcsc.bc.ca/release.aspx?id=6894
800-665-0411 - Source - www.Investorideas.com
Disclosure: I have no positions in any stocks mentioned, and no plans to initiate any positions within the next 72 hours.