Point Roberts WA - March 18th, 2013 - (www.investorideas.com newswire, www.beveragestocks.com) Investorideas.com staff: Investorideas.com, an investor research portal specializing in sector research for independent investors reports on wine and beverage stocks trading for March 18th, 2013.
Craft Brew Alliance Inc., (NASDAQ:BREW) trading at $7.50 gained $0.19 or 2.60% on a volume of 32,942 shares.
Craft Brew Alliance, Inc. engages in brewing, marketing, and selling craft beers under the Widmer Brothers, Redhook, Kona, and Omission brand names in the United States. The company markets its beers directly to consumers in draft, cans, and bottles at restaurants, bars, and liquor stores, as well as in cans and bottles at supermarkets, warehouse clubs, convenience stores, and drug stores.
With spring setting in early Craft Brew Alliance stocks continue to rise with the anticipation of strong spring and summer seasonal beer sales.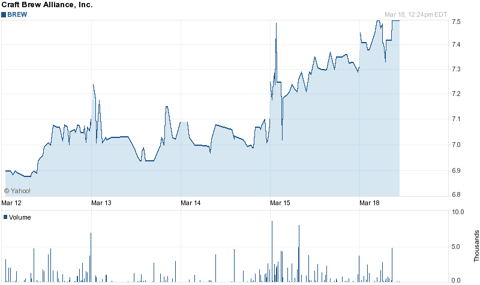 Constellation brands Inc., (NYSE:STZ) trading at $46.96 went up $1.21 or 2.64% on a high volume of 2,160,985 shares.
Shares of Constellation Brands Inc. reached a new 52-week high of $45.92 on Friday, Mar 15th, as the company continues to gain from sturdy third-quarter fiscal 2013 performance and a strong outlook. Further, a consistent rise in volumes traded is driving the stock up the charts of late. Average volume of shares traded over the last 3 months stands at approximately 4,827,380. Moreover, the stock currently trades at a forward P/E of 17.2x, at a discount of 13.1% from the peer group average of 19.8x.
With Constellation Brands continuing its high today the company shows a solid year-to-date return of approximately 21.8%, while gaining about 101.6% over the past one year.
Diageo Plc (NYSE:DEO) trading at $121.89 rose $0.81 or 0.67% on a volume of 283,873 shares.
One new market Diageo continues to show interest in is the rise of drinking among women in India and the Middle East, as women who drink, who have long been portrayed as less than respectable by Bollywood movies and still wary of entering most watering holes, are becoming big business in socially conservative India.
Diageo is taking notice of this small segment of India's $10 billion drinks industry that is growing more than twice as fast as the overall sector and presents a significant, if delicate, market opportunity.
With more women in the organised workforce, gaining financial independence and interacting with their male counterparts in social and professional settings, the idea of them drinking is slowly gaining acceptance.
Still, despite boasting the world's largest whiskey market, Indians are overall among the world's lowest consumers of alcohol. Only 30 percent of men and 3 percent of women have at least one drink a year, according to the India Centre for Alcohol Studies, a government research body. However, the women's market in India is expected to grow 25 percent over the next five years, faster than the 10 percent rise projected for the overall industry, INCAS said.
Diageo is also busy with VH1 and Smirnoff® Vodka teaming up for an all-new season of the hit DJ competition reality show "Master of the Mix." Shedding light on the fastest-growing trend in the music scene: deejaying, this season's contestants will join host Amanda Seales and judges DJ Kid Capri, DJ Mia Moretti and Ben Maddahi as they battle it out for the coveted title of THE "Master of the Mix." Season three will premiere at 10PM ET/PT on Monday, April 1st, 2013 on VH1.
Boston Beer Co., (NYSE:SAM) trading at $160.24 gained $0.41 or 0.26% on a volume of 21,118 shares.
Over the last 30 days there has been a large increase in insider selling at Boston Beer Co. Martin Roper, who was appointed Chief Executive Officer of the company in January 2001, and has been President of the company since December 1999, sold 9,000 shares on March 11-13 and currently holds 111,000 options or less than 0.1% of the company.
Ai-Li Lim, the company's Vice President of Human Resources, sold 116 shares on February 27 and currently holds 893 shares or less than 0.1% of the company. David Burwick, who severs as a director of the company, sold 11,000 shares on February 26-27 and currently holds 200 shares or less than 0.1% of the company.
Though there is much speculation regarding the increase in insider selling and lack of buying the company's stock continues to show improvement and steady upward momentum.
The company also reported strong 2012 financial results in late February with revenue of $628.6 million and a net income $59.5 million.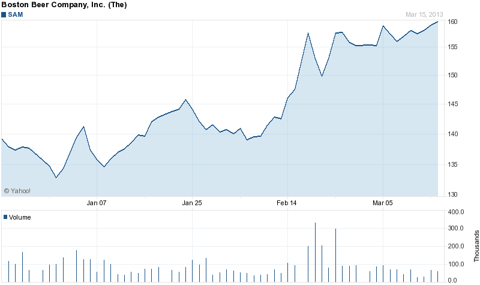 Research beverage stocks at Investorideas.com stock directory - includes wine, beer and bottled water stocks
http://www.investorideas.com/Beverage_Stocks/Stock_List.asp
About InvestorIdeas.com:
InvestorIdeas.com is a meeting place for investors and public companies in leading sectors . Find investing ideas in biotech stocks, tech and mobile stocks, mining stocks , oil and gas , water stocks , renewable energy, beverage stocks, defense stocks, nanotech and more . The Investor Ideas newswire is a news source on Google news and Linkedin.com/Today news .
Follow Investorideas.com on Twitter http://twitter.com/#!/Investorideas
Follow Investorideas.com on Facebook http://www.facebook.com/Investorideas
Follow Investorideas.com News on Linkedin.com/today at http://www.linkedin.com/today/investorideas.com
Sign up for free stock alerts at Investorideas.com
http://www.investorideas.com/Resources/Newsletter.asp
Or …
Become an Investorideas.com Member and access our online stock directories listing thousands of publicly traded stocks in over 14 leading sectors
http://www.investorideas.com/membership/
Disclaimer/ Disclosure : The Investorideas.com is a third party publisher of news and research Our sites do not make recommendations, but offer information portals to research news, articles, stock lists and recent research. Nothing on our sites should be construed as an offer or solicitation to buy or sell products
http://www.investorideas.com/About/Disclaimer.asp
or securities. This site is currently compensated by featured companies, news submissions and online advertising.
BC Residents and Investor Disclaimer : Effective September 15 2008 - all BC investors should review all OTC and Pink sheet listed companies for adherence in new disclosure filings and filing appropriate documents with Sedar. Read for more info: http://www.bcsc.bc.ca/release.aspx?id=6894
800-665-0411 - Source - www.Investorideas.com
Disclosure: I have no positions in any stocks mentioned, and no plans to initiate any positions within the next 72 hours.