Biotech Stock (OTC: AEMD)) Doubles During Monday's Trading Following Report of $6.8 Million DARPA Contract  
Point Roberts, WA- October 3, 2011- Investorideas.com , an investor research portal specializing in sector research including biotech and pharma stocks, reports Aethlon Medical (OTCBB: AEMD) stock traded up over 100% , as high as $0.12 in yesterday's trading session following news of a $6.8 Million DARPA contract.
The stock traded significant volume and was one of the top ten percentage gainers on OTCBB throughout the day's trading session on larger than normal trading volume. (See 5 –day chart)
The Company reported yesterday  that it has been awarded a $6.8 million contract from the Defense Advanced Research Projects Agency (DARPA) to develop a therapeutic device to reduce the incidence of sepsis, a fatal bloodstream infection that is often the cause of death in combat-injured soldiers. The contract program will utilize the Aethlon ADAPT™ system as a core technology component underlying an extracorporeal blood purification device that selectively clears multiple sepsis-enabling particles from circulation to promote recovery and prevent sepsis. The resulting device, which is being advanced under DARPA's Dialysis Like Therapeutics (DLT) program, is expected to dramatically decrease the morbidity and mortality of sepsis, thereby saving thousands of lives and billions of dollars in the United States each year. Under the DLT program, Aethlon will also introduce a novel blood pump strategy to reduce or eliminate the systemic administration of anticoagulants normally required during extracorporeal device therapies. Worldwide, more than 18 million cases of sepsis are reported every year, with more than six million resulting in death.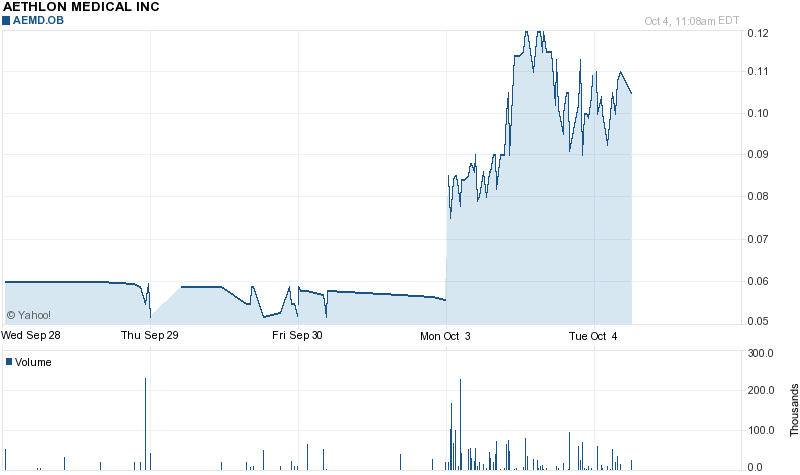 Biotech Investor Snapshot for Aethlon Medical (OTCBB: AEMD)
The Aethlon Medical mission is to create innovative medical devices that address unmet medical needs in cancer, infectious disease, and other life-threatening conditions. Aethlon's ADAPT™ platform provides the technology foundation for a new class of therapeutics that target the selective removal of disease enabling particles from the entire circulatory system. The Aethlon ADAPT™ product pipeline includes the Hemopurifier®, a first-in-class medical device with broad-spectrum capabilities against exosomes that contribute to the progression of cancer and infectious viral pathogens such as HIV and Hepatitis C. For more information, please visit www.aethlonmedical.com.
Visit the AEMD showcase page on Investorideas.com
Get biotech news and stock alerts 
InvestorIdeas.com is a leader in investor stock research by sector. Sectors we cover include; cleantech and renewable energy stocks, biotech stocks, mining and gold stocks, energy stocks, water, tech, defense stocks, nanotech, agriculture and gaming.
Disclaimer/
Disclosure :
The Investorideas.com is a third party publisher of news and research Our sites do not make recommendations, but offer information portals to research news, articles, stock lists and recent research. Nothing on our sites should be construed as an offer or solicitation to buy or sell products or securities. This site is currently compensated by featured companies, news submissions and
online advertising.
AETHLON MEDICAL INC(OTC BB: AEMD ) Showcase biotech,  biodefense and defense stock on Investorideas.com ( $one thousand five hundred per month, $five thousand per month in 144 stock)Effective March 15, 2011       
BC Residents and Investor Disclaimer : Effective September 15 2008 - all BC investors should review all OTC and Pink sheet listed companies for adherence in new disclosure filings and filing appropriate documents with Sedar. Read for more info: http://www.bcsc.bc.ca/release.aspx?id=6894