The future for Medical Marijuana Inc. (OTCPK:MJNA) and the rest of the Marijuana industry looks promising. Watching MJNA's daily stock shifts can be painful, but like the saying goes, no pain no gain. Attempting to make money off the short-term spikes can leave you wanting to tear your hair out, luckily there is an alternative, go long! Throughout this article, I will argue as to why going long on MJNA is the right move.
When looking at MJNA, there are a few factors that must be taken into account, such as that this company is a penny stock still in its infancy. Investing in this company or any other penny stock is a gamble where all you can lose is what you put in. All you can make though depends on patience and timing. At this point in time, MJNA is a speculative buy. This means that there is a high amount of risk associated with the hidden aspects of MJNA and that you are speculating on its future success based off the positioning and leverage the company has; not necessarily its financials.
Factors that will drive MJNA up in the long term
Besides online buying, MJNA products are sold almost entirely in Colorado, a state with a population of a mere 5 million. Massachusetts alone has 1.5 million more residents, thus possessing a larger medical marijuana market than that of Colorado. There has been talk in the past of MJNA expanding into multiple more states in the near future, but there has been no word on this yet. The most populated state in the US, California, has thousands of medical dispensaries with a huge market potential for MJNA.
Timeline of medical marijuana in US
(State-level legalization)
• 1996 - California
• 1998 - Alaska, Oregon, Washington
• 1999 - Maine
• 2000 - Colorado, Hawaii, Nevada
• 2004 - Montana
• 2006 - Rhode Island
• 2007 - New Mexico, Vermont
• 2008 - Michigan
• 2010 - Arizona, New Jersey
• 2011 - Delaware, Washington DC
• 2012 - Connecticut, Massachusetts
• 2013 - New Hampshire, Illinois
*This list does not mention the legalization of marijuana for Washington and Colorado this past year
Although expansion into other states besides CO has been slow for MJNA, Canipa Holdings, a wholly owned subsidiary, has recently found success. MJNA's international expansion/ marketing division signed a monumental deal with a large European pharmaceutical/ cosmetics company. The press release was issued on Canipa Holdings website on July 31, 2013 stating that
"Canipa Holdings has signed an exclusive worldwide distribution and marketing agreement with a prominent European-based pharmaceutical/ cosmetics company. Canipa Holdings will manage the marketing and distribution of the European company's portfolio of over twenty hemp-based consumer products. The products will be added to theHempMedsPX platform."
MJNA has now acquired 20 new hemp products to sell through the HempMedsPX platform. The press release goes on to state that MJNA has acquired the exclusive online sales and marketing rights for these products to be sold anywhere excluding the Middle East, Poland, Czech Republic, Hungary, Slovakia, and Latvia. It also appears that MJNA will be attempting to bring these products across the pond to be sold in the United States, Canada, and Mexico.
The most exciting part of this press release is that these products are already sold in 2,000 pharmacies and 1,000 retail stores in Europe. I am not sure if these stores are in the countries that MJNA is not allowed to sell in or if they will be receiving revenue from these stores; regardless it is a good sign that these products are sold in 3,000 stores already.
Charles Vest, the director of communications for HempMedsPX states that
"Some of the products Canipa Holdings will be marketing and selling are approved for specific medical claims in parts of the European market"
It is a huge deal for MJNA to sell products that have approved medicinal values; something that no medical marijuana product has in the US. I am assuming that these approved hemp products are the ones that are sold in the 2,000 pharmacies in Europe.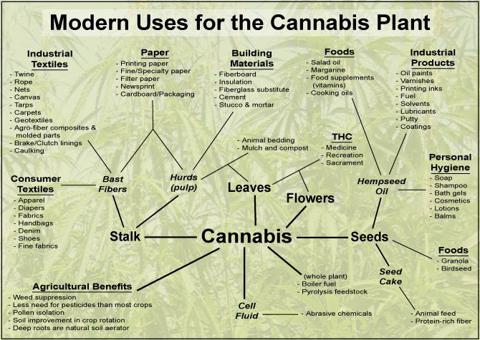 *This chart is a reminder of cannabis's many uses. MJNA's most recent acquisition of acquiring 20 new Hemp Products only increases their market presence.
The Future
The marijuana industry is strapped to a rocket going straight up, whether MJNA is on board or not depends on their personal success. The industry is expanding at a slow rate, but with each new law that is written up and passed; exponential expansion starts to take place. Out of the 50 states in the US, 21 of them have already passed medical marijuana laws, with up to 7 more states looking to legalize medical marijuana in 2014. Multiple more states are in the process of legalizing hemp, which could considerably grow MJNA's hemp sales. Whenever a new state enters the medical marijuana market they look for suppliers; MJNA is positioning itself to be that supplier.
Although the Canipa Holdings deal has not received much publicity, I believe that it will help lead MJNA down the path of success. This deal will aid in both MJNA's short and long-term success since their hemp products have the ability reach a much larger audience compared to their Marijuana products. If MJNA can effectively market and sell these hemp products, in not just Europe but also North America, their dwindling cash and falling profits could quickly be reversed.
Disclosure: I am long OTCPK:MJNA. I wrote this article myself, and it expresses my own opinions. I am not receiving compensation for it (other than from Seeking Alpha). I have no business relationship with any company whose stock is mentioned in this article.