Retirement is important to all of us, and everyone has their own strategy. Here are a few companies that might work for your retirement fund. One thing to remember is the oil and gas industry isn't going away any time soon and these are a few that pay you for your investment.
In a retirement account, it is important to create current income, while keeping opportunities for growth in your portfolio. One of the best combinations of growth and income can be found in the oil companies. In this sector, there are many great companies, so how does an investor decide which is the best investment over the long term?
There are many great oil companies to choose from; however we will limit our selections to those that pay high dividends (above 4.5%). This is why Exxon Mobil (NYSE:XOM), while one of the most widely-held stocks in the world, is not included in this analysis. High dividend stocks can be great investments both before and after retirement. A retiree could obviously collect the dividends as a stream of income, and a pre-retirement investor has the ability to reinvest all dividends free of commission, using a DRIP (Dividend Reinvestment Plan) offered by most brokerages.
Our candidates in no particular order are:
Conoco Phillips (NYSE:COP) - The only U.S.-based company on our list, Conoco explores for, produces, transports and markets crude oil, bitumen, natural gas, LNG and natural gas liquids all over the world. Conoco is one of the largest independent oil and gas exploration and production companies in the world, with a market capitalization of around $69.7 billion. Currently, COP trades at 11.1 times TTM earnings. COP has done very well over the past 20 years, with an 8.5% average annual gain in share price and dividend yields. COP is currently yielding around 4.6%.
(click to enlarge)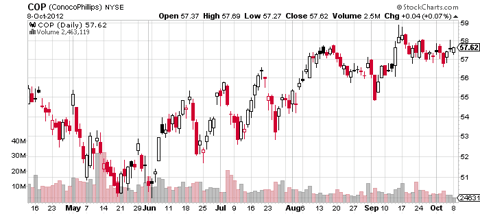 Click to enlarge
Read Full Article Here: http://turnkeyoil.com/2012/10/22/oil-stocks-can-fuel-retirement-fund-bp-rdsa-e-tot-cop-xom/
Disclosure: I have no positions in any stocks mentioned, and no plans to initiate any positions within the next 72 hours.