Newfield Exploration's share price may have been sliding lately, but it is now showing signs of reversing that trend. The price of natural gas is rising which will start to reflect in the share price shortly. Then add to that sales of off shore assets and this company is worth taking a look at.
I executed a successful bull market put spread on Newfield Exploration (NYSE:NFX) back in March of this year. That spread expired some months back and the stock looks like an outright purchase now that has fallen to just over $30 a share. The company has had some recent positive catalysts and the stock is cheap on a valuation basis. I will be looking to either pick up the shares outright or through short term naked puts at $30 on Monday.
Recent positives for Newfield:
It just successfully disposed of $565mm of non-strategic assets in the Gulf of Mexico to W&T Offshore (NYSE:WTI).
Natural gas prices are up some 50% off their lows earlier the year and this should start to show up in the company's bottom line.
It continues to execute well against a plan to move production from 30% oils & liquids in FY2010 to 48% by the end of FY2012.
Newfield Exploration Company is an independent energy company that produces natural gas, oil and other liquids. Its main properties include acreage in the Rocky Mountains, Mid-Continent, Malaysia and offshore China.
(click to enlarge)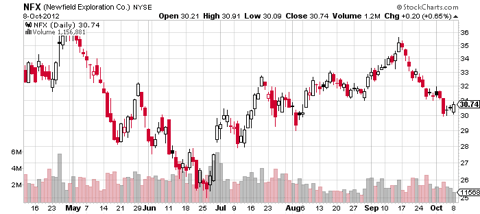 Click to enlarge
Read Full Article Here: http://turnkeyoil.com/2012/10/26/newfield-exploration-heating-up-with-rising-natural-gas-prices-nfx-wti/
Disclosure: I have no positions in any stocks mentioned, and no plans to initiate any positions within the next 72 hours.