The purpose of this Virtual Candle Portfolio is to capture short term trend moves, greater then 1 day, sales stops set using Parabolic SARs calculation. No more then 10 stocks at a time-new entries must replace existing company shares beyond 10.

Remember short term indicators are not highly reliable as news and other factors can trump them. Always use 15 minute daily charts along with sma averages and other confirming indicators before taking a position-such as momentum and stochastic.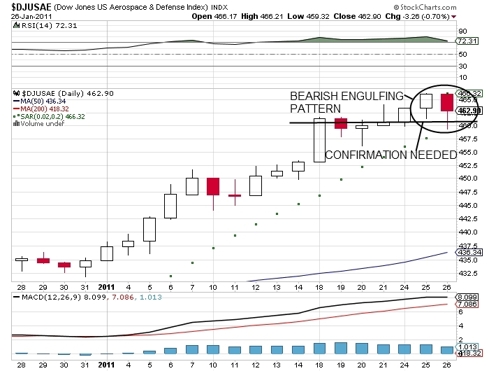 Click to enlarge
Aerospace has formed a Bearish Engulfing Pattern. A break above SAR 466.32 would deny this pattern.
Stocks in this space that are favorable for possible short sale:
LMT, APSG, LLL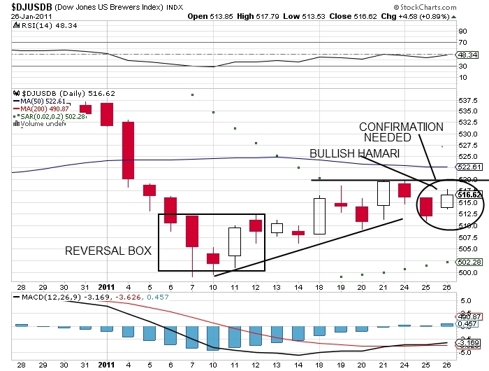 Click to enlarge
Brewers have formed a Bullish Hamari. Move above the 50 day avg would confirm this pattern.
Stocks in this sector that show potential for follow thru to the upside:
SAM, FMX, TAP, STZ,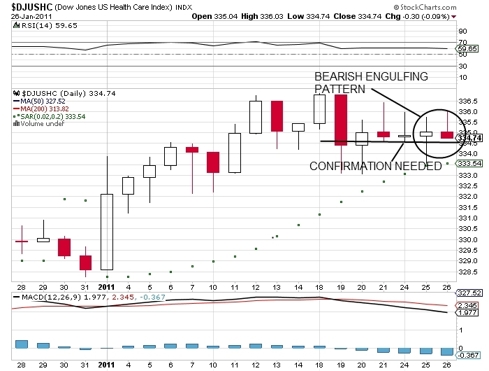 Click to enlarge
Healthcare has formed a Bearish Engulfing Pattern. Move below SARS 333.54 needed to confirm.
Stocks in this group with favorable signs for pullback are:
AET, ZOLL, MR, NXTM, PPDI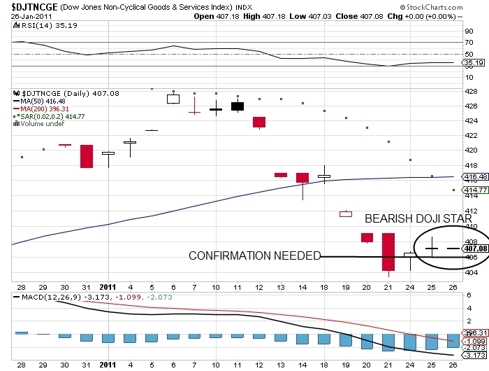 Click to enlarge
Bearish Doji. No recomendations.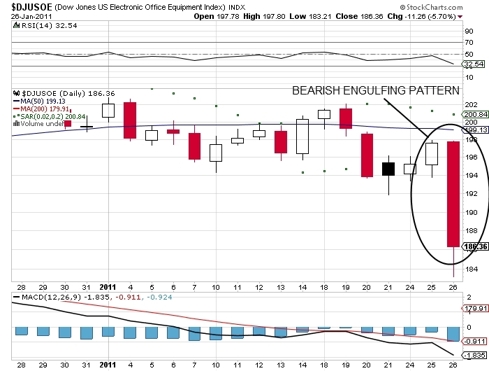 Click to enlarge
Office Equipment Bearish Engulfing Pattern.
Stocks to consider:
XRX, PBI, SPLS

Stocks we favor:
SPLS-break below 50avg,
XRX-break below 200avg,
MR-short if test and fail mid Boillinger 27.66 or Daily 50avg 26.74
LLL-Break below 75, failure at 50 and 200 avg.

Good Luck!