MARCH 7TH EW COUNT UPDATE TMV:
We have completed Wave 1 of the predicted 5-wave up pattern in Interest Rates.
This move is a thing of beauty and is the sort of pattern one should look for when trading markets. The key to trading profitably is identifying a long term trend. This way, even if your entry is wrong, your analysis of the trend is correct, you will ultimately be right every time with each trade.

Wave 1 did the classic EW 5 fractal moves into completion. Wave 2 which is a corrective Wave, is performing the classic flat correction. A-B-C of this correction is complete and we expect breakout into Wave 3 to be eminent. This pattern could extend into an E-D before completing Wave 2.

This rise in interest rates which now can not be denied, has implications for stocks. The trend set-up in your portfolio should be short 20yr bond via TMV and short Financials and Russell 2000 via FAZ and TZA.

As the free money or no risk option in T-bills gets more attractive, the risk premium that is stocks require greater returns then the 100% return we have seen the last two years. With stocks sitting at 24xs and under 2% yield, its hard to envision adding on another 20% from here. Investors will gravitate toward the no-risk option until stock leverage, that is assets/liabilities comes down from all time historic highs.

The retail investor of course will buy every dip in stocks all the way down until they get a margin call-because that's what Cramer-Fast Money-CNBC will say to do.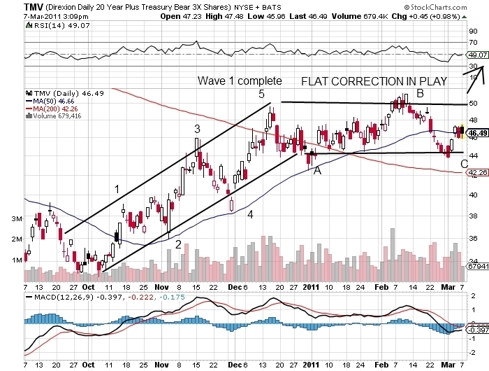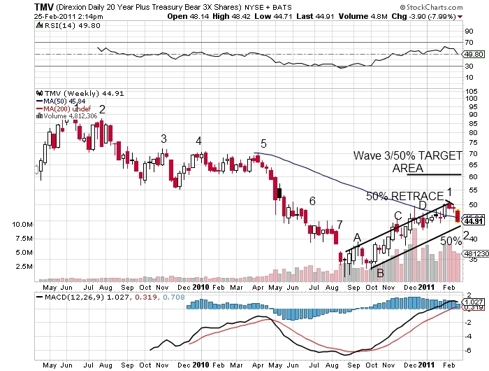 Click to enlarge
Original Write Up Feb 25th:
The above chart is of TMV-Direxion 20 year Treasury Bear. Basically if interest rates move up, so does this ETF.

As we can see, TMV had a 7 point decline into September 2010-right around the time QE2 began. Anticipation of the hyper inflation to come began to get priced in at that point.

We like to use symmetry, Elliot Wave, along with Gann principles in our stock predictive modeling. TMV took 150 calendar days to complete the 1st wave of this hyper inflation move.

We want to buyin after the completion of 2nd wave pullback and resumption of trend is confirmed. I like buying on the 3rd wave for two reasons, it confirms the uptrend and the 3rd wave is where the faster money is made.

TMV is moving on 50% fib symmetry, so we expect 2nd wave to complete at $41-42 area-3rd wave completion to be in the $65 to $70 range-or 50% Fib to 61%.

Long term, we project this interest rate hike that began back in September to stay on a 300 day time cycle. Once 5th wave is completed, look for A-B-C correction, then off to the races again.

Expect this climb to last a while.

Enjoy!