On August 7th I posted three different years of potential top patterns for the S&P: 1983, 2011, and 2007. At the time I indicated the 2007 top pattern to be the highest probability and posted this chart comparison; marking the current location between 2012 and 2007 with the number three.
The S&P had completed three lower highs and we were watching for a marginal new high into Fib resistance.
(click to enlarge)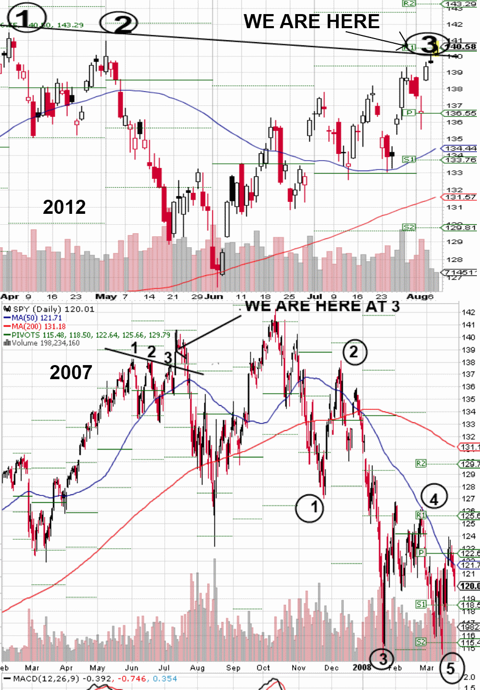 Click to enlarge
Just like the pattern in 2007, the S&P index exhausted into a new marginal high at Fib resistance.
(click to enlarge)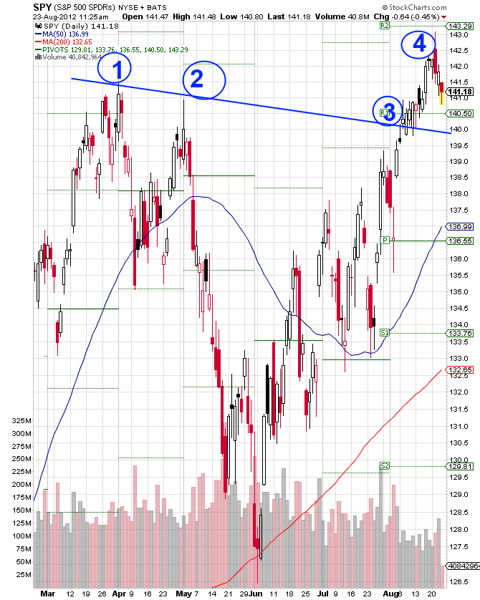 Click to enlarge
Here is the new combination chart of 2012 over top of 2007. We can now match up four distinct completed waves.
Notice the next expected move is below the 200 day moving average to form a double panic bottom with the previous low. This then sets up FED QE3 action that will rocket the market higher to a new marginal high, probably 1500 S&P.
This last move will bring in all players and extreme bullishness on Wall St. However, gas to $5 a gallon along with all other commodities to record highs-the real world economy collapses.
Finally Wall St will realize the FED has used their last bullet. With the market at record p/e valuations, stocks begin crashing down to a 1 to 1 ratio with GOLD. (One ounce of Gold equal to one share of the Dow)
(click to enlarge)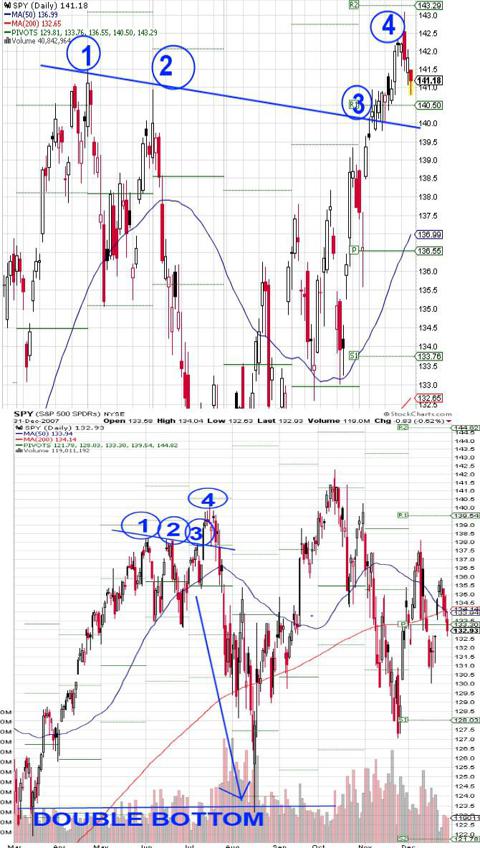 Click to enlarge
The last two charts confirm our 2007/2012 four data points comparison.
The S&P has moved 270 points in 270 days from the November 2011 low; squaring of PRICE AND TIME into the Fib resistance.
Ninety days from the June/2012 low is September 2nd; another strong time multiple for ending the up move.
(click to enlarge)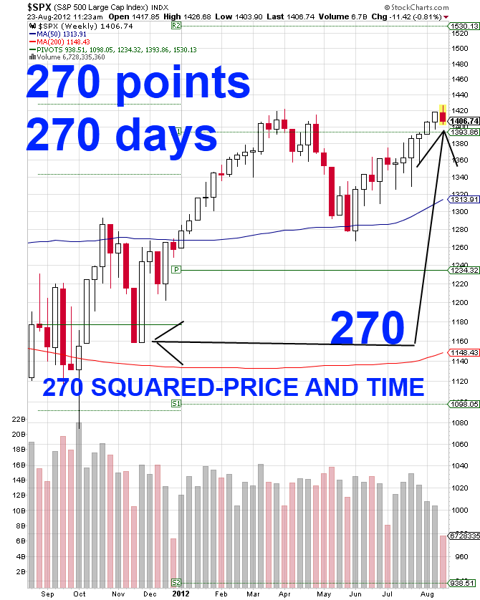 Click to enlarge
The last chart shows a struggling trend that turned Parabolic; ending in a false break high into Fib resistance. Another strong indicator of a completed trend.
(click to enlarge)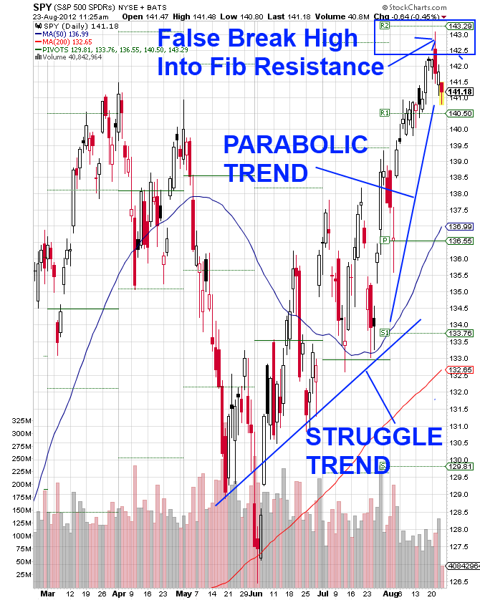 Click to enlarge
Conclusion:
Our 2007/2012 top comparison thesis seems to be the strongest possibility with four similar data points confirmed.
The index has also squared price and time: 270 points up from the low at 270 days. This squaring was on a parabolic exhaustion style move, into calculated Fib resistance.
Should this pattern hold, we can then forecast a move below the current 200 day average on daily at 1333, down to a double bottom either at 1280 to match the June low, or down to 1150, November 2011 low.
We forecast at that time, probably in December 2012, in order to try and salvage Christmas, the FED will panic into QE3, sending the S&P back up a few hundred points to a new and final high. At this time, I believe that top target to be around 1500.
Tim Kathlina
Disclosure: I have no positions in any stocks mentioned, and no plans to initiate any positions within the next 72 hours.