Cypress Development Corp. is a gold, silver and base metals exploration company with corporate headquarters in Vancouver, British Columbia. Its main assets include the ownership and development of numerous precious and base metal properties. Cypress lists on the TSX Venture Exchange (CYP.V) and the OTC Pink Current Information (OTCPK:CYDVF). The company focuses on developing exploration projects near world-class deposits, which have the potential of becoming new discoveries.
Cypress holds a 100% interest in the Gunman Zinc-Silver Project in White Pine County, northeast of Eureka, Nevada. This project is approximately 1,140 acres. In addition, the company has a 100% interest in The McKenzie Island gold property, west and adjacent to Goldcorp's Cochenour/Bruce Channel Deposit. The 4,720 acres McKenzie Island gold property is in the Red Lake greenstone belt of north-western Ontario. Red Lake is one of the richest and most prolific producing gold camps in Canadian mining history. This camp has over 30 million ounces of gold recovered.
Today, Cypress Development Corp. announced its Phase 2 drill program began at its Gunman zinc-silver-copper project. The company had a very successful 2014 Phase 1 exploration and drilling program. The 2014 Phase 2 drill program at the main RH Zone will comprise roughly 3,000 feet of further delineation Reverse Circulation (RC) Drilling at specific zinc and silver oxide targets.
Three RC drill programs totaling around 38,000 feet were completed by Cypress Development Corp. on the Gunman project. There were significant grades between 5% to 33% per ton zinc and 0.5 to 15.0 oz. per ton silver over substantial widths encountered.
Very high grade zinc and silver drill intercepts were returned from the 2014 Phase 1 drill program at the main RH Zone, with new exposures of the mineralization.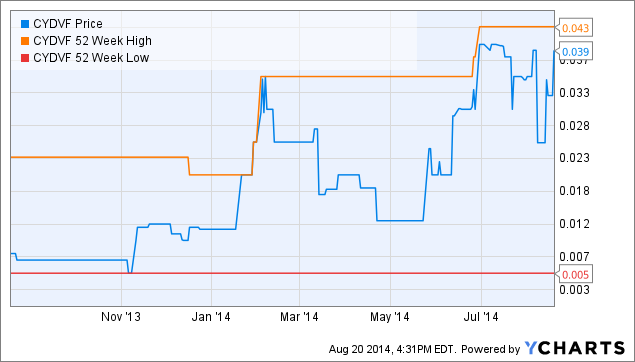 This has led to the deduction that the at surface oxide mineralization is likely a high grade polymetallic vein and breccia system and represents a very high quality zinc-silver-copper project positioned in a very favorable geologic environment. The Gunman project is a high-quality asset in the company's portfolio. It has major upside exploration potential.
Watch:
July 2014: Cypress Development Corp. (TSX-V: CYP) Gunman Zinc-Silver Project, Nevada
Disclosure: The author has no positions in any stocks mentioned, and no plans to initiate any positions within the next 72 hours.