U.S. equity ETFs sold $2.2 billion in stocks so far in February, after being net buyers in the first month this year. Heaving selling concentrated in the technology and consumer discretionary sectors, which saw outflows of $1.3 billion and $620 million, respectively.
Meanwhile, ETFs bought $561 million in financial stocks, their largest purchase month-to-date.
(click to enlarge)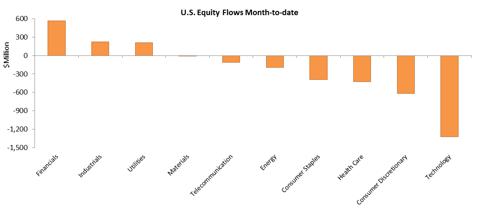 Click to enlarge
Source: ConvergEx/TrimTabs
Most noticeably, U.S. ETFs bought $146 million worth of Facebook's (NASDAQ:FB) shares in the current month. It represents a 26.1% increase of U.S. equity ETFs total holding of Facebook. As of the close on 2/19/2013, 50 ETFs held Facebook with total market cap of $733 million. ETFs bought $141 million in KB Home (NYSE:KBH) shares, which is four times the total value of its shares held by ETFs by the end of January, as the number of ETFs holding it increased from 37 to 46. Sirius XM Radio (NASDAQ:SIRI), received $34 million from ETFs in February, with ETFs' total holding in the satellite radio operator up 9.7%.
On the sell side, tech giants dominate the list in terms of dollar amount. ETFs dumped $420 million in Apple (NASDAQ:AAPL), the most among the 4,400 stocks we track. That represents 2.7% of the total value of Apple shares in U.S. ETFs. It's followed by Microsoft (MSFT, $204 million, 2.4%) and Google (GOOG, $197 million, 2.6%). ETFs shed $3.8 million in Groupon (NASDAQ:GRPN) shares, a 9.8% reduction in its total holding of this stock.
U.S. equity ETFs now hold $15.7 billion in Apple (AAPL), which is still their largest position. Exxon Mobil and Microsoft are the second and the third largest holding. Google, which carries the 11th largest weight in the Russell 3000 Index, is the fifth largest holding of U.S. ETFs.
(click to enlarge)

Click to enlarge
Source: ConvergEx/TrimTabs
There are currently 106 ETFs holds Intel (NASDAQ:INTC) in their portfolio, more than any other companies in the U.S. It is joined by Microsoft (103) and Johnson & Johnson (NYSE:JNJ) as the only three companies appearing in the portfolios of over 100 ETFs. What surprised us is that 99 ETFs now hold Lockheed Martin (NYSE:LMT), considering its $28 billion market cap. 82 ETFs have Apple (AAPL) in their portfolio, which is not enough to make it in the top 50 list.
(click to enlarge)

Click to enlarge
Source: ConvergEx/TrimTabs
While on average, position in ETFs accounts for 4.1% of a company's market cap, ETFs holding are more than 10% of market cap for 58 companies and between 5% and 10% for 849 companies. Pitney Bowes (NYSE:PBI), which gained over 26% YTD, has 20.8% of its market cap in 80 ETFs, the highest in the U.S. Its eye-opening 10.8% dividend yield is probably the main reason of popularity among fund managers.
(click to enlarge)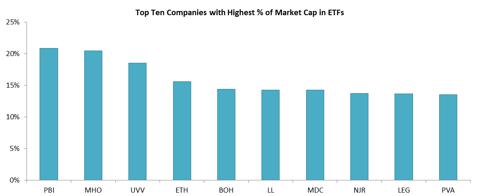 Click to enlarge
Source: ConvergEx/TrimTabs
Since its IPO in last May, Facebook (FB) now has 1.1% of its market cap in 50 ETFs' portfolio. That is considerably lower than some of the other marquee names in the IT industry, such as Microsoft (3.7%), Apple (3.6%), Amazon.com (3.1%), and Google (3.0%). Research In Motion, despite its ticker change, doesn't seem to be able to revitalize the name yet. So far only 4 ETFs hold its stock, which accounts for a paltry 0.2% of its market cap.
(click to enlarge)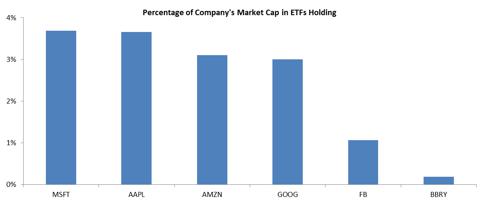 Click to enlarge
Source: ConvergEx/TrimTabs