If there is one ING option-income CEF I would be buying here ahead of their ex-dividend date next Tuesday, October 1st, it would be their Global Advantage and Premium Opportunity fund (NYSE:IGA). IGA is close to a -10% discount which puts the fund right about at its low valuation level going back 5-years and actually since inception if you throw out the financial crisis period in the fall of 2008 (see graph below). IGA has often traded at a premium valuation of as much as 12% so this is an opportunity to pick up a fund that has come under pressure, probably due to its association with the other ING option-income funds which declared distribution cuts for this upcoming period. IGA was one of only two ING funds not to cut distributions and with a total return of 25.9% on its NAV since 1/1/2012, is really in no danger of cutting its distribution anytime soon with an 8.5% NAV yield.
Note: 12%+ NAV yields would put a CEF in the danger zone of another distribution cut and even though most of the ING CEFs declared distribution cuts on Sept.13th with lower NAV yields than that, most of the ING CEFs have also seen significant NAV erosion over the years. IGA is really the only ING option-income CEF that has seen its NAV hold up reasonably well since inception.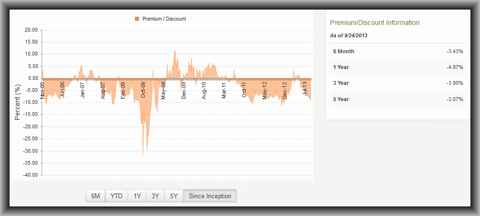 YTD, IGA's NAV is doing reasonably well, certainly better than the other ING option-income funds, and has the best total return performance of all of the ING funds, up 11.2%. That may not sound great, but about half its portfolio is in international stocks and the other half is in large cap US stocks. IGA sells index options on the S&P 500, FTSE 100, Nikkei 225 and Euro Stoxx 50 against 65% of its global stock portfolio. Here is IGA's vital statistics, including Top 10 holdings, as of August, 2013.
I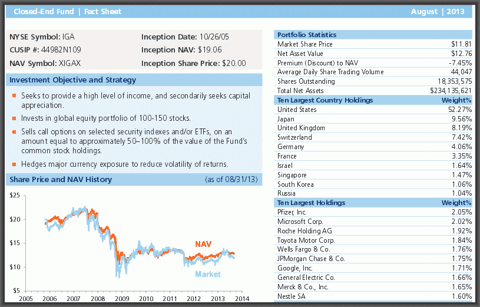 With the international markets, particularly in Europe looking better, I would buy a half position here and the other half after the ex-dividend date. IGA's market price closed at $11.96 on Wednesday, Sept. 25th and offers a very high current market yield of 9.4%.
Disclosure: I am long IGA.