Hewlett Packard is a great value play that has been demonstrating a chart breakout this last week.

Hewlett Packard is one of the world's largest IT companies, producing printers and computers as well as being a leading IT service provider.  It has scale manufacturing advantages that give it what Morningstar would term "A wide moat".

Last April, the stock traded at just under $55 before the general pullback in the market and was then further hit by scandals concerning their CEO Mark Hurd. His resignation, subsequent hiring by rival Oracle, and appointment of CEO Leo Apotheker, a software specialist, created questions about HPQ's management and direction.  Hardware purchase slowdowns that also brought Intel low bit into Hewlett Packard, a series of acquisitions created uncertainty, and by September, the stock was down to $38.

Now the last I checked, a new CEO is not going to have a noticeable effect on sales or earnings that quickly, and what ultimately drives a company's performance is earnings.  I began getting interested, as I like large cap, high quality companies at a discount.  The Palm purchase brought them a great OS that HPQ can use in their upcoming tablets, which I think will be a big hit.  While I question the idea of shifting HPQ too far into software, I don't see a little more focus on it as a negative.

About a month ago, after a brief rise, I noticed HPQ going through what looked like a small symmetrical triangle, and bought in.  Now, over the last week, it's gone through a very obvious Three White Soldiers candlestick (and today would make it Four soldiers!).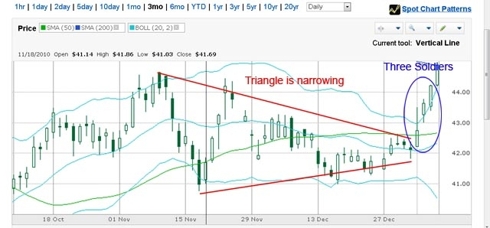 I view this as a great chart breakout pattern, and still an excellent value play, as HPQ is still only 12X earnings and at a substantial discount to S&P $58 price target.  With 11 billion in cash on the books, they are unlikely to run into liquidity problems.  Along those lines, one thing I never liked about Mark Hurd was the lack of any meaningful dividend. With the change, we may now see one.  The dividend payout ratio currently stands at a paltry 9%, and could easily be increased with no negative effects.  If they were to even move up to Microsoft's far from lucrative 25% payout ratio, you'd see the dividend almost triple to approximately 2.5%.

With HPQ beaten down over management turmoil, you can take advantage to get an IT hardware & services leader on the cheap, with some solid technical muscle and the potential for a rising dividend.

Disclosure: I am long HPQ.



Disclosure: I am long HPQ.