All signs point to TiVo (NASDAQ:TIVO) releasing its TiVo Mini thin client extender box to retail sometime this month at a cost of $99 plus a subscription of $5.95 per month or a one-time $149 lifetime payment.
Dave Zatz has issued a number of blog posts about the TiVo Mini and his most recent post, TiVo Mini Hits Retail Outposts, highlights the quasi-retail availability of the Mini at some Best Buy stores.
While I'm excited about adding a couple of Mini's to my current set-up, it raises some interesting issues from a TiVo Investment perspective that I want to highlight on this quick post. Every analyst report I've read in recent weeks highlights that TiVo's retail (TiVo-Owned) subscriber numbers will continue to decline for the foreseeable future. Since the Mini thin client generate recurring subscription revenue for TiVo, each box sold and activated will count as a unique subscriber to the service. For example, a household that has one TiVo Premiere-4 and two (2) Mini thin clients would count as three (3) TiVo-Owned subscribers from a reporting perspective. This is different from the previously released TiVo Stream that doesn't include a subscription fee. Its $129 one-time fee helps hardware revenues and improves customer satisfaction but it doesn't help any other TiVo metrics.
This recent American Council for Energy Efficient Economy study highlighted that,
"There are approximately 240 million pay-TV set-top boxes installed in 100 million U.S. subscriber households by cable, telecommunications (telco) and satellite service providers. U.S. pay-TV households have an average of 2.5 pay-TV set-top boxes to serve an average of three TVs (SNL/Kagan 2012; Nielsen 2011)."
This leads to a relatively conservative assumption that we should expect that a Premiere + Mini household would have on average 1.5 Mini thin clients paired to a Premiere 4/XL4 DVR. This assumption leads to some material conclusions that impact both TiVo's MSO business and retail business. I will highlight the latter in the rest of this post.
Exhibit 1 is an analysis to determine the number of Premiere DVRs in circulation and their product SKU mix (2-tuner versus 4-tuner).

Exhibit 2 estimates that the total number of Premiere DVRs in circulation today is around 325,000 with approximately 50,000 of them being the premium 4-tuner variety. Note that 4-tuners are currently required to add a TiVo Mini to a household.on Premiere DVRs currently in circulation and how many our 4-tuner boxes (49,000).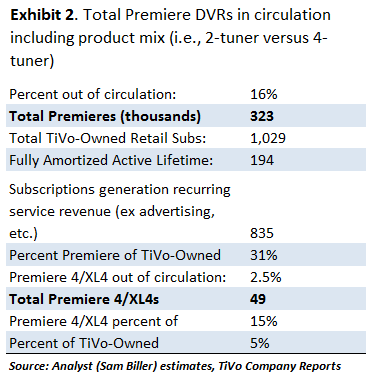 So how will this impact retail Mini sales numbers for Q1?
Exhibit 3 illustrates the impact assuming a conservative 5% penetration rate for existing Premiere 4/XL4 households. I'm estimating about 16,000 Mini boxes will be sold before April 30, 2013. A number in this neighborhood would result in the first net gain of TiVo subscribers in a very long time. Even if my estimate is aggressive we will be approaching break-even on retail numbers for the quarter which will be an upside surprise for TiVo.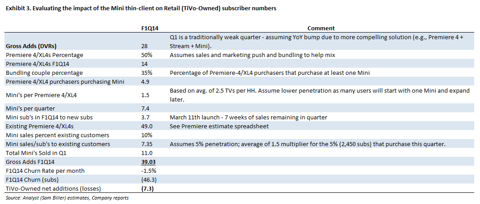 For further analysis and great discussion about everything TiVo… join the discussion at the Members-only TiVo Insights board brought to you by Investor Discussion Board, and follow this link for more information to join…it's all free, no money and no trolls!
investordiscussionboard.com/boards/tivo/tivo-analysis-and-discussion-moving-private-board
Update:
3/11/13 - I've made a modification to exhibit 3. Gator on IV pointed out that my estimates of Mini penetration to NEW Premiere 4/XL4 subs might be aggressive. I've reduced that estimate to an assumption that 50% of Premiere 4/XL4 purchasers will buy at least one TiVo Mini. Also note that a small increase in Premiere 4/XL4s could have a significant impact on Mini sales. The key item is that each Mini box sold counts as a retail subscriber. TiVo reports subscribers per box versus per household.
Also note in response to BlackBetty on the TiVo Community Forums (TCF), I receive no compensation for this instablog post.
3/12/13 - I've made another modification to exhibit 3. Some conversations have led me to the conclusion that my assumptions may still be aggressive on Q1 gross adds since Q1 is traditionally weak for TiVo. I've reduced the gross adds number from 32k to 28k. I've lowered the number of Premiere-4/XL4 purchases that will purchase at least one Mini from 50% to 35%. I did bump the percent of current customers that will buy at least one Mini from 5% to 10% based on some evidence from a non-scientific poll on TCF. This more conservative analysis leads to a net loss of 7.3k subs for Q1. Based on a brief sensitivity analysis I expect that this number will fall in a range of (13k) to (1k).
Disclosure: I am long TIVO.