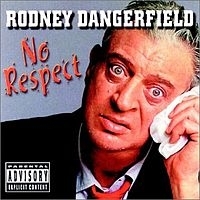 - How do you reward a company that has grown (using Q3 YOY data) sales from $21B in 2009 to $79B today?
- How do you reward a company that has a string (4) of successive product hits over the past 5 years?
- How do you reward a company that has no debt and has over $70B in cash and growing?
- How do you reward a company whose net income grows almost at the same velocity as its sales?
- How do you reward a company that has delivered 23 consecutive quarterly results that have exceeded consensus?
Keep in mind that this was accomplished even during the depths of a worldwide economic malaise triggered by the market disruption in the US (2008)...
The reward?  Value it lower than the industry average!
At $393.30, AAPL is trading (according to Yahoo Finance) at 15.5x PE, 0.65 PEG, and 3.58 P/S (vs. 18x PE, 1.46 PEG, and 4.09 P/S for the industry).  Look up the companies within its category and you will find AAPL's financial performance over the past 5 years have been nothing short but extraordinary.
Don't let me brainwash your thinking....
Apply 18X PE to AAPL...what do you get?
Apply 1.46 PEG to AAPL...what do you get?
Apply 4.09 P/S to AAPL...what do you get?
You get the picture!
If the same metrics were to apply to AAPL, one could dream that it should be worth at least $465 on P/E alone (despite having a better growth profile).  Of course, we know that the process of valuating a company is as precise as knowing which babe you'd end up going home with after a night of drunken stupor!  When analysts with professional designations cannot even get their estimates right, what is the point in modelling for a valuation?  I've read better independent articles outside about AAPL than the ones provided by the institutions. 
One thing is for certain...our assumptions will be proven wrong...again.  But that is OK..Apparently, there is more points awarded to fancy analysis than common sense!
During the last 120 days (despite a higher growth profile); even DELL got more lovin!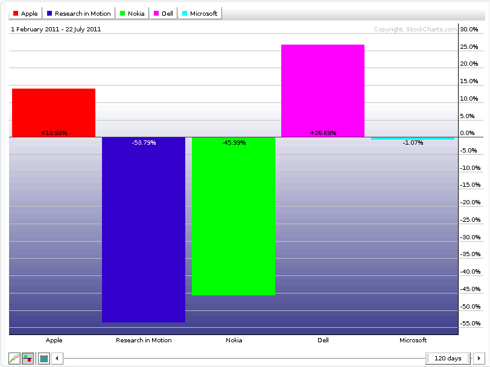 Click to enlarge
What makes it worse is that you've got all these other nosebleed companies (like LNKD est 2002) trading at insane multiples due to "potential".  Yet, the market seems to discount AAPL's "potential" going forward!  Feeling like Rodney?
Here are the possible "potential" disruptors:
1. Apple TV
- it is a "hobby" right now.  Unless you own one; it is difficult to imagine what would happen if AAPL made this a serious product line.  Could they be using what they learn from iCloud, beef up their content in iTunes and then apply it to Apple TV (iPhone and iTouch)?  NFLX has revenues of $2.39B and trades at 79x PE; iTunes has revenues of $4.6B...can someone say "stream me"?

2. China
- not a dream anymore.  However, if you submit an article saying that China is just a dream for AAPL...it may get published!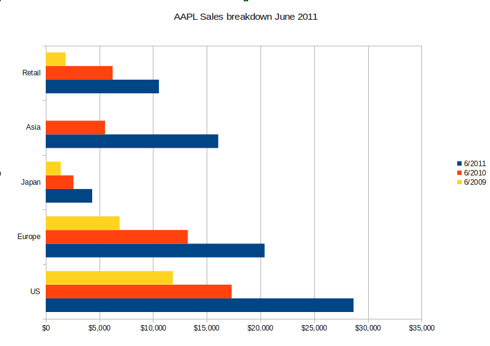 Click to enlarge
Asia grew to $16B in Q3 2011 from $5.5B in Q3 2010!  What will happen when they finally announce that they (1) will enter the pre-paid market and (2) sign up with one of the Chinese telcos?
3. iPad
- can someone say "here we go again?"  It would be myopic to think that the iPad of today will have the same functionality/features as it would 3 to 5 years from now.  Just like the first iPod disrupted the whole MP3 market and just like the iPhone disrupted the smartphone market...the iPad will disrupt the portables.  Forget about the netbooks; they will become paper weights!
4. iTunes
- are they going to rename and relaunch this?  Given that it carries more than just songs...will a streaming/subscription business be in the cards?
5. Cash baby cash
- what can they buy that will align with their business going forward?  I highly doubt that they will pay a special dividend or do a buyback.  Both are very "unApple like".  Having this amount of cash gives them at least some control over their destiny. 
To those who just jumped on the bandwagon and are wanting AAPL to open the vault to hand them the cash...byte me!  This will not happen.  In the past 3000 days, AAPL has returned over 3,700% vs DIA's measley 67%.  Historically, they have proven to be great managers of the business.  Until I've met someone who manages $80B in cash better than them...they got my vote to keep on doing what they do best - create products that "just works" and a cash generation machine!  I'd say AAPL should sell puts! Yeah, you heard me!
But wait...if you publish an article that suggests other ways about using cash, you may get it published by SA as well!

6. iMessage
- I've been a Blackberry user for years; the 2 "sticky" features that got me to continue using them for years are the keyboard and BBM.  iMessage is AAPL's version to BBM.  While I must admit that it takes a while to get used to typing without a keyboard, it becomes natural with the passage of time.  I've purposedly picked up an Android phone, iPad2s and iPhones to see which one my kids and wife gravitate towards.  Hands down...it was the AAPL products.  With iMessage, it takes another reason away why someone would want to stay with BB.
7. iPhone
- it was a game changer; it WILL continue to be a game changer.  If AAPL ever decides to play with a stripped down version for the pre-paid market; watch out...the flood gates will truly have opened.
AAPL will most likely always get no respect.  Unlike Exxon with a business that is easy to understand; the perception will always still be..."how much more can it grow at this rate?" or "it can't be..."!
It is even harder to find a compelling article that will point out the obvious on why AAPL should be worth more (the ones who get it don't write as much for SA anymore...go figure)!  Forget about getting an article written like this to be published as premium content as well!
I'll start worrying when I see 8 out of 10 random people using AAPL products.  Until then, it will always be mispriced and get no respect!  For me, that is a gift!
Unless you own APPL the stock and the product over the years...you really don't own or know AAPL!  Just like the products, the stock just "works"!
Goodbye SA and good luck to all AAPL longs (and shorts...you will need it).
Disclosure:
I am long
AAPL
.
Additional disclosure:
I'm short RIMM and may initiate a short position in LNKD.