The recent weakness in the Yen as a result of BOJ quantitative easing may start causing some ripple effects on Global Export dynamics.
As seen below we can see the depreciation that the Yen has seen in the past 6-months. The Yen has depreciated the most since end of July 2012 against the Euro (ca. 31%) followed by Brent (ca. 28%), then Renminbi (ca. 22%) and finally the U.S. Dollar (ca. 17%).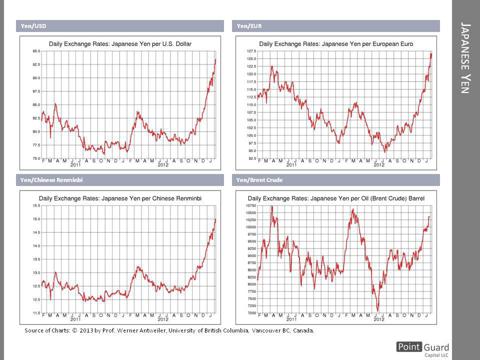 Some immediate ripple effects will be the impact of overall Japanese competitiveness. A weaker Yen augurs well for Japanese exporters who have already witnessed a pickup in demand for less differentiated goods. This can put pressure on capital goods, consumer goods and high ticket items being manufactured outside of Japan. Mainly, Autos and other goods will see a dramatic shift in demand. Japanese equity markets as measured by MSCI have appreciated 17% in USD terms and 37% in local terms since the end of July 2012.
The gain in competitiveness may come at a price however for Japan. Japan is 16% self sufficient according to a DOE Energy Information Administration (NYSEMKT:EIA) study. It is the third largest importer of crude oil behind the U.S. and China. As a result of the recent depreciation Japan may see commodity induced price inflation which may be the wrong kind that the BOJ is targeting.
Europe may want to start reacting as it will have to be proactive in addressing economic growth initiatives. The ECB may have to go down a path of cutting interest rates to help weaken the Euro to address the currency strength it has witnessed recently that could threat its export economies (read Germany).
The currency wars are likely to pick up which could lead to other unforeseen consequences including geopolitical risks and protectionism surfacing once again.
Disclosure: I have no positions in any stocks mentioned, and no plans to initiate any positions within the next 72 hours.
Additional disclosure: The information and opinions contained in this document have been compiled or arrived at from sources believed to be reliable, but no representation or warranty, express or implied, is made as to their accuracy, completeness or correctness. The views and opinions are the author's only and may or may not reflect the views of Point Guard Capital LLC. This document is for informational purposes only and is not, and should not be construed as, an offer or a commitment to enter into a transaction, nor is it professional advice. This information is general in nature only and does not take into account an individual's personal circumstances. All opinions expressed in this document are subject to change without notice. The author does not accept any liability whatsoever for any loss howsoever arising from any use of this document or its contents or otherwise arising in connection therewith.