With OAS at 595 for the Barclays US High Yield Index we may have reached yet another inflection point with regards to the high yield space. On average bonds are trading 2-points over par and have a YTM of 6.89%.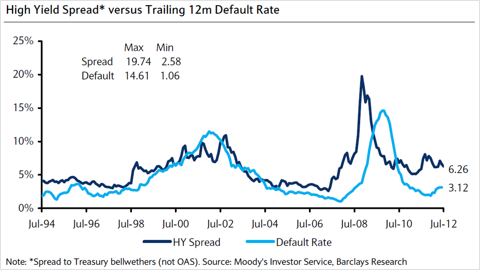 Trailing 12-month default rates were 3.12% by end of July 2012. As we know, markets are forward looking and spreads will factor future default rate expectations plus some liquidity premium which has averaged around 325bps historically. Hence, the market is implying a default rate of 3.85% over the next 12-months currently. This would be a tick up from current levels and would not be out of the realm given some recent macro deterioration in growth expectations.
Given this backdrop, high yield bond investors may be content with clipping coupons from this point forward as capital appreciation may be limited. Further appreciation would depend on whether or not the "hunger for yield trade" trumps fundamentals and squeezes the liquidity premium lower - quite possible as 6.9% yields may continue to attract capital regardless of underlying fundamental change so long as risk is compensated for.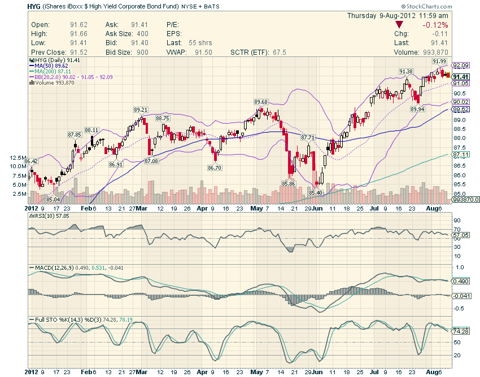 If one is overweight the high yield bond space, now may be a good time to start paring down exposure and get closer to a market weight for relative return oriented portfolios. The nominal yield level still has merit for more absolute return oriented strategies albeit sizing will require active monitoring and occasional risk management techniques may have to be applied as well as portfolio interaction consideration.
Disclosure: I have no positions in any stocks mentioned, and no plans to initiate any positions within the next 72 hours.
Additional disclosure: The information and opinions contained in this document have been compiled or arrived at from sources believed to be reliable, but no representation or warranty, express or implied, is made as to their accuracy, completeness or correctness. The views and opinions are the author's only and may or may not reflect the views of Point Guard Capital LLC. This document is for informational purposes only and is not, and should not be construed as, an offer or a commitment to enter into a transaction, nor is it professional advice. This information is general in nature only and does not take into account an individual's personal circumstances. All opinions expressed in this document are subject to change without notice. The author does not accept any liability whatsoever for any loss howsoever arising from any use of this document or its contents or otherwise arising in connection therewith.