While the market continues to melt up, we can still find ample trades both long and short to line our pockets.
You will see on the chart below, Celgene made a top on October 21. Following the start of the current down trend, the stock started a "stair step" move down to the $142 level before reversing upward.
This takes us to where we are today. Over the last two weeks CELG has been working off the oversold condition, rising slightly upward.
This can be viewed as bearish and sideway consolidation, staying beneath the previous high.
The combination of the following makes a compelling case:
1. The high put in on October 21 after a big upward move.
2. The bearish consolidation where the stock has been moving in an upward / sideway manner.
3. The price is now approaching the 20 period moving average.
This type of price, time and pattern combination has proven to be a lethal recipe for another down move in the very near term.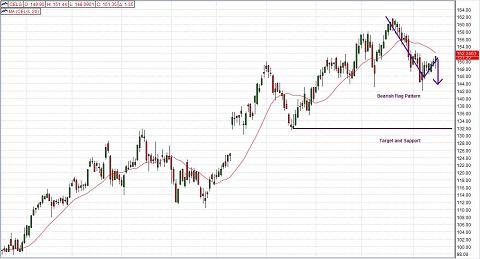 The best part of this trade alert is the risk reward. The aforementioned combination gives a high probability reward, while the risk can be limited by a sustained move above the 20 period moving average.
The reason you should begin to change your mind and re-assess the trade if the 20MA is broken to the upside is that was one of the very reasons the trade was high probability in the first place. The moving average (20MA) should provide resistance. If that is no longer a valid trade signal, moving out for a very small loss would be the prudent thing to do.
Remember, not every trade works out the way it "should," therefore you must always have a maximum acceptable loss to ensure protection of your capital.
Whenever you initiate a trade, you must have three key components.
1. A high probability reason why you like the trade.
2. A target to close the trade for a profit.
3. A maximum acceptable loss based on your own risk. (never more than 10% on any one trade)
On a broader measure of the market, we are due for a turn, therefore caution should be taken. The likely downside target right now is around 1700 on the S&P 500 average. Anything significantly lower than that will have to be assessed at the time.