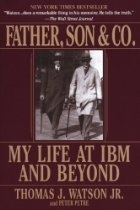 No tech business lacking a firm hand at the wheel is too big to fail.
While IBM is celebrating its 100th birthday this week with a focus on technology, progress and service, it's the leadership lesson that is most important to its future prospects.

Because IBM is setting up for the hardest trick in tech. A succession. CEO Sam Palmisano is 59. He's a lifelong IBM'er, a marketing guy.

The signs ahead are not promising. All the leading candidates are insiders, all are in their 50s. The top candidate, 52-year old Virginia Rometty, is another marketing guy. (Well, girl actually, but the point is she comes from sales and has worked there all her life.)

IBM is forgetting the key lesson of its history. IBM success is based on strong entrepreneurs. When it relies on safe marketing guys, it drifts, and becomes vulnerable.

Thomas Watson Sr. pared a conglomerate down to three key product lines, and built an office products giant. Thomas Watson Jr. bet the whole thing on computing, and nearly lost it.
But Elvis left the building in 1973, leaving a bureaucratic behemoth run by insider "marketing guys" that could be victimized by the "first kid with a clue" who came along. The kid, of course, was Bill Gates, and his clue was that the key to computing technology lay in its operating system. Capture that flag and the rest of the industry will follow. He did, and it did. IBM lost its way.
IBM might have gone under entirely had it not found another entrepreneur from outside and given him full control in 1993.

Lou Gerstner was dubbed the "Cookie Monster" because he'd come from Nabisco, but he was an entrepreneur to the core. Like the Watsons, Gerstner had a vision and was ruthless about stripping away anything that didn't fit the mission, even if it didn't fit the old corporate culture. 
Palmisano,  like Watson Jr.'s successor, Frank T. Cary, has followed his predecessor's formula. He has not crashed the ambulance.
But IBM's history shows formulas fade, and new formulas must replace them. An insider successor, a new "marketing guy," may feel comfortable to insiders, but it shouldn't feel comfortable to IBM shareholders.
Disclosure:
I am long
IBM
.
Additional disclosure:
I rewrote this to emphasize the news peg of Palmisano's succession, and the risks inherent in replacing him with another insider, another "marketing guy" who will be vulnerable to rival entrepreneurs with real vision.