Firm volumes overall recover nicely following August "glitch".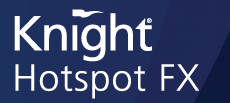 Brokerage firm Knight Capital -- which famously nearly went under in early August after a trading glitch in its equities business caused a $400 million loss -- announced its volumes for September, and in most key categories things seem to have stabilized. In its Forex ECN unit Hotspot FX, volumes returned to near-normal levels of $25.8 billion daily, up 23% from August's $21 billion.
For more details see LeapRate's Forex Industry News at leaprate.com.
For more on historical FX trading volumes see the LeapRate Retail FX Volume Index, sponsored by Leverate. And for more generally on the global Forex industry see the LeapRate-Dow Jones Forex Industry Report.

Disclosure: I am long KCG.