IG joins ETX Capital in making a greymarket in Twitter shares.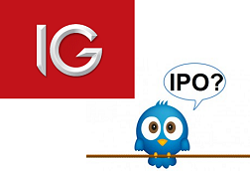 LeapRate Exclusive... Forex and binary brokers and spreadbetting firms are attracting clients by offering trading in Twitter shares -- today, months before Twitter actually goes public. Joining ETX Capital which announced it was making a (grey-)market in Twitter less than 24 hours after Twitter's IPO plans announcement is industry giant IG. So what do traders believe Twitter is really worth? And what exactly is greymarket trading? Details exclusively at LeapRate's Forex Industry News at leaprate.com:
For more on the global Forex industry see the LeapRate-Dow Jones Forex Industry Report.