June sees highest trading volumes so far in 2012.
July 30, 2012 -- LeapRate's Retail FX Volume Index, sponsored by Leverate, rose 3% in June to $196 billion (as a measure of average daily trading volume) from May's $190 billion. The nice growth of global FX trading markets in June followed a great May, which saw the largest percentage increase of the year, at 10.5%, as volatility returned to the currency markets.
LeapRate's Retail FX Volume Index is a monthly measure of global trading activity in the retail FX sector.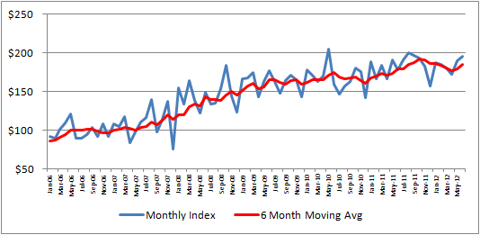 Sources: LeapRate research, monthly and quarterly volume reports of various Forex ECNs and Forex brokerage firms.
Following a very slow beginning to the year as volatility in both the currency and equity markets remained depressed, FX firms saw a significant pickup in volumes during the months of May and June as volatility soared following the break of the Greece-Euro and Spain-Euro crises.
LeapRate is a leading research and information firm serving the global FX industry. Through its partnership with Dow Jones, LeapRate publishes the LeapRate-Dow Jones Forex Industry Report, a comprehensive review of the retail FX industry. Other LeapRate services include Best-of-the-Web FX Research, the Forex Yellow Pages, Forex Exec Search job listings, and our Approved List of regulated FX brokerage firms worldwide. For more information please see our website at www.leaprate.com.