Apple (NASDAQ:AAPL) announced solid results. The stock is up +$43 during after-hours trading. Overall, the biggest company on the planet has once again smashed all the estimates and erased any concerns whatsoever due to weakness in Verizon and AT&T activations.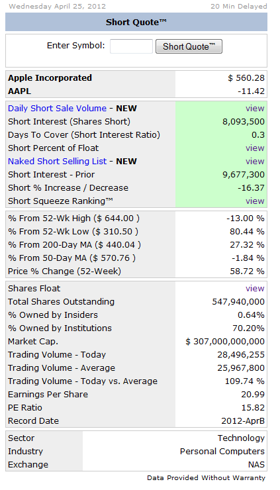 One thing that bears may like to tell you is that this after-market rally is driven by a short squeeze and will be short lived.
Whether this rally holds or not, I can tell you that short interest is not massive when compared with average daily volume. Pls see attached chart for a quick update on AAPL short interests.
As of April 24th close, there are 8,093,500 shares short and it will take only 0.3 days to cover that.
So friends, don't discount after-market rally by saying this is only due to shortsqueeze. Bears, give due credit to a wonderful company that has produced another stellar performance.
(The table is from shortsqueeze.com)
Profitable Trading, OP