I took a look at a friend's Tesla last week. I was very impressed, not only by the car, but also by the owner who was bubbling over with enthusiasm about his new toy. I think it is only a matter of time before electric cars begin to take a significant share of the world market for vehicles. That will mean huge changes for those who provide raw materials, fuel, supplies and services to the motor vehicle industry.
This will open up opportunities for many of the companies that supply raw materials and components for the electric vehicle. The preferred technology for energy storage for vehicles has now become the lithium ion battery, and the major materials in the battery are lithium compound which are used for the anodes and electrolyte, copper and graphite which is the material of choice for the battery cathode. In fact, there is 10 to 20 times more graphite than lithium in the Li-ion battery.
In 2010 there were two mining companies with graphite as their primary focus listed on world stock exchanges. Now there are over 80, with more than 150 properties in some stage of exploration or development.
Graphite Market
Chinese mines produce about 70% of the world's graphite. Cutbacks in production and the introduction of a 20% export tax at the Chinese mines sparked new interest in graphite exploration and mining and a rise in graphite prices in 2011. Although prices have recently fallen back to more normal levels, new demand for Li-ion battery application should ensure a healthy market in the future.
The existing world market for natural graphite is about 1.1 million tonnes per year, of which just over half is low value amorphous graphite (selling for less than $700/tonne) and the rest is mostly flake graphite which sells for $1,100 to $1,800/tonne depending on the flake size and purity. There is also a small niche market for lump and chip graphite which is mined only in Sri Lanka, and which sells for about $2,000/tonne.
Graphite is also manufactured synthetically from petroleum coke and coal tar pitch. The market for synthetic graphite is about 1.5 million tonnes per year, the major component of which is electrodes for arc furnaces and other electric furnaces. Graphite electrodes sell for about $4,000/tonne. Electrodes are finished products, molded and machined to specific sizes, so the price is not directly comparable to natural graphite. The waste product from machining sells for about $700/tonne.
The only major application in which the synthetic and natural graphite compete is the anode of the Li-ion battery and this is the fastest growing sector, with forecast growth rates of about 20% versus 3% for the remainder of the market.
Very pure graphite (natural or synthetic), can sell for much higher prices. However, as most prices are set by negotiated contracts between buyer and seller, the terms and quantities involved are not readily available. These very high value products are sold in relatively small niche market quantities, and are usually customized products with properties designed for specific applications.
The graph below is a forecast for natural graphite demand, showing the effect that growth in Li-ion battery use will have on the demand for graphite by year 2020.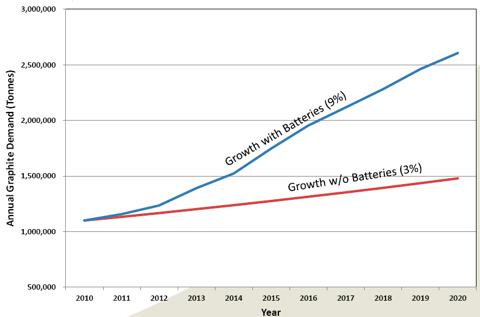 The estimated world market in 2012 was 40,000 tonnes per year. I have seen one projection from Roskill (one of the market research companies covering this market) that the market for battery grade graphite will reach 114,000 tonnes per year by 2016. Forecasts from Industrial Minerals have the battery grade graphite market growing to 800,000 tonnes per year by 2020, with a 5% penetration rate for electric vehicles, and 1,600,000 tonnes per year with a 10% market penetration for electric vehicles. If this happens, the battery industry will displace the refractories industry as the world's biggest consumer of natural graphite.
Graphite mining and processing
Natural flake graphite is mined, on a small scale relative to the mining of metals such as copper, and almost exclusively in open pit mines with deposits close to the surface. After extraction, the ore is processed by crushing, grinding and flotation to separate the graphite from the gangue materials. After flotation it is dried and screened to separate the very fine amorphous graphite from the more valuable flake graphite
Larger flake sizes usually have higher purity, and sell for higher prices than the small flake sizes. Typically, purity is 94 to 97% graphite for the +80 mesh sized product, sold into the refractory industry. Graphite for the Li-ion battery requires further processing after the flotation and screening stage.
The specifications for Li-ion battery graphite usually require 99.5+% purity, and the particles should be spheroidal (potato shaped) whereas natural graphite particles are flat or needle shaped. Changing the shape of the particle is done by milling, which can waste between 30 and 70% of the material, depending on the initial particle size. The higher particle sizes have lower losses, so flake graphite with medium to high particle sizes (+100 mesh) is the preferred material for manufacturing of graphite for Li-ion battery use. The current largest user (the refractory industry) and the potential future largest user (the Li-ion battery industry) are therefore competing for the medium to large flake material.
Purification to 99.5+% is usually done after milling, and involves chemical leaching or thermal purification at high temperatures, or both.
Almost all of the battery grade graphite is produced in China and exported after purification, to Japan or Korea where it is coated with carbon and bonded to copper sheets for use as the anode of the Li-ion battery. The Chinese industry has gone through a period of consolidation and mine closures. There has been some speculation that Chinese mines are running out of ore and that the export tax introduced in 2010 was an attempt to conserve resources. However, this is hard to verify, and it is equally likely that the export tax is an attempt to attract more value added processing to China, and eventually develop a Li-ion battery industry in China.
Graphite Mining Companies
The only company mining graphite in North America is Timcal, a private company with a mine and processing facility in Quebac.
All of the companies trying to move into the graphite space are junior mining companies, with no producing mines and no significant source of revenue. These are investments which can provide high returns but which carry a high risk. Out of the 80 or so junior mining companies chasing graphite projects, many will fail. It is unlikely that more than a dozen or so will ever get their projects into production - there is simply not enough demand to support all of them. The ones who are furthest ahead with development of their projects will have an advantage in being first to market. I have therefore chosen to evaluate four companies who are sufficiently far advanced to have produced an NI43-101 compliant resource estimate and a Preliminary Economic Analysis (PEA) demonstrating that they have a viable project.
The companies I have chosen to evaluate are:
Northern Graphite - has reached the feasibility study phase for a mine and flotation plant in Northern Ontario producing 16,000 tonnes per year of flake graphite. Northern's deposit is unusual in that it contains a high proportion of large flake sizes and almost no amorphous graphite. The mine is has recently received a permit from the Ontario Government and can start procurement and construction as soon as financing is in place. Northern will probably be the first of the junior miners to go into production.
Focus Graphite - owns the Lac Knife deposit in Northern Quebec, close to the Labrador border. It has plans for a processing plant for 49,000 tonnes per year of graphite, in the medium, fine and amorphous size ranges. Focus is conducting pilot tests to provide data for process flow sheet optimization and to provide samples for discussions with potential end users.
Mason Graphite is proposing to develop a deposit at Lac Gueret about 200 miles north of Baie-Comeau, Quebec. It will produce 50,000 tonnes per year of graphite with a full range of products from minus 150 mesh to +50 mesh flake.
Energizer Resources has a 75% interest in the Molo Graphite deposit in the south of Madagascar and is planning a mine and processing plant to produce 84,000 tonnes per year, mostly medium and fine flake and amorphous graphite. The PEA study was completed earlier this year, pilot plant testing is in progress and they are targeting production in 2015.
Projects
The table below is a summary of each of the proposed graphite mining projects: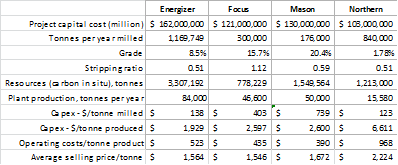 Note: The average selling prices are after my adjustments and reflect the prices I have used in my adjusted NPV analyses.
Northern's capital and operating costs per tonne of production are significantly higher than the others because of the small tonnage and the very low grade ore. This extra cost is offset by the larger flake sizes in the Northern ore which will provide a higher income per tonne.
Mason has the lowest estimated operating cost because of the high ore grades. It also has a full range of flake sizes, including some of the +50 mesh Jumbo flake which attracts the highest price.
Energizer's capital cost per tonne of product is low because of the larger scale of the project, even though their CAPEX includes significant infrastructure spending. They are also proposing to use contract mining, so their mining equipment cost is buried in the operating costs. Power costs for Energizer are very high because they will have to use diesel generators at the site. However, there is a plan to mine coal and construct a power station in the region, which will benefit the project if it goes forward.
All four companies have sufficient resources for at least twenty years, and all have inferred resources and unexplored deposits with potential to increase mine life well beyond 20 years.
Evaluations
The NI43-101 compliant PEAs for each of these projects can be found on the SEDAR website. Because the PEAs are not all done on an equal basis, for example some of them have used different pricing, some are pre-tax, some give both pre and post-tax NPVs etc. I have therefore adjusted the calculations to present my best efforts at an "apples to apples" comparison.
The adjustments I made were:
Northern Graphite used an 8% discount rate and a twenty five year mine life for their NPV calculations. I adjusted that to 10% and twenty years to match the others.
In their PEA, Focus graphite included a plan to purify their large flake product to battery grade using an expensive thermal process which was to be contracted to a third party. They also included a very high selling price for the upgraded product. I have taken out the cost of the thermal processing and moved their selling price down to match the others. I have also adjusted Focus Graphite's NPV calculation to allow for taxes because they provided only a pre-tax calculation in the PEA.
Mason used a lower product pricing structure than the others than the others, so I have increased their NPV to provide an equal comparison.
In all cases, I have normalized the assumed graphite prices based on the percentage of amorphous and flake graphite and the percentage of each flake size produced at each of the proposed mines.
The adjusted project Net Present Values (NPVs) and evaluation of the company values are in the table below: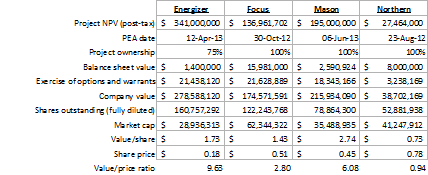 In the above table, to arrive at a company net asset value, I have added the balance sheet value (current tangible assets minus liabilities) and I have assumed that all outstanding warrants and options are exercised along with the appropriate dilution of shares. The final row in the table is the ratio between the Net Asset Value, and the share price as of August 3rd, 2013.
In all cases, I have ignored the value of any other mining licenses or projects which are owned by the company, but which have not reached the stage of being proven to be of commercial value.
Based on my analysis of the graphite projects, Energizer is the most undervalued of the four companies. A fact which likely reflects the location of the proposed project and the infrastructure challenges of the site as well as the somewhat undercapitalised nature of the company. The proposed size of Energizer's project at 84,000 tonnes per year is also large compared with the others. This could be an advantage once the market is established, but it may be too much for the market to absorb in its early years. I don't expect the Chinese suppliers to give up a major portion of their market share without a fight.
I also like Mason because of their low operating costs and high grade deposit, and the fact that their ore contains the full range of flake sizes. Their ore grade for the early years of the mine life is over 27%.
Although Northern is further along with their project than any of the others and will likely be first to market, the shares appear to be fully valued. Northern would gain, however, if the price gap between the larger and smaller flake sizes were to increase as a result of disproportionately higher demand for the large flake. That widening of the price gap may well happen because both the refractory and battery markets place a premium value on the high flake sizes.
Focus is in the best financial position, with about $15 million in cash on their latest published balance sheet. There is also a component of value in Focus which is not reflected in a simple analysis of their proposed mining project. Focus owns 40% of Grafoid, a technology company which is developing new products and processes using graphene, a two dimensional crystalline form of graphite. It is Focus' intent to split this off into a separate listed company, which may give the share price a boost in the future.
Options to upgrade to battery purity
The above analysis is based on producing and selling flake graphite at the sizes and purities normally sold into the refractory industry which today is the largest market for natural graphite. However, there is potential to add value by making a higher grade product which can be sold to battery manufacturers at a higher price. Energizer recently announced that they have tested a relatively low cost process which can purify their graphite to the required 99.9%. That announcement more than doubled their share price in one day, which is a reflection of the interest in this sector and the importance of being able to produce a product for the growing battery industry. Northern has also announced that they can reach battery grade with a relatively low cost process. Focus has made a deal with Hydro-Quebec to use a patented low temperature leaching process which can purify their graphite to battery grade, and are planning to make battery anodes. So far, Mason is the only one of the four companies which has not announced a purification option which can make battery grade graphite.
However, none of the four companies has provided estimates of the costs associated with the purification processes, or how it affects the project economics. Energizer have stated that they will shortly be updating their PEA to reflect the value added option. We can expect an uptick in the Energizer share price if the updated PEA shows significant gains, and there is potential for Mason's price to jump if they also come forward with a purification option.
Other opportunities
There are a couple of other companies that are worth considering, though neither has published a PEA document, and therefore do not provide sufficient information for a detailed analysis:
Flinders Resources is reopening a past producing mine in Sweden. They are currently producing graphite from an old stockpile, and are redesigning the former mill and flotation circuit to improve recovery and graphite purity. A preliminary economic assesment was due to be issued at the end of August.
Canada Carbons is at a very early stage in development of their Miller Graphite property. It seems that they have a very high grade deposit close to the surface, and they are currently implementing an exploration program to define the extent of the deposit. They have also achieved battery grade purity on test samples using a relatively low cost flotation and leach circuit. The Miller mine is located very close to the Timcal property, so there is potential to sell the ore directly to Timcal, without the need to build a processing plant, in which case they could be generating positive cash flow very quickly, with a very limited initial investment.
Conclusion
I am not picking winners and losers here. I think all of these companies have great potential if the electric car market develops as forecast, and graphite remains the material of choice for battery anodes. I am simply looking for the best value based on the information at my disposal. For that reason I have made small investments in Energizer, Mason and Canada Carbons.
Focus, Northern and Flinders are on my watch list for future developments.
All of these stocks trade on the OTC market in the USA, but volumes and liquidity can be low, it is better to use the Toronto market to trade these stocks.
Note of caution
It is a big step to go from a PEA or feasibility study to a profitable mine. Project capital and operating costs almost always come in higher than the forecasts made during early studies, and many projects never even get to the construction phase. Financing for these kinds of projects is difficult to get, and usually requires heavy dilution of the shares before the project reaches production, so asset values per share are eroded at every step of the financing process. No matter how good the project looks at the PEA phase, don't bet the house on it - in the worst case scenario, someone could develop a new battery technology that doesn't use graphite at all.