Tesla (NASDAQ:TSLA) stock is on a tear up over 470% in the trailing twelve months (September 4, 2012 close of $29.28 and September 9, 2013 close of $160.70). The stock has incredible momentum and generates strong emotions from all sides. In the following article, I will attempt to cut through that and focus on three factors of the Company and its stock (cash, market cap, and revenue) to help codify why I would not indulge in the purchase of the stock at its current levels but instead patiently wait to initiate a short position in the stock.
CASH
Cash is king; however, cash flow can be misleading. Cash and cash equivalents, a straightforward number found at the bottom of the cash flow statement and the top of the statement of operations are a company's most liquid assets. These assets are comprised of cash in its truest form and cash equivalents, assets that can be readily turned into cash. Cash flow, as I will define it here, is the way in which a company generates this asset. TSLA, in its most recent earnings reported the Company's strong financial strength at the very top of the letter stating the balance sheet cash amount:
"Strong balance sheet with almost $750 million in cash and no government debt"
If one was not to read on (big mistake), they would certainly miss the disclosure of the cash increase:
"Our total cash was $747 million at quarter end, an increase of $516 million from last quarter."
Further, should one stop reading there they certainly would have missed the real source of cash:
"During the quarter, we raised a little over $1 billion through the issuance of 4.5 million shares of common stock and $660 million of convertible debt. About $450 million of the offering proceeds were used to pay off our DoE loan, including an $11 million fee for early payment."
Therefore, TSLA does not generate cash from selling automobiles, but from issuing stock and raising as well as paying off debt. To my knowledge, TSLA is an auto manufacturer; however, maybe I am mistaken and it is a financial institution (pardon the sarcasm). With the acknowledgment that TSLA is a young company, this is not a sustainable business model for a company to follow. In addition, the act of issuing equity is the most costly for the shareholder in turns of utilizing capital and only acts to increase the cost of capital, the exact opposite of what a company should be doing (the obligation of a corporation is to maximize its value and in turn shareholder wealth). Furthermore, remember the Company did not issue debt, it issued convertible debt, and this too will turn into equity and upon conversion further increase the Company's cost of capital. The combination of these will lead to an eventual reduction in the value of the Company (the value of any asset is equal to the present value of its future cash flows) as the discount rate used to value the company increases with TSLA's cost of capital. To further elaborate on TSLA's cash position, defined as free cash flow ("FCF"), let us compare TSLA to three large auto manufactures as well as Amazon (NASDAQ:AMZN), Google (NASDAQ:GOOG), and Apple (NASDAQ:AAPL) for added emphasis.
Free Cash Flow to the Firm and Equity
Free cash flow is that to the firm ("FCFF") and that to equity ("FCFE"). FCFE is a measure of the money available to the equity holders after the company pays its expenses, reinvests, and makes its debt payment. FCFF is the measure of the money available to the firm after it pays all its expenses and reinvests. Free cash flow is important, in either form, because it shows us, the investor, that if the Company earns enough money from its normal (continuing, thus the inclusion of capex) operations to cover its cost and operate without the need to borrow or issue new debt.
With that knowledge, TSLA has done us (investors) a great service in supplying us with that number in its 8-K.
(click to enlarge)

Click to enlarge
This clearly allows us to see that TSLA while beginning to earn cash from operations is not generating free cash flow and thus had to resort to equity and debt issues to sustain operations. When we compare this with AAPL, GOOG, and AMZN we find that the other three support operations by generating FCF: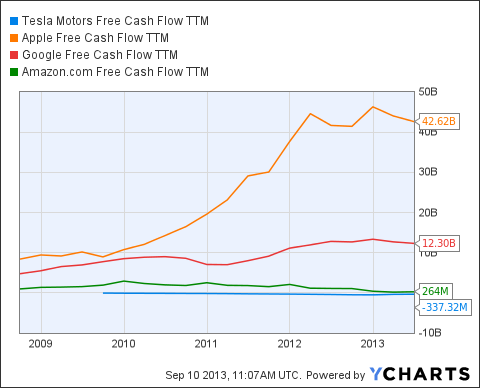 TSLA Free Cash Flow TTM data by YCharts
And, the car manufacturers: Ford (NYSE:F), GM (NYSE:GM), and Daimler (OTCPK:DDAIY), with the exception of DDAIY display positive FCF: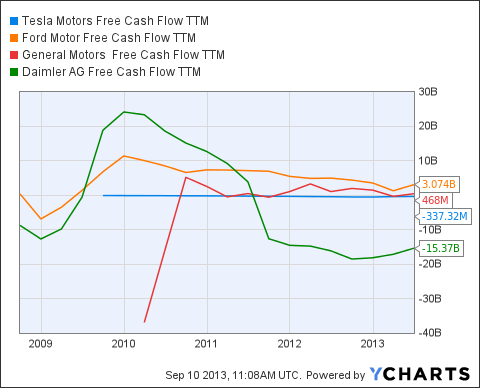 TSLA Free Cash Flow TTM data by YCharts
Cash is king, and a company's ability to generate that cash is what differentiates sustainable businesses from unsustainable ones. TSLA displays an inability to earn the cash necessary to support its operations and has not shown a meaningful measure of positive cash flows. The stock is trading on hype and emotion and is defining a recipe for disaster. Even AMZN, which trades at a substantial price/cash flow has at least proven itself as a sustainable business and market leader in addition to generating FCF. None of which can be said for TSLA. Further, one could look at the cash flow issues present with the other three car manufactures, particularly negative FCF for Daimler, as one of the many challenges the Company faces.
Market Cap
In a recent Wall Street Journal Article, Tesla Rides Roughshod Over Naysayers, Justin Lahart wrote:
"after climbing 14% on the back of its second-quarter results late Wednesday, Tesla shares are worth about three times as much as they were in early May. The company, with a market value of $18.7 billion, is worth a bit more than a quarter of Ford Motor. Ford's vehicles aren't as expensive as Tesla's, but the company does sell more than five million of them a year."
Ford has a market cap $68.20 billion while TSLA's is $19.52 billion this amounts to 28.62% of that of F at the time of this article.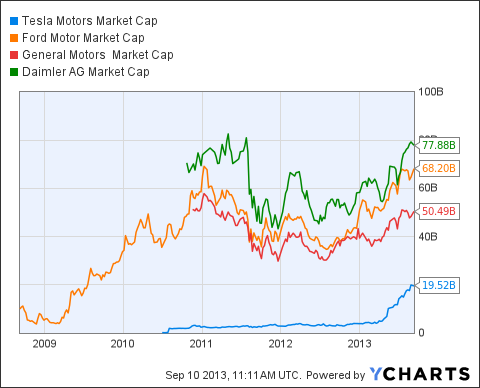 TSLA Market Cap data by YCharts
When we dig deeper into the group, we see that TSLA lags all of them in market cap as to be expected yet its market cap divided by TTM revenue is significantly higher (TSLA is 14.79x compared with the group median of 0.48x).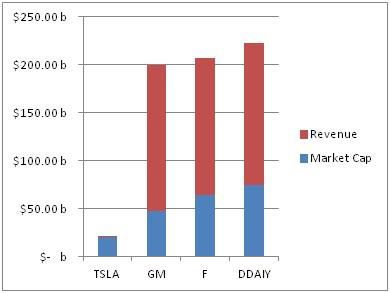 While I acknowledge that there are growth prospects built into the price (and market cap) of TSLA, I ask myself if the growth substantiates this multiple. As an adjustment, I looked at what TSLA's revenue would be if it held the group's median multiple, which returns $41 billion (almost six times its current revenue).

Revenue:
Revenue, the top line of the income statement is a very telling number (read John Petersen's article, for why I do not like TSLA not reporting non-GAAP figures as it is outside the scope of this article). TSLA's 5-year Consensus revenue numbers have the Company at $7 billion in 2017, suggesting to me that there is a lot more than just expectations built into the price. This means that in 2017 the Company will need to sell 454,300 cars at a price point of $100,000 to generate that number compared with the 21,500 expected cars sold this year … that is a large variance. In addition, those numbers do not take into account lower end models expected in the coming year(s), which will significantly increase the number of cars the Company needs to build to reach that number. As a comparison, Mercedes Benz sold 177,016 (BMW sold 164,474 cars) cars this year through July, which if we double it amounts to 354,032 cars for the year. Holding that number constant for five years, is it possible that TSLA will outsell Mercedes by 1.28 times in five years? I find that highly unlikely, but I guess, anything is possible. In order for this to happen though, the Company will have to alleviate existing bottlenecks from its own manufacturing to its suppliers and even its distribution channels, all of which will prove to be high hurdles.
The conclusion that I draw from this is that the Company is significantly overvalued, maybe not by the six times that this analysis suggests but perhaps two or three times.
Conclusion
Tesla may be a wonderful company that produces an excellent product that revolutionizes the driving experience or it may be a bridge between then and now. Either way this Company is still just that, a company and should be valued as one. Sure it has a lot of potential, but its potential does not appear to match up to its current valuation. Ultimately, it will be seen what is to be with the stock price. Nevertheless, one hiccup and this stock will likely fall faster than an anvil on Wile E. Coyote. Therefore, do not be the Coyote instead be the Roadrunner and outsmart everyone around you. It is looking like a short position may prove rather lucrative as long as it is initiated at the right time ("patience, young grasshopper"). Just remember what happened with Apple ... it was the first trillion dollar market cap company until it was not!