Creative Edge Nutrition; Taking Root in the Marijuana Sector
The marijuana industry has been an elusive map to follow, with endless forms of scrutiny that has left much to be desired. Of late, only a handful of companies have emerged to become leading sectors of this industry. Much of these companies rely heavily on public press releases, merger acquisitions, and private financial funding. The sector is also under the scrutiny of many career driven bashers, which often obfuscate facts and create unnecessary fear for the average investor.
CEN: Brief Overview
Creative Edge Nutrition (Ticker: OTCMKTS:FITX) has gained traction in the marijuana industry and has overcome the scrutiny of even the most pessimistic investors. The company is engaged in the development and marketing and sales of nutraceuticals and health supplements, and most recently the marijuana industry. During the past year, Bill Chabaan, CEO of CEN has created two marijuana facililites in Lakeshore, Canada in hopes of growing medical marijuana. The facility has been privately funded and has become instrumental in the growth prospects of the company. The pursuits of CEN are focused on becoming one of the leading companies in the marijuana sector and have created a powerful diverse board of directors, merger acquisitions, and steadily and thunderously announcing itself as the behemoth of this industry.
Board Members
The company boasts a world-class board of directors, including securities fraud investigator John A. Germinario, formerly with the SEC; Dr. Sam Alawieh, Pharm.D, who carries over 32 patents pending on marijuana-related technologies; Michael K. Clark, an expert in global capital markets; as well as several prominent physicians such as Dr. Davild L Felton, with powerful backgrounds in patient care and NIH funding. http://www.otcmarkets.com/stock/FITX/news
Most recently, Mr. Keith William Volpone, Mr. Eric Nashman, and Dr. Roger Shaban have joined the board of directors to strengthen and diversity the company's pursuits. http://www.marketwatch.com/story/creative-edge-nutrition-inc-appoints-three-new-members-to-board-of-directors-2014-07-07
The invaluable clinical and research expertise each board member brings to CEN is instrumental in shaping the company's future prospects, and one that should not be taken lightly.
CEN Brief Update
Creative Edge Nutrition (OTC:FITX) has seemingly become one of the most actively traded marijuana stocks in its sector. CEN has undoubtedly given investors a newfound hope in this lucrative sector.
This article aims to primarily analyze the recent WeedStock Investor meeting Conference held in Denver, CO as well as give investors insight into the future outlooks of the company's growth potential and a brief technical analysis of the recent stock movement.
CEN: WeedStock's First Annual Cannabis Investor Conference
On June 30, 2014, CEO Bill Chaaban presented at WeedStock's First Annual Cannabis Investor Conference in Denver, CO. Hundreds of investors joined this conference to elaborate and share their thoughts and ideas regarding the industry. The live presentation was recorded and can be found at: https://www.youtube.com/watch?feature=youtu.be&v=A-eUxu7WYNE&app=desktop
One of the many interesting topics Bill Chaaban spoke about was the company's extensive unique collaboration effort with more than 15 different companies to grow and distribute medical cannabis at an unprecedented level. Some of the notable companies are:
Jade Medical and Agriculture, utilize workflow model of pharmaceutical CGMP, dietary GMP facilities and grow operations.
WMPG Wellness Medical Protection Group, providing medical marijuana insurance to patients.
Techdyne Software, an innovative novel tool to develop master-batch record software for drug and nutritional manufacturing. Bill states that a pilot test will be launched in one of the marijuana facilities to address any concerns with the software development and research programs.
Craexis Branding, will be utilized to build the brand name of CEN and make physicians, dentists, and medical community aware of the high standards CEN has created in marijuana production.
Xena Diagnostics a company involved in creating diagnostic test-kits for testosterone level measurements, which will also be used in marijuana testing in the future.
Open Pharma Inc, an extensive distribution arm for CEN, representing demographics across Canada and the United States for drug and dietary supplements.
Brooklyn Pharma Inc, a manufacture of pharmaceutical drugs that will help with distribution of medical marijuana.
Mineovor Foundation, which is CEN's intellectual property powerhouse, patents pending, patent files, and trademark copy rights are examined and completed.
RXNB collaboration with CEN
One of the highlights of the WEEDSTOCK presentation sparking key interest is the partnership between FITX and RXNB. RXNB is a company that "possesses proprietary, cutting-edge systems in the field of agriculture, applicable to medical marijuana, in particular, these technologies focus on Current Good Manufacturing Practices (cGMP) manufacturing and growing process of medicinal marijuana" (http://vimeo.com/86827459). RXNB owns pharmacy licenses in 21 different states. It is important to note that once schedule changes for marijuana occurs in the United States (hopefully in less than 2-3 years), CEN appears to be crouched in wait to also infiltrate the US MMJ market through this unique partnership. Also, according to a press release on June 27th 2014, http://finance.yahoo.com/news/creative-edge-nutrition-inc-fitx-090000134.html, CEN and RXNB are creating an even more intimate relationship to close a relatively large gap between quality control of marijuana and other drugs to patients.
Deloitte Audit Firm and merger with RXNB
Mr. Chaaban had previously announced via PR (http://news.yahoo.com/ive-edge-nutrition-inc-fitx-134800849.html ) that the company has retained Deloitte Audit Firm to perform the audit on CEN financials. During the WeedStock presentation, Bill stated that RXNB has also completed audit reports alongside CEN for up-list preparation. This begs the question of a merger, in which both companies are uniquely positioned to benefit tremendously. The aim of this merger is twofold: 1) judging by the strong coupled interest of both companies in the marijuana sector and their recent collaborative investment strategies, it would be prudent to merge and become one unique entity and 2) Dr. Sam Alaweih is not only the CEO of RXNB, but also the vice president of Creative Edge Nutrition, which again shows the deep intimate relationship both companies have in their business ventures.
Furthermore, this vertically integrated merger can initiate an up-list to a higher exchange. This move alone is more than enough to make even a novice investor understand the risk-to-reward possibilities. A higher exchange traded company often hinders stock price manipulation, SEC erratic stock freezes, and the stigma of "penny stock" characteristics that many marijuana companies face today (i.e.,Ticker: PHOT, FSPM).
Health Canada License: TBA
After a seemingly exhaustive preparation to obtain legal federal government approval by Health Canada to mass produce, harvest, and distribute medical grade marijuana to patients across Canada and the world, the stock has plummeted to near lows of early February 2014. This can be eluded largely to time sensitive constraints of Health Canada's seemingly robust yet delayed licensing program. The wait has given pessimistic investors an artillery of accusations to debunk Creative Edge Nutrition's ambitious undertaking in the marijuana sector, but a great opportunity for the incoming investor. It is also important to note that much of these pessimistic investors, are allegedly paid by corporate companies relying heavily to decrease the stock price in order to profit on price volatility. Bill Chaaban has stated much of these "paid bashers" are being investigated internally and their information will be provided to the SEC for further legal action.
Restricted Shares
There are a plethora of articles that explain diligently the valuation and growth of CEN, all of which have been scrutinized by both bullish and bearish parties. It is of no surprise that many pundits have been eery of the 3 billion shares outstanding in this penny stock. One key topic of interest is the unrestricted share that is scheduled for release in the upcoming months of July, August, and September. Bill has clearly stated that the dilutions of these shares are roughly a little over 360 million shares, which is miniscule to the 3 billion shares outstanding. Moreover, paid bashers are unequivocally convinced that these shares will plummet the company's stock price drastically, however a simple arithmetic computation can show even the most stubborn investors that this is has an impact factor less than .0001, which is negligible and a moot point to magnify.
Bill Chaaban explains at the Weedstock Conference, "In July, August and September of this year 360 million shares will come up unrestricted. Not 1.5 billion or 800 million or whatever is out there. So now let me tell you about trades and volume, from January 1st to December 31st 2013 there was 28,968 trades, the volume 5,442,228,610 shares, the dollar value was $ 22,238,150, so now, keep that dollar value in mind-2 013 the whole year $22 million. From January 1st 2014 when we announced our MMPR to present of today (June 30, 2014) we have 241,962 trades almost 10 times of last year; our volume is 9,107,859,812 shares. So people are concerned of the 360 million shares that are in the market; we are not concerned about the price per share at all. The dollar volume of the trades of our stock this year traded is $543,079,802 dollars."
To this end, paid bashers have relentlessly sought to incorrectly use various float shares in combination with outstanding and or restricted shares to confuse the investor into thinking there are as much as 1 billion shares becoming unrestricted. This ploy is not only ridiculous to say the least, but a tactic that will ultimately be the demise of their investment strategy.
Technical Indicators
Almost 20 weeks of CEN's downward trend, we now see CEN consolidating heavily within the last few weeks. The stochastic has hinted to finally cross towards positive territory and the Relative Strength Index (RSI) has reached extremely oversold (RSI = 37 as of July 7th 2014), indicating a reversal in this downward trend. The lower Bollinger band was briefly touched at .0494 on July 7th 2014, but quickly absorbed by the market, indicative of a strong buying pressure this area. Of note, the 200 day moving average (bold black line) continues towards an upwards trajectory, and a convergence with the 20 day moving average is imminent. Though FITX can test the lows of January again, it is very unlikely the market will allow it to stay in that range any longer-provided that MMPR license is approved.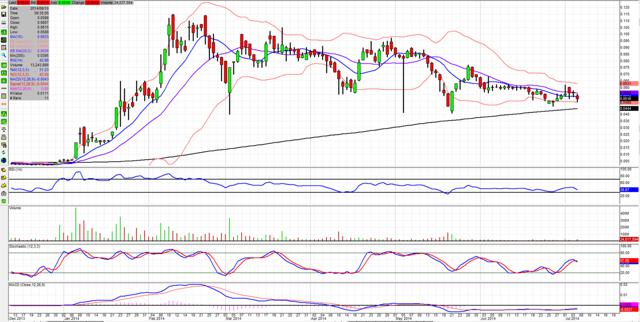 After
Future of CEN
Creative Edge Nutrition has made numerous collaborative agreements and obtained private funding to facilitate the ongoing site construction of not just building 1 and 2, but to construct building sites 3, 4,5, 6. These buildings have been hinted to be fully operational grow sites that can be utilized for hemp and marijuana production in varying degrees.
Creative Edge Nutrition is becoming one of the leading marijuana companies in the cannabis industry, and has become the shining star of the sector. This company provides a unique opportunity for the average investor to participate in what is to be the next "dot com" boom of our century.
Disclosure: The author is long FITX.
Disclosure: The author is long FITX. The author wrote this article themselves, and it expresses their own opinions. The author is not receiving compensation for it. The author has no business relationship with any company whose stock is mentioned in this article.