The marijuana industry has been an elusive map to follow, with endless forms of scrutiny that has left much to be desired. Of late, only a handful of companies have emerged to become leading sectors of this industry. Much of these companies rely heavily on public press releases, merger acquisitions, and private financial funding. To make matters worse, penny stock companies trading in somewhat speculative sectors (i.e., marijuana sector) can be more challenging to attract investors. However, the speculative sector can at times be one of the most certain areas of the market and potentially the most profitable. Likewise, it can also be exposed to the risks of tremendous uncertainty where shirking responsibility by corrupt management can be the haven for moral hazard and the demise of many companies. This article is an optimistic evaluation of CEN, and caution should be warranted to investors seeking conservative investment strategies.
CEN: Brief Overview
Creative Edge Nutrition (OTC:FITX) has seemingly become one of the most actively traded marijuana stocks in its sector. In fact, FITX has over 4000 followers on Seeking Alpha alone, almost a 100 fold increase on other marijuana companies. CEN has undoubtedly given investors an array of topics to talk about and presents an incredible story that should not be ignored.
This article aims to primarily analyze the recent Lakeshore town meeting conference held in Lakeshore, Canada, the WeedStock Investor meeting Conference held in Denver, CO as well as give investors insight into the future outlooks of the company's growth and business potential. The company is engaged in the development and marketing and sales of nutraceuticals and health supplements, and most recently the marijuana industry. During the past year, Bill Chaaban, CEO of CEN has created two marijuana facilities in Lakeshore, Canada in hopes of growing medical marijuana. The facility has been privately funded of $20 million and has become instrumental in the growth prospects of the company. The pursuits of CEN are focused on becoming one of the leading companies and have created a powerful diverse board of directors, merger acquisitions, and steadily and thunderously announcing itself as the behemoth of this industry.
Board Members: The crown jewel of CEN
The company boasts a world-class board of directors, including securities fraud investigator John A. Germinario, formerly with the SEC; Dr. Sam Alawieh, Pharm.D, who carries over 32 patents pending on marijuana-related technologies; Michael K. Clark, an expert in global capital markets; as well as several prominent physicians such as Dr. Davild L Felton, with powerful backgrounds in patient care and NIH funding. NIH funding
Most recently, Mr. Keith William Volpone, Mr. Eric Nashman, and Dr. Roger Shaban have joined the board of directors to strengthen and diversify the company's pursuits. board memebers
The invaluable clinical and research expertise each board member brings to CEN is instrumental in shaping the company's future prospects, and one that should not be taken lightly. It is of no coincidence that Mr. Clark has recently been appointed as vice chairman of Creative Edge, in preparation of a merger and uplisting of the company in the very near future. Appointment of Mr. Clark
Lakeshore Town Hall Meeting
In a town hall meeting held on July 15th 2014, discussion of town concerns were addressed. One of the last topics discussed was the new CEN Biotec marijuana facility to grow and produce medical marijuana.
The paramount value and importance of this facility for Lakeshore residents cannot be ignored. With a population of roughly 35,000 citizens (2011 Consensus), the residents of Lakeshore are taking serious and real steps into becoming world-renowned leaders for millions of countless patients that require medical marijuana for their underlying ailments.
However, the sequential plan set forth by Lakeshore council and CEN to begin production at the marijuana facility was dubious to a few residents at the meeting. Concern regarding marijuana aroma on public ground, crime concerns, and zoning locations were briefly discussed. The confusion appears to mainly be sprung largely by inconsistent and unknown variables regarding the facility's operation, most of which will be adequately reviewed and methodically explained at an open house special event held by CEN sometime in the near future.
Bill Chaaban, president and CEO of CEN Biotec explained during the Lakeshore Meeting explains:
I think Lakeshore could make itself the leading town in Canada for medical marijuana. Medical marijuana is here to stay. The Supreme Court of Canada ordered Health Canada to allow access of medical marijuana to medical patients. Canada will be the leader for medical marijuana in the world and Lakeshore will be on the map for it.
I think it's amazing Lakeshore is open for business. I thank all of you for being progressive and open-minded and many of the concerns that were brought up-about not just our facility, but any facility in Lakeshore are already addressed and strict regulations are placed by Health Canada. For example, section 50 of the MMPR document mandates that no odors [aromas] can leave the building. There has to be millions of dollars worth of technology such as HEPA filtration and HVAC systems to ensure that no odors leave the building. If odors leave the building, you will lose your license and you're out of business. With respect to security, cameras, fencing are mandated by HC, which are very detailed in what they are looking for regardless of their location. Concerns about medical marijuana being grown in an industrial park [i.e., car manufacturing, coal production, cattle farm], you don't grow food on an industrial park, you grow it on a farm-this is just another crop. It's no different than growing tomatoes, cucumbers, and mushrooms. It just happens to be controversial because its marijuana."
Moreover, it should be emphasized that according to Ontario Ministry of Agriculture, Food and Rural Affairs, (Publication 824) the term agricultural use - "shall mean the cultivation of land, the production of crops and the selling of such produce on the premises, and the breeding and care of livestock and the selling of such livestock or the product of such livestock raised on the premises, and without limiting the generality of the foregoing includes aviaries, apiaries, fish farming, animal husbandry, the raising of birds, fish and fur bearing animals, horses, riding stables, horse training tracks, agricultural research stations and the raising and harvesting of field, bush, or tree crops, market gardening, nurseries, and greenhouses. However, agricultural use does not include facilities for the permanent or temporary housing of persons on the lot."
Bill Chaaban has received overwhelming support from many residents to start production of the facility, and concerns (no matter how trivial) will be answered appropriately at the next town meeting as well as an open house of the facility in early to mid August.
Below is the facility at Lakeshore, Canada; in addition to one of the many marijuana laboratories in the facility to grow marijuana. (courtesy Fitxlong.com)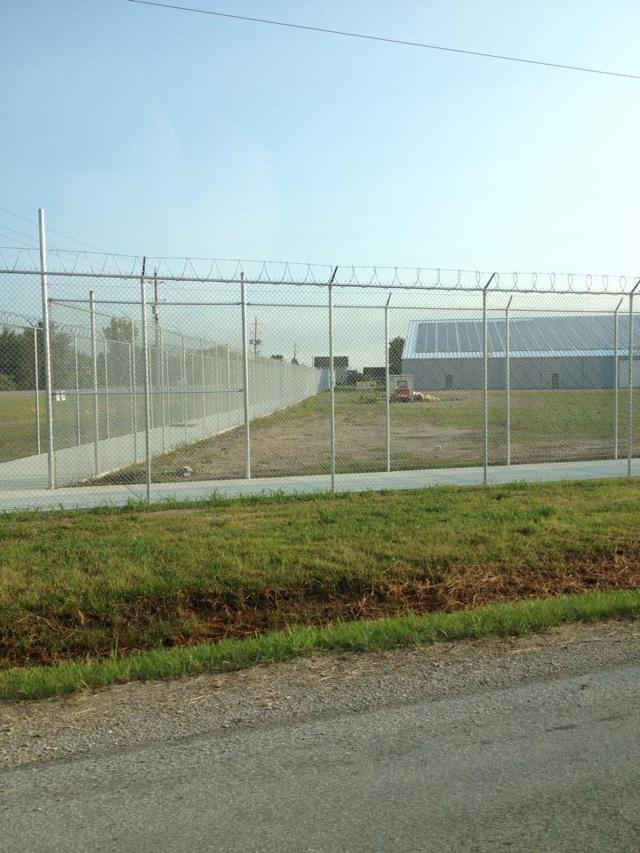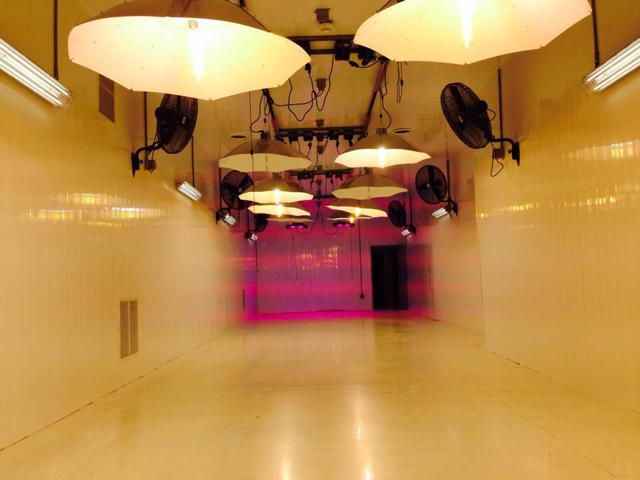 CEN: WeedStock's First Annual Cannabis Investor Conference
On June 30, 2014, CEO Bill Chaaban presented at WeedStock's First Annual Cannabis Investor Conference in Denver, CO. Hundreds of investors joined this conference to elaborate and share their thoughts and ideas regarding the industry. The live presentation was recorded and can be found at: Weedstock conference. Thisconference was made possible by Marketfy, an investment strategy research portal spear headed by Alan Brochstein, CFA.
One of the many interesting topics Bill Chaaban spoke about was the company's extensive unique collaboration effort with more than 15 different companies to grow and distribute medical cannabis at an unprecedented level. Some of the notable companies are:
Jade Medical and Agriculture, utilize workflow model of pharmaceutical CGMP, dietary GMP facilities and grow operations.
WMPG Wellness Medical Protection Group, providing medical marijuana insurance to patients.
Techdyne Software, an innovative novel tool to develop master-batch record software for drug and nutritional manufacturing. Bill states that a pilot test will be launched in one of the marijuana facilities to address any concerns with the software development and research programs.
Craexis Branding, will be utilized to build the brand name of CEN and make physicians, dentists, and medical community aware of the high standards CEN has created in marijuana production.
Xena Diagnostics a company involved in creating diagnostic test-kits for testosterone level measurements, which will also be used in marijuana testing in the future.
Open Pharma Inc, an extensive distribution arm for CEN, representing demographics across Canada and the United States for drug and dietary supplements.
Brooklyn Pharma Inc, a manufacture of pharmaceutical drugs that will help with distribution of medical marijuana.
Mineovor Foundation, which is CEN's intellectual property powerhouse, patents pending, patent files, and trademark copy rights are examined and completed.
RXNB collaboration with CEN
One of the highlights of the WEEDSTOCK presentation sparking key interest is the partnership between FITX and RXNB. RXNB is a company that "possesses proprietary, cutting-edge systems in the field of agriculture, applicable to medical marijuana, in particular, these technologies focus on Current Good Manufacturing Practices (cGMP) manufacturing and growing process of medicinal marijuana" RXNB. RXNB owns pharmacy licenses in 21 different states. It is important to note that once schedule changes for marijuana occurs in the United States (hopefully in less than 2-3 years), CEN appears to be crouched in wait to also infiltrate the US MMJ market through this unique partnership. Also, according to a press release on June 27th 2014, CEN and RXNB are creating an even more intimate relationship to close a relatively large gap between quality control of marijuana and other drugs to patients. CEN and RXN
Deloitte Audit Firm and merger with RXNB
Mr. Chaaban had previously announced via press release that the company has retained Deloitte Audit Firm to perform the audit on CEN financials. During the WeedStock presentation, Bill stated that RXNB has also completed audit reports alongside CEN for up-list preparation. This begs the question of a merger, in which both companies are uniquely positioned to benefit tremendously. The aim of this merger is twofold: 1) judging by the strong coupled interest of both companies in the marijuana sector and their recent collaborative investment strategies, it would be prudent to merge and become one unique entity and 2) Dr. Sam Alaweih is not only the CEO of RXNB, but also the vice president of Creative Edge Nutrition, which again shows the deep intimate relationship both companies have in their business ventures.
RXNB and CEN can potentially form a vertically integrated merger, which can initiate an up-list to a higher exchange. This move alone is more than enough to make even a novice investor understand the risk-to-reward possibilities. A higher exchange traded company often hinders stock price manipulation, SEC erratic stock freezes, and the stigma of "penny stock" characteristics that many marijuana companies face today (i.e.,Ticker: PHOT, FSPM).
RXNB Recall Issue: irrelevant
There has been questions regarding the validity of RXNB and their voluntary recall issues that have somewhat spooked some investors. The recall issue is a sound argument, and by no means should anyone defend poor quality products. However, to state the obvious here, this was an issue of the past, and RXNB has restructured and organized their technology to resolve any FDA concerns with quality control protocols. Furthermore, RXNB recall issue has no relevance or significant impact on a marijuana plant--which does not require significant molecular assay analysis and complex product testing at a molecular level. Furthermore, Bill Chaaban and RXNB are at the forefront of utilizing advanced technology that allows the marijuana plant to grow more efficiently with no contamination. To reassure investors and patients, Health Canada will also select a third party laboratory to asses the purity and contamination of the marijuana grown at CEN biotec.
Bringing up a recall issue that happend two years ago is projecting blame to a new company such as CEN. In other words, a double jepordy of attacking RXNB in hopes to hypothetically speculate another recall scenario is belittling the intellect of the CEN board of directors, Health Canada inspectors, and investors.
Tylenol had a recall issue earlier this month, but one doesn't suddenly fear the entire company. These are attacks that spread fear and unnecessary jargon that invalidates honest company with no merits of relation. Tylenol Recall
Restricted Shares:
There are a plethora of articles that explain diligently the valuation and growth of CEN, all of which have been scrutinized by both bullish and bearish parties. It is of no surprise that many pundits have been eery of the 3 billion shares outstanding in this penny stock. One key topic of interest is the unrestricted share that is scheduled for release in the upcoming months of July, August, and September. Bill has clearly stated that the dilutions of these shares are roughly a little over 360 million shares, which is miniscule to the 3 billion shares outstanding. Moreover, paid bashers are unequivocally convinced that these shares will plummet the company's stock price drastically, however a simple arithmetic computation can show even the most stubborn investors that this is has an impact factor less than .0001, which is negligible and a moot point to magnify.
Bill Chaaban explains at the Weedstock Conference:
"In July, August and September of this year 360 million shares will come up unrestricted. Not 1.5 billion or 800 million or whatever is out there. So now let me tell you about trades and volume, from January 1st to December 31st 2013 there was 28,968 trades, the volume 5,442,228,610 shares, the dollar value was $ 22,238,150, so now, keep that dollar value in mind-2 013 the whole year $22 million. From January 1st 2014 when we announced our MMPR to present of today (June 30, 2014) we have 241,962 trades almost 10 times of last year; our volume is 9,107,859,812 shares. So people are concerned of the 360 million shares that are in the market; we are not concerned about the price per share at all. The dollar volume of the trades of our stock this year traded is $543,079,802 dollars."
To this end, paid bashers have relentlessly sought to incorrectly use various float shares in combination with outstanding and or restricted shares to confuse the investor into thinking there are as much as 1 billion shares becoming unrestricted. This ploy is not only ridiculous to say the least, but a tactic that will ultimately be the demise of their investment strategy.
Below is a document that has shown Bill Chabaan selling private shares. Bearish investors are skeptical in this execution, but proper due diligence can at times logically explain the reasoning behind the madness.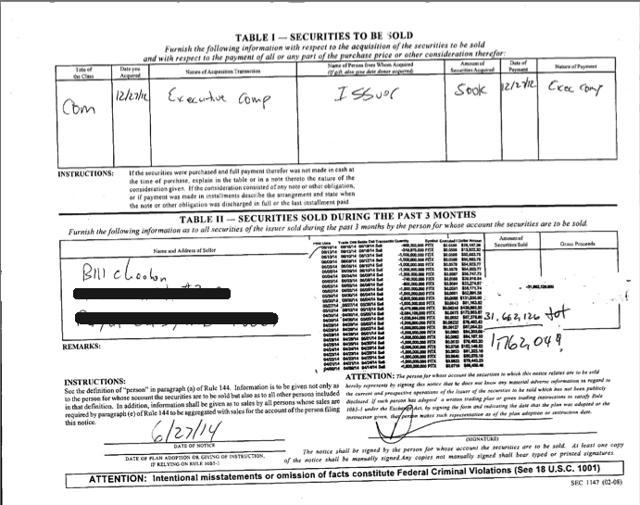 In comparison to selling shares, below is public information regarding Apple Inc, with bolstering revenue and an unparalleled business model. The director and senior vice president sold a combined total of almost $2,000,000 worth of stock in June 2014. This information can be found on finviz-apple.
One should also realize, Aple has done significantly well this last quarter. Selling shares is not out of the ordinary, and if APPLE with their hoard of cash is allowed to sell shares without scrutiny, then one should not be so critical that a start up company such as FITX is selling shares for business prospects and the management team.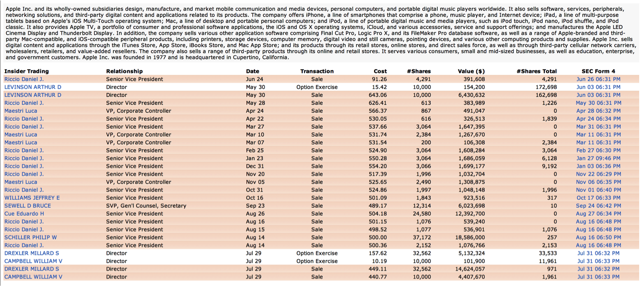 Next stop: Las Vegas
To reiterate this point, selling shares by companies is by no means an unusual circumstance, particularly when the company such as FITX requires necessary liquid assets and funds to maintain staff personnel, the board of directors, and general operations. Of note, Bill Chaaban has looked into license in Las Vegas, California, which requires a $250,000 application license fee and over $100,000 or more in contract and lawyer fees. Las vegas Liscense fee. Bill Chaaban has hinted on multiple occasions such as the Weedstock conference (discussed in this article) that the company is planning on filing for a license in Las Vegas, Nevada and Michigan. It is also important to note that the Las Vegas License fee is due no later than July 25th, 2014.
CEN MARKET CAP
The market capitalization of FITX has ranged from roughly 70 to 380 million dollars with the past 6 months. The volatility of the marijuana market, coupled with the delay in Health Canada inspection has given CEN a wide range of share prices. Currently, the market cap of FITX is estimated to be at 160 million, which has somewhat stabilized in this area within the past 3-4 months. This market capitalization does not reflect license, merger acquisitions, prospects of grow licensing in Michigan and Las Vegas, and other developing news for the company. Taking into account the average marijuana industry market cap to be roughly 180 million dollars (an average of 10 companies), FITX is seemingly undervalued. In fact, Medbox (MDBX), a marijuana company has a market capitalization of around 500-600 million dollars, is almost triple the market cap of most companies today. It is easy to entertain the thought that companies that produce revenue and hold strong profit margins can increase their stock price and thus their market capitalization tremendously. FITX has the potential surpass the market capitalization of MDBX within a short 12-16 month time frame and also increase the value of the company into billions. This would make CEN the ideal candidate for a buy-out company or to expand and acquire different pharmaceutical companies.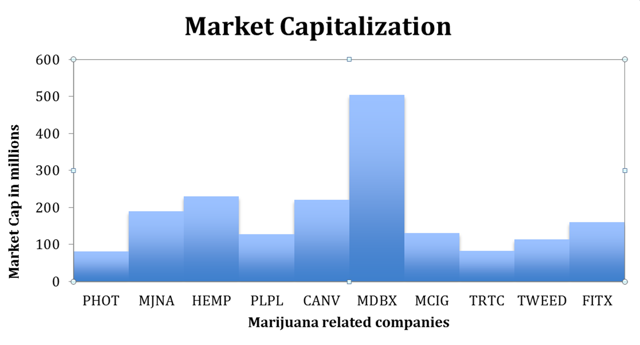 CEN: Earnings potential
Many notable investors have quickly realized the potential earnings of CEN. The consensus is as follows:
The total square footage of building facility site 1 and 2 is estimated to be 80,000 square feet. If one assumes at least 50% of this area to be taken by dormitories, common areas, such as restrooms, grow storage, office, etc, then the actual grow area is roughly 40,000 square feet. (Of note, this does not include any other additional levels of grow area, such as a second or third levels that can easily increase square footage.)
Assuming that one marijuana plant has an average space of 4 square foot, this would give roughly 10,000 plants in a 40,000 square foot area. If 1 lb of medical product is produced by 1 plant, then on average there is 10,000 lbs of medical product per harvest.
With patent pending grow operations funded by RXNB and CEN, the efficiency, precision, accuracy, and enhanced grow productivity has increased tremendously. Reports have been given that grow cycles can be completed as early as 25 days with this new grow technology. However, if one assumes 35-day grow production per cycle, this would yield on average 10 cycles per year. Therefore if CEN can actually grow 10 cycles per year at 10,000 pounds per cycle, this would yield 100,000 lbs/year. (converts to 45.5 million grams of medical product). If a low marijuana sale price is given at $8.00/gram, then the revenue of the company would at staggering $363.2 million. Assume overhead of facility, staff payment, tax costs, and other expenses are at 40%, yielding still 60% profit margin, totaling to an estimated $217.9 million in net revenue. This type of operation can easily be multiplied with other facilities being built, such as site 2, 3, and 4. In addition, the earnings does not take into account hemp production from the recently acquired Hemp Technologies company.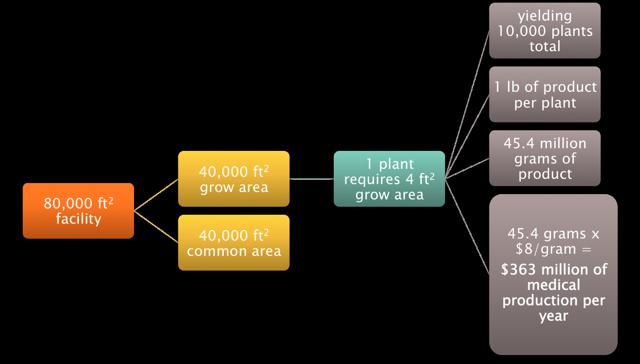 Future PE potential of CEN
Roughly 3,500,000,000 shares are currently outstanding, and the company has a potential to earn conservatively $200,000,000 per year after MMPR license is granted and the facility is ready to grow medical marijuana.
However, in this scenario, it would be prudent in ones calculation to use a share price that would reflect the earnings of FITX. This approach would require one to simply use the average PE ratio of the marijuana industry to determine the potential price of FITX. Currently, the PE ratio for the marijuana sector is roughly at 15-20 times the value of their respective companies. For conservative purposes, FITX is given a PE ratio of 12. With this undervalued PE ratio, one can reach a price of about $0.70
It is paramount that investors realize that this price neglects multiple arenas of CEN that have not been integrated in the value of the company:
Merger acquisitions with RXNB (can potentially double market capitalization)
Hemp Technologies acquisition yielding much higher revenue and earnings
New legalized marijuana insurance program
Up-list to higher exchange
A drastic decrease in shares outstanding, (retirement of shares, share buyback, or dividend shares in the long term)
These catalysts can readily move the price per share of the company much higher. Once CEN becomes a mass producer pharmaceutical company, it will be almost impossible to imagine the share price to be lower than $2-3 within a 6 month period.
Health Canada License: TBA
After a seemingly exhaustive preparation to obtain legal federal government approval by Health Canada to mass produce, harvest, and distribute medical grade marijuana to patients across Canada and the world, the stock has plummeted to near lows of early February 2014. This can be eluded largely to time sensitive constraints of Health Canada's seemingly robust yet delayed licensing program. The wait has given pessimistic investors an artillery of accusations to debunk Creative Edge Nutrition's ambitious undertaking in the marijuana sector, but a great opportunity for the incoming investor. It is also important to note that much of these pessimistic investors, are allegedly paid by corporate companies relying heavily to decrease the stock price in order to profit on price volatility. Bill Chaaban has stated much of these "paid bashers" are being investigated internally and their information will be provided to the SEC for further legal action.
Caution should be given to new investors who would like to play conservatively with their investment. This is by no means a guaranteed successful company, the critical risk currently would appear to be the license approval, all of which will undoubtely be determined within the very near future.
In summary: CEN is undervalued
While there is an art to investing in companies that are well established and have increase revenue and low PE ratios, many investors have found it more profitable to invest in companies that are still awaiting their future. CEN is becoming more attractive to investors in not only the existing valuation, but also the prospects of the company's pipeline in the future. Investing in pennies on the dollar can be a risky investment, but with the overwhelming transparency that Bill Chaaban provides to shareholders, the 20 million dollar private investment of building state of the art facilities, and an extremely reputable board of directors,CEN is clearly defying the odds and becoming the envy of other companies in the sector.
Creative Edge Nutrition provides a unique opportunity for the average investor to participate in what is to be the next "dot com" boom of our century.
It is of no surprise that this undervalued company is under such heavy scrutiny, but the promise of a future to help patient ailments with medical marijuana is an intangible quality that no amount of money or technical indicators can evaluate or buy.
Disclosure: The author is long FITX.